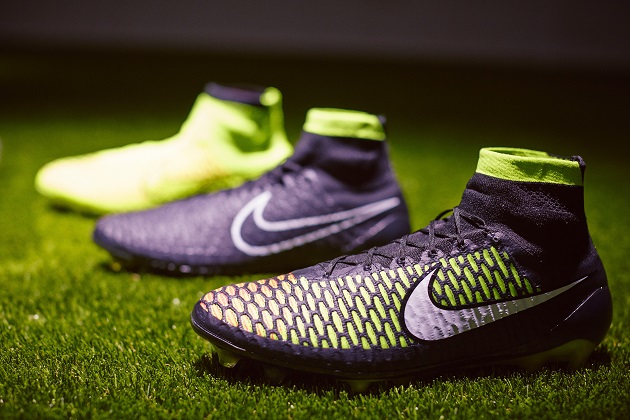 As the dust has started to settle around the reveal of the Nike Magista and the spotlight-stealing attempt by adidas, we now start to look towards the World Cup and, typically, the biggest mass gear releases/revelations that occur every four years. What boots will our favorite players be wearing as they take the pitch and what colorways will each company use? Also, and the most important question for anyone that considers themselves a boot nerd, when will the general public finally be able to snag some of these products?
While plenty of noise has been made recently from the world's biggest brands over the last few days, all of their World Cup plans still feel largely under wraps. It seems that the launch color of the Magista might be the only boot/colorway on the market that we will actually still see once the players hit the world's biggest stage in the summer. However, we are able to look back at 2010 and see how the brands functioned during that World Cup cycle to get a small idea about how our summer is going to look in reference to gear launches and releases.
In 2010, both brands decided to showcase what their biggest and brightest would be wearing in late April. Nike dropped their Elite series with the shockingly bright colorways just after the halfway point of April, beating adidas to the punch and showcasing a ton of new technology heading for the market. Adidas followed suit towards the end of April with a bit more subtlety, but a great looking collection as the tournament prepared to begin. This year, we expect a similar release date for most brands and think that we will be fully aware of each brand's intentions by the end of April. The biggest question for us now will be which brand decides to release first in an attempt to steal most of the spotlight from their competitor (judging by the Primeknit FS, it feels like adidas might take the first punch).
One other tidbit to look out for is brands releasing absolutely outlandish colorways this summer. Nike's bright Elite series in 2010 showed that a brand can garner a lot of success by having a boot bright enough to be noticed by everyone watching on TV. With this World Cup slated to have even more television coverage and to have even more eyes watching the players, brands will be putting products on their feet that will be amazingly easy to notice no matter how far the camera has zoomed in or out. Notice how bright that Volt launch Magista is? Nike will be hoping that the bright color will be quickly recognized on TV and their other boots will probably follow suit. As for adidas, there is no chance that they err on the side of subtlety this time around and we expect their boots to be very easy to spot from miles away.
With the release of the Magista, it has merely made all of us here at The Instep start to long for the World Cup launches. While the anticipation made us think that the reveal would satiate our gear needs, it has merely upped the ante and turned our attention to this summer. Of course, the vicious cycle of being a gear-head means that we will already start looking past the summer once the World Cup releases finally hit…when it comes to being a fan of football gear, we can never get enough!