I've been reading a lot about Elon Musk lately. If you're not familiar, he is arguably the preeminent entrepreneur of our time. Co-founder of Paypal, Tesla Motors, and SpaceX, Musk has revolutionized online payment, electric vehicles, and space travel. They call him the Real Life Tony Stark, which, if you've seen an interview with him, you know his mannerisms have nothing in common with the suave Robert Downey Jr. However, on paper, Musk and the fictional Iron Man have plenty in common. Technologically speaking, Musk is pushing humanity forward more than any other person on Earth.
In Ashlee Vance's biography of Musk and Wait But Why's series on him (I'd recommend both), one thing quickly becomes clear: Progress doesn't just happen on its own. I think sometimes we fall into thinking it does. Like, as long as time is passing, we are progressing, moving forward. This is patently untrue. Someone needs to push the envelope, take chances, and bet their future on an idea. If no one does this, we stay stagnant. In less than 70 years, we went from the Wright Brothers to Apollo 11. Now that's serious progress. In the last 100 years, the design of the mass-market automobile engine has not changed all that much. Musk is the one finally moving us forward in that realm.
What does this have to do with soccer or footwear? Well, it's the same story in those arenas. Someone needs to push us into new technology so that our boots can keep getting better and better. At the moment, that "someone" is Nike, who have been doing the most of any company to make the futuristic possible. Sure, adidas can 'wow' us with a new concept, such as the recent Laceless boot announcement, due out next year. Puma have the lightest mass-produced boot out on the market currently.
But Nike is the one constantly changing the game. Before the 2014 World Cup, they introduced Flyknit to soccer, with the Magista Obra and Mercurial Superfly. Their Dynamic Fit Collar, although decried by some, has forced other manufacturers to build a collar into their boots to keep up.
When did knitting and weaving get so trendy?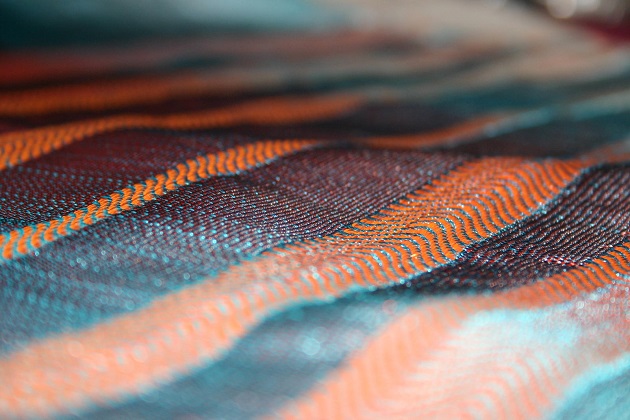 Flyknit, which Nike launched in 2012, was first used in running shoes due to its unbelievably low weight and waste. The one-piece knitted upper that Flyknit created cut down on wasted material and gave your foot a lightweight, sock-like feel.
This summer, Nike have announced another game-changer in Flyweave.
What makes Nike's version of athletic footwear progress so unique is that they are taking centuries-old methods and updating them for their innovative purposes. Several years ago, the thought of a knitted soccer cleat would be remarkably strange, but Nike have made it standard fare on their high-end boots. Now, weaving has been brought into the fold.
Creating textiles via weaving is done on a loom, which made me think of the ancients back in the day, kind of like this. Nike's looms are a little more modern these days. Like this.
See, woven materials are inherently more sturdy than knitted ones. That's why this is the logical next step beyond Flyknit for the Swoosh. Weaving materials together is a more intricate process, allowing it to hold together better under duress. And in athletics, you need the upper on your shoes to stay as strong as possible amidst all those quick bursts, cuts, and jumps.
For inspiration, Nike designer Thomas Bell went to space. Well, I don't think he literally went there (unless he moonlights as an astronaut). No, Bell looked to the aerospace industry to find products that are strong, reliable, and perform at a high function. This led him to Flyweave.
To manufacture a material that gets you as close as possible to your foot's natural motion, Nike made Flyknit, and now Flyweave, which they call a "bionic second skin". If that sounds a little too Ex Machina for you, that's alright. Once you get them on your feet, you'll grasp the benefits.
Flyweave Play Test
Nike first launched Flyweave in four shoes for three sports: the Air Jordan 29, the Tiger Woods '15, the Calvin Johnson Elite TD Cleat, and the CJ3 Flyweave Trainer. I was fortunate enough to spend some time in the CJ3 Trainer to get a grasp on this newfangled material.
I can report firsthand that Flyweave helps you move wonderfully. This being a training shoe designed with American football in mind, it is not built like a potential Flyweave soccer shoe will be, but the effect could be felt nonetheless. The CJ3 Trainer may look heavy and/or clunky, but those fears melted away when I slipped my foot in. Surprisingly lightweight, they have a snug fit that grants you security when you push off to accelerate. In Nike's marketing for these, Johnson is quoted as saying "Flyweave locks your foot down and eliminates wasted motion". The man is right, the efficiency is real in these.
With a Phylon midsole, they have solid responsiveness, although not like a running shoe. Mostly, I was impressed by the lateral movement the CJ3 afforded me. You can stop on a dime and get going side-to-side really quickly, which is important for soccer as well. Flyweave actually does seem to bring more strength and support than I've gotten from Flyknit.
The future of Flyweave in soccer
Another benefit of Nike's breakthrough? They can design Flyweave to meet the specific demands on individual sports. So, naturally, the rumors of its entrance onto the soccer field have abounded. Basketball needs the material to enhance lateral movement and sharp cuts, while soccer needs a boot that gives attention to that, as well as staying low in weight and durable enough to stand up to miles and miles of running and sprinting.
The CJ3 Trainer utilizes Flywire, those cables that run down the sides of your foot to keep you locked in. It can currently be found on the Nike Hypervenom Phantom II and Mercurial Superfly IV. So I suppose it's possible we could see a soccer boot with the three Nike Flys: Flyknit, Flywire, and Flyweave.
Will it just be used for firm ground cleats? Or will indoor and turf shoes get in on the weave? These questions and more will be answered in due time, but I do have concerns about how Flyweave adapts to the game of soccer. Can you get the same close touch on the ball with Flyweave, as compared to Flyknit/Nikeskin? In my limited time with Flyweave, that wasn't the case. I have no doubt Nike will engineer a thinner upper, but will that defeat the purpose? Also, I found that Flyweave wasn't as breathable as the high end Flyknit boots I've been in. That will be something for the Swoosh's designers to address as well.
Potential concerns aside, this is what progress looks like. An entirely new upper concept has been fashioned with the unique movements of specific sports in mind. Nike are somehow using tried-and-true methods — your basic knitting and weaving — for high-performing, ever-evolving, and futuristic footwear. Elon Musk himself might nod in appreciation.