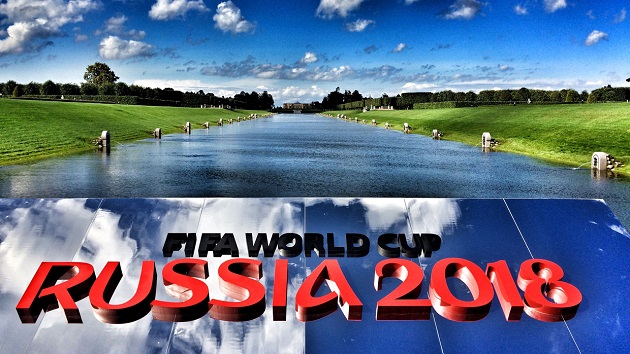 It was a beautiful occasion at the Konstantinovsky Palace in Saint Petersburg. FIFA barged their way through the recent corruption scandals to continue with the world greatest event, the World Cup. Part of the World Cup process is qualifying, and each confederation had their paths defined at the Draw. For most confederations, this process was mostly a formality, but for Europe and UEFA, this was paramount.
UEFA has 53 teams eligible to compete in the World Cup. Russia, being the hosts, qualify automatically, leaving the other 52 teams to compete for 13 spots. The teams were split into pots based upon their world ranking, with a team from each pot being drawn into a group. 7 of the groups have 6 teams, while the final 2 groups have 5 teams. There were certain nations that needed to be placed in groups with 6 teams for promotional purposes, but it didn't really provide any drama.
The 9 top seeded teams in the draw were Germany, Belgium, Netherlands, Portugal, Romania, England, Wales, Spain, and Croatia. I was surprised at Romania's ranking, but other than that, it was the usual suspects. The top team from each group qualifies for the World Cup in Russia, while the 8 best runner-ups move onto Round 2, which is a home and away set up. The winner of those matchups will get the last 4 spots. Let's check out how the Draw all shook out.
Group A
Netherlands, France, Sweden, Bulgaria, Belarus, Luxembourg. Talk about brutal. This is obviously the Group of Death. Zlatan Ibrahimovic and Sweden can't seem to catch a break. Bulgaria and Belarus are no slouches either. It is tough to believe that one of the three heavyweights in this group will not even make it out of the group, let alone the possibility of 2 not making it. Every match will be important in this group, and no one can afford to drop points to the bottom 3 teams.
Group B
Portugal, Switzerland, Hungary, Faroe Islands, Latvia, Andorra. This is a very manageable group for the two favorites, Portugal and Switzerland. Hungary might make a push to unseat one of the two seeded teams, but that is the only surprise I can foresee in this group. Cristiano Ronaldo catches a break, in what might possibly might be his last go at a World Cup.
Group C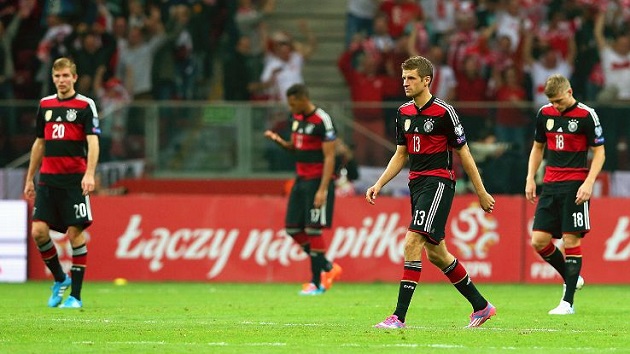 Germany, Czech Republic, Northern Ireland, Norway, Azerbaijan, San Marino. Similar to group B. Germany should go through tops, with Czech Republic finishing 2nd, although Norway and Northern Ireland may challenge. Considering there are 2 teams who might make a push, I think they spread the points too thin. Nothing too groundbreaking here in Group C.
Group D
Wales, Austria, Serbia, Ireland, Moldova, Georgia. I may be in the minority, but I believe this might be one of the more open groups, and certainly one of the weaker ones. I could see any team outside of Moldova and Georgia in the top 2 spots. Wales have played very well lately, but we all know form is temporary. Austria has been gaining ground, and Ireland have a solid history. Serbia just won the U-20 World Cup, so maybe that experience will spur the youth to lead the Serbs. I will have my eye on this group the entire way.
Group E
Romania, Denmark, Poland, Montenegro, Armenia, Kazakhstan. I think top to bottom, this is the weakest group. I feel good about taking Poland, even though they were in Pot 3 for the draw. The group isn't very sexy either, lacking any real giants or superstars. I'll check into this group probably after qualifying ends.
Group F
England, Slovokia, Scotland, Slovenia, Lithuania, Malta. Well, most of this group will be familiar. England, Lithuania, and Slovenia are all in the same qualifying group for Euro 2016, while England and Scotland have their own thing. Slovenia and Slovakia get confused for each other all the time. I am a bit biased, considering my parentage, but I see this group as pretty open. England are the favorites, but have been known to falter before. The second spot is open to anyone pretty much besides Malta. Between World Cup and Euro qualifying, I will be very interested to see how some of these later group matches go.
Group G
Spain, Italy, Albania, Israel, Macedonia, Liechtenstein. If I had to make a nickname for this group, it would be Aging Giants. Spain and Italy have each won the World Cup since the turn of the century, but their golden generations are well into their 30's now. Gianluigi Buffon is getting close to 40, and all the Spain stars are in the twilights of their careers. Will age leave the door open to some of the lesser nations?
Group H
Belgium, Bosnia & Herzegovina, Greece, Estonia, Cyprus. Now onto the groups with 5 teams. In other groups, the matches against the eventual lowest ranked team in the group will be dropped, but not for groups H and I. Every match counts here. Belgium's young stars will be hitting their prime in Russia 2018, and this group stage looks like a formality. Bosnia has been solid, but not to Belgium's level. Greece has fallen like their economy, while Estonia and Cyprus should be cakewalks. This should be Belgium's group from start to finish.
Group I
Croatia, Iceland, Ukraine, Turkey, Finland. This is surprisingly one of the tougher groups, certainly under the radar. Four out of the five teams have a realistic chance of finishing in the top 2, and Finland could grab a few points as well. This group will likely be a battle each and every match day.
For all the drama and negativity that has surrounded FIFA over the past few months, they still put on the most beloved event in the world. I am very excited to get the process going in anticipation of the nations who will be represented at the premier event in 2018.