Brazil Jersey
—
If you recognize a single uniform in the entire soccer universe, it's probably the classic yellow Brazil jersey. At SoccerPro.com, you'll find the latest professional-quality Brazil soccer jerseys from Nike® in both home yellow and away blue, in sizes for men, women and kids. Breathable and lightweight, this authentic apparel will keep you from overheating during crunch time on the pitch. These smart designs also make for attractive, sporty-chic casual wear, especially during Carnival.
No products were found matching your selection.
Brazil Soccer Jersey
Dress as the best and intimidate the rest. When you and your friends are getting ready for a heated pickup game against your crosstown rivals, make sure you suit up with jerseys from this line. A Brazil World Cup jersey will let your opponent know that you're not messing around. Look like a superstar, dominate the pitch, and enjoy hard-earned bragging rights with this elite activewear.
Made by Nike, every Brazil national team jersey from this line is constructed from high tech fabric. They are lightweight and airy, yet also tough and durable. Soft, moisture wicking fabric elevates perspiration off your skin, and prevents annoying chafing while keeping you dry and energized. They'll prevent overheating, and are made to help you handle excess perspiration. Both the classic yellow and the blue Brazil away jersey are available in a range of sizes. The legendary white jersey is also back, it's one for the ages! The Nike Brazil jersey is tailored for a modern fit that won't restrict your motion as you catch that lob pass with your chest, or reach for that plate of hot wings.
Are you a collector of national team memorabilia? Add a Brazil soccer shirt to your collection. Take it to the stadium and seek out autographs, or frame it and put it behind your basement bar. They make amazing birthday or holiday gifts for the fútbol fanatic in your family, and are perfect for doing chores in the backyard on a summer afternoon.
We can't help you play like a superstar, but we can help you dress like one. Suit up with a Brazil kit from SoccerPro.com, and strike fear into the hearts of your opponents. Shop today for national team soccer jerseys and get lightning-fast shipping on your next order.
---
Selecao Players: Hulk | Coutinho | Neymar | Willian | Dani Alves | Gabriel Jesus | Arthur | Hernanes | Fabinho | Pele | Marcelo | Casemiro | David Luiz | Vinicius | Alex Sandro | Rodrygo | Militao
---
PRIVACY: Your email address and content of your message are private and will not be shared outside of SoccerPro. Information will be used to provide a response to your request. SoccerPro.com may send you additional marketing emails related to soccer gear. You have the opportunity to 'opt out' of marketing emails at that time.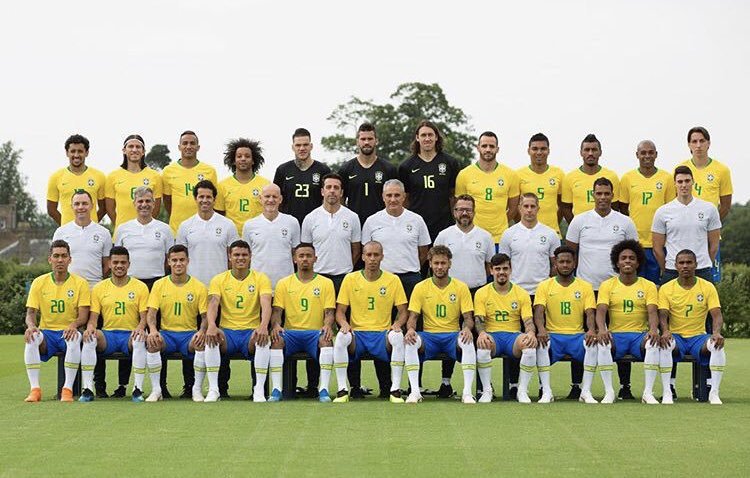 The Nations of the 21st World Cup – Brazil
The quest for the 'Hexa' is on and Brazil has every reason to feel like they can win it all. The job Tite has done with this Selecao squad mean they go into the tournament without any noticeable weaknesses. If there was one possible one, it was Dani Alves at rightback but an injury means either Danilo or Fagner will take his place. Brazil are a very good squad, they'll take some stopping…. [ Read more… ]