Brazil Jersey
—
It's one of the most instantly recognizable kits in the world, the Brazil jersey is always a top seller and can be spotted from miles away. This year, Nike has updated the jersey's design, using a slightly lighter shade of yellow, though the kit remains highly breathable, lightweight, and soft to the touch. Like you've come to expect from Nike's high-performance jerseys, it also features moisture-wicking fabric and a knit collar that takes your comfort level to a whole new level. Whether you're a super-fan of the South America powerhouse, or a collector who wants every kit from the 2022 World Cup, you'll definitely want to bring home a new Brazil soccer jersey today. These smart designs also make for attractive, sporty-chic casual wear, perfect for supporting your favorite federation wherever you go.
Brazil Soccer Jersey
See those five little stars over the "Brasil" shield? Each one of those beautiful stars represents a World Cup victory for the country. The only nation to have participated in every World Cup to date, Brazil is the winningest nation of all time, and they're likely to be a contender for every tournament in the foreseeable future. It makes sense that the Brazil jersey would be one of the best-selling national team jerseys right now. After all, people love a winner.
SoccerPro also features the ever popular Neymar Brazil jersey, plus jerseys from other top Brazilian players, as well as blank jerseys so you can easily prove your love for the federation. These super sweet jerseys not only look like the exact apparel worn under the bright lights of Qatar, but they perform under pressure as well. With incredible breathability, moisture-wicking technology, a super soft feel, and 4-way stretching material, they're a great choice for a pickup game or soccer practice. Of course, if you'd rather cheer on the club from the comfy confines of your local pub, these jerseys look great there, too.
In our selection of Brazil jerseys, you'll find home jerseys and away jerseys designed in sizes for men, women, and kids. Outfit the whole family in a Brazil jersey and let your neighborhood know who the best team in the world is (sorry, not sorry, Argentina). Should you, for some weird reason, want to buy a kit from a different club, SoccerPro has got your back. Shop more soccer jerseys from top countries, as well as leagues like the EPL, La Liga, and more.
---
Selecao Players: Hulk | Coutinho | Neymar | Willian | Dani Alves | Gabriel Jesus | Arthur | Hernanes | Fabinho | Pele | Marcelo | Casemiro | David Luiz | Vinicius | Alex Sandro | Rodrygo | Militao
---
PRIVACY: Your email address and content of your message are private and will not be shared outside of SoccerPro. Information will be used to provide a response to your request. SoccerPro.com may send you additional marketing emails related to soccer gear. You have the opportunity to 'opt out' of marketing emails at that time.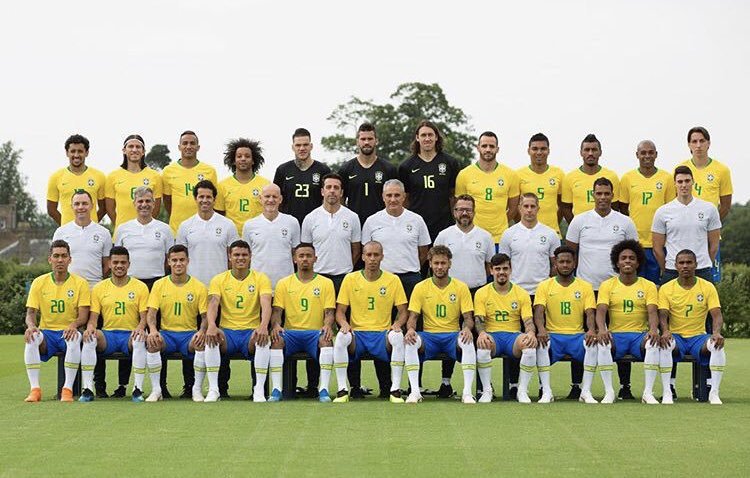 The Nations of the 21st World Cup – Brazil
The quest for the 'Hexa' is on and Brazil has every reason to feel like they can win it all. The job Tite has done with this Selecao squad mean they go into the tournament without any noticeable weaknesses. If there was one possible one, it was Dani Alves at rightback but an injury means either Danilo or Fagner will take his place. Brazil are a very good squad, they'll take some stopping…. [ Read more… ]