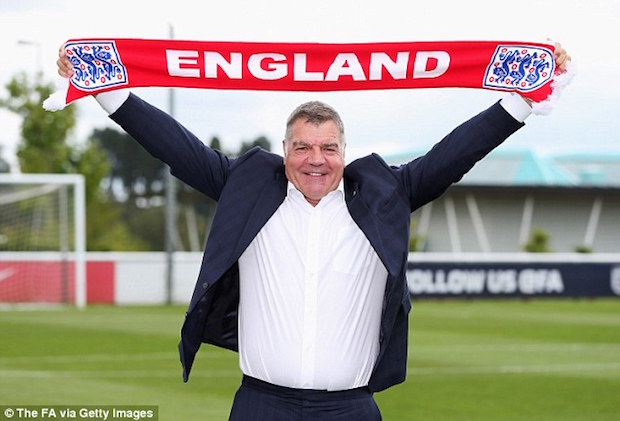 The next recipient of England's poison chalice — I mean managerial position — has been announced. After a lot of speculation and pessimism from the English fanbase, now-former Sunderland manager "Big" Sam Allardyce has taken over the Three Lions. Big Sam replaces Roy Hodgson after England suffered one of the most embarrassing defeats of their rich history as Iceland knocked them out in the first knockout stage of the Euros. Can Big Sam lead England back to the glory of the 1966 World Cup, or going to be the latest manager to see his career go by the wayside at Wembley?
Despite some of the negativity that has come with Allardyce's introduction, I think that he was the best available choice to take arguably one of the most challenging positions in world football. Apparently the FA was set on bringing in an Englishman at the helm, and, in my opinion, Big Sam was the right choice.
Between him and the other reported frontrunner Steve Bruce, the 61-year-old has the experience to deal with the pressure of steering England away from mediocrity. Even though he hasn't managed a "big club" (his CV includes Sunderland, West Ham and Newcastle United among others), the teams he manages have typically been relegation candidates. At first glance, that doesn't exactly sound like a good record to look for in a national team manager, but think about it this way.
Year after year, Big Sam has been thrown into situations where his squad are playing vital, potentially season deciding matches, week after week. He didn't have the comfort of sitting mid-table, safely out of pressure for the entire season like some of the "bigger" clubs. When his side weren't performing well, he had to deal with pressure and criticism from the media and the fans about his team selection and tactics. These harsh reviews don't appear to bother him one bit. In case you didn't know, the English manager may come under some overblown criticism from the fans every now and then.
Another point to quell some fears of Big Sam constantly managing lower to lower-mid-table clubs, is that he has never really had a star-studded cast to work with. At Sunderland, his best player was a 33-year-old Jermaine Defoe. At West Ham, the closest thing resembling a star for him was Andy Carroll and that's only because the striker used to cost £30 million.
Even though he has been hindered by this lack of star power, and apparent difference in talent levels compared to the other big spending clubs in the league, he has shown the talent to line up his side to compete with the big boys. Allardyce, despite being known as a long-ball specialist, has the ability to build his style to emphasize the strengths of his side and hide the weaknesses. If that means throwing a big guy up front and lumping the ball forward, so be it.
Now, Big Sam will have the best group of players that he has even been in charge of during his career. The problem is going to be dealing with the egos that come along with them, and dealing with the depth of stars that he has. Some of the big questions to answer:
Where or will Wayne Rooney fit into the lineup?
How is he going to get over the knockout stage hump?
Will Harry Kane finally be taken off anything resembling a set-piece?
Overall, I think that Big Sam is a big improvement over Roy Hodgson. Even though he hasn't had the chance to lead one of the big-name clubs, he has experience with high pressure situations, and has proven to be adept at making the most out of the talent he has available. Will he lead England to silverware? Probably not, but I think that's down to the players available. Will he win a knockout round match? I have full faith that he will, and that's enough to consider him an English success.