The Copa is quickly approaching, and there is plenty to analyze prior to the tournament starting. With 16 of the best teams in the Americas, this tournament is sure to be an exciting event. Let's take a look at all of the groups and make our predictions for the group stage. FIFA rankings are listed next to each teams name.
Group A: USA (29th), Colombia (4th), Costa Rica (25th), Paraguay (39th)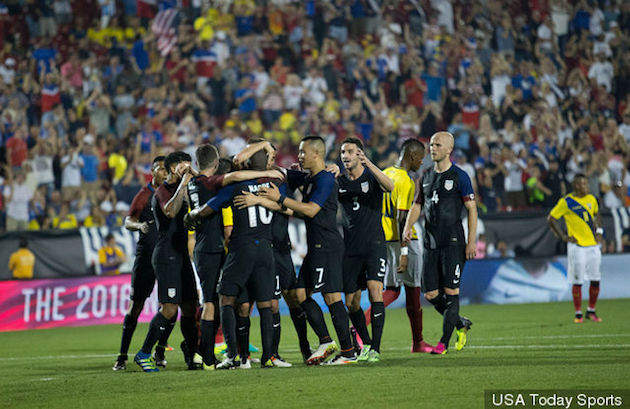 The US was automatically placed in this group by virtue of being the hosts, while 3 other solid squads join them. Paraguay seem like the small fish in this big pond, but with tournaments like this, anything can happen.
For the hosts USA, the group stage starts with the toughest competition, gradually decreasing the level of difficulty. The most important one is their matchup with Costa Rica at Soldier Field in Chicago. If they have upset or tied Colombia, a win against Costa Rica would almost assure their progress to the knockout round. Even if they lose, a win is critical to keeping their knockout round hopes alive.
Colombia got a great draw. In addition to being the highest ranked team in the group, their first 2 matches are both in California. They open with the USA in Santa Clara before taking on Paraguay in the Rose Bowl (LA) just a few days later. They get an extra day of rest and don't have to time zone travel. They should win this group. If they don't progress to the knockout stage, it would be a complete disaster.
Costa Rica's schedule sets up nicely to secure an early spot in the knockout round. They were the surprise of the 2014 World Cup, making a run to the quarterfinals. Should they beat Paraguay in Orlando, a draw or win against the USA would put them in a good position to progress.
Paraguay has the toughest task of the group. Not only are they the lowest ranked team in the group, but their travel schedule is just brutal. They play in Orlando for the first match, but have to fly completely across the country to take on Colombia 3 days later. Then they go 2 time zones back the other way to play the US in Houston. If they progress, it would be quite an accomplishment.
Prediction: Upset alert! USA win the group, with Costa Rica edging Colombia on goal difference to claim the other knockout spot.
Group B: Brazil (7th), Ecuador (12th), Haiti (71st), Peru (46th)
Group B is easily the weakest of the bunch. There is a very clear top 2/bottom 2 scenario going on here. But that is why we play the games, because crazy upsets do happen.
Brazil might be a bit overstated here. Their emotional leader, Neymar, is missing the tournament to focus on the Olympics. The team crumbled after he went out during the 2014 World Cup, leading to questions about how they will perform. They are still the most talented team in the group, and should progress with no problem.
Ecuador is the other "giant" in the group. They have done really well in 2018 World Cup qualifying, proving they can hang with the best. Their travel schedule is relatively light compared to some other teams, as they have their first 2 matches in the same time zone. They should progress without too much trouble.
The two minnows of the group, and also the entire tournament, are Peru and Haiti. Unless they have some magic to pull a rabbit out of the hat, there isn't likely to be a surprise run out of this group by these two teams.
Prediction: Brazil and Ecuador hold serve, advancing with little trouble.
Group C: Mexico (16th), Uruguay (9th), Jamaica (55th), Venezuela (74th)
There is more to this group than meets the eye, especially on the "low" end. Jamaica have had a string of great results over the past few years, and Venezuela is building for the future with very young roster. Throw in some traditional giants in Mexico and Uruguay, and you have an exciting group that may turn some heads.
Mexico was dealt a blow when Giovani dos Santos decided he wasn't going to play in the tournament. Luckily, there is an incredible following for the Mexican national team in the United States, especially near the southern locations where they will play. Even without dos Santos, they should be a solid squad.
Uruguay has gotten a big boost with Luis Suarez finally returning from his suspension. Chewy Suarez's suspension for biting is over, and his club form is incredible. With him leading the way, Uruguay will be a able to score on virtually any defense. They do have some questions to address, but Suarez being back is the biggest thing for this team.
The Raggae Boyz are a plucky upstart in CONCACAF. They made a solid run at the Gold Cup last summer, and have a decent roster of talent. They still have moments that reflect their minnow status, but those are becoming fewer and further between. They are a prime suspect for snagging an upset.
Venezuela are the weakest team in the group, but they seem to be building for the future. They have 3 teenagers in their squad, and only 3 players who are 30 years old. With that youth core getting experience together, they might have the chemistry to pull off an upset.
Prediction: Uruguay dominate the group, with Mexico also progressing on a wave of support from fans.
Group D: Argentina (1st), Chile (5th), Panama (52nd), Bolivia (79th)
Much like Groups B and C, there is a clear top 2 and bottom 2 in this group. Argentina and Chile should have all their stars ready to roll in this tournament. Panama and Bolivia have some interesting results, but also have some weaknesses that will likely sink their chances.
Argentina is the top ranked team in the world, and now they have a chance to finally win a tournament after falling short in the 2014 World Cup Final. They have a host of stars, including the largest in Lionel Messi. Is this the year when they actually hoist a trophy?
Chile has risen in stature over the past decade, with players like Arturo Vidal and Alexis Sanchez raising their profiles at superclubs. They are near their highest ever FIFA ranking, cementing themselves as a major power in the football world. As the defending champions, they are looking to retain the trophy won last year.
Panama seems like they should have more success than have in their history. They are the link between CONCACAF and CONMEBOL, but haven't ever qualified for a World Cup. They have a tall task of advancing out of this group, where two Top 5 nations are waiting.
Bolivia is an interesting nation. They have one of the best homefield advantages in the world, housing their home stadium at the highest elevation allowed by FIFA. That isn't the case here though, where they are heavy underdogs in their group.
Prediction: Argentina and Chile breeze through the group with ease.