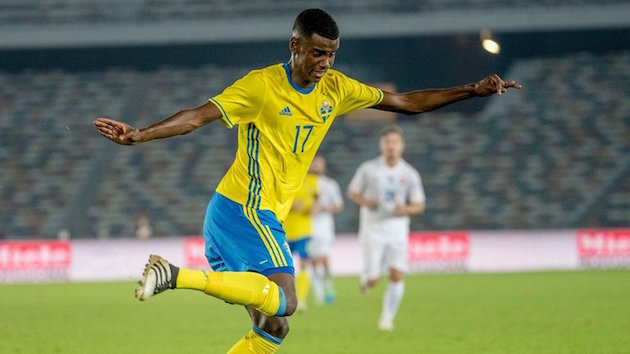 On Monday, Borussia Dortmund made a couple of major club announcements. First, and probably most important for American soccer fans, Christian Pulisic signed a long-term contract extension that will keep him with the club until 2020. Next, they signed a teenager that has earned the nickname of "The Next Zlatan Ibrahimovic." Not exactly an easy name to live up to for a kid coming out of Sweden.
Alexander Isak, 17, stands at 6' 3" (two inches shorter than Zlatan for those of you wondering). Last April, he made his debut in the Allsveskan for AIK scoring against Östersunds FK in a 2-0 victory. Since that debut, the teenager has made 29 first team appearances and he's been able to bag 13 goals along the way. These promising performances were enough to attract the interest of some of Europe's biggest clubs including Real Madrid and Borussia Dortmund, and luckily for fans at the Signal Iduna Park, BvB pulled the trigger on a reported £7.3 million bid to bring him to the Bundesliga.
With his towering height, nose for goal, and flair in possession, it's no wonder that fans and commentators have been quick to attach the Ibra connection to Isak. On top of all of those great qualities, the 17-year-old can also beat opponents with his lightning pace and impressive strength on the ball. It looks as if he has all of the raw materials to become a world beating striker, and it's hard to think of a better club at developing promising young talents than Dortmund.
Now that I have all of my praise for him out of the way, it's time to play devil's advocate. This is hardly the first teenager to get hyped up beyond measure, and I doubt that he will be the last. As an American, I've had the chance to watch seemingly countless numbers of "unbelievable" talents flair out before they even turn 23. As much promise as Isak's shown in Sweden, he's not immune from this type of burn out.
While I'm sure he's partly excited to be compared to a player as legendary as Zlatan, you have to think that this kind of comparison weighs heavily on his mind. Just imagine that you're 17 years old and someone just paid close to £10 million for your talents. Millions of fans are now expecting you to mirror the goal scoring legacy of one of the game's greatest players, and on top of that, you're now being thrown into a competition that is arguably head and shoulders above the one you've been developing in for the last year.
When I was 17, I was struggling to even step on the pitch for my high school varsity soccer team, so I can only assume so I can't even imagine what's going through Isak's head during all of this. Luckily, for him, he's joining a club that has established themselves as one of the best at nurturing and growing young players so that they can become true professionals. Just look at their roster now with the likes of Pulisic (18), Emre Mor (19) and Ousmane Dembélé (19). All three of these players have been eased into the first team, and with the rest of the talent in the side, there's no pressure for them to carry Dortmund on the pitch.
Isak typically lines up as a center forward, but he can also play on the wings, so he'll have the chance to compete with and learn from Pierre-Emerick Aubameyang and Marco Reus. With all of the environmental factors seemingly working in his favor, the real determinant for how well Isak will do in Germany will be his attitude. The example I'm going to point to for this one is Martin ødegaard. When the Norwegian wunderkind joined Real Madrid back in 2015, fans were ecstatic about the talent he possessed. Is he willing to put in the work, and time to develop his game even when he may not be getting playing time? How will he handle living in a new country with a new culture and new friends?
If he makes the right choices off the pitch, it's hard to imagine him not succeeding on it. His highlight reels show why so many clubs were excited about the possibility of signing him, and I'm sure it won't be long until we see him step on the pitch in BvB's famous yellow and black kit. I hope that he lives up to and exceeds all of the expectations people have pinned on him (unless he's playing against United), and I can't wait to see how much he grows in the years to come.