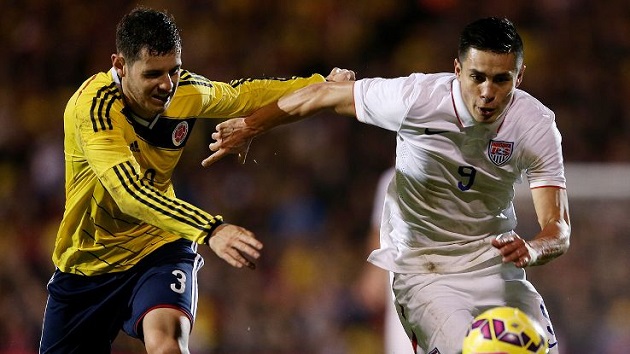 Last World Cup cycle, American fans scratched their heads and then slowly went crazy during Jurgen's early tenure. They couldn't figure out why he constantly called in new players and shuffled the starting XI during friendlies and even the early parts of qualifying. What they missed was an important fact: Klinsmann wanted to do well at the World Cup, and in four years time the best players aren't always the ones who win you that friendly years back. This cycle he's gone back to experimenting, with mixed results.
First off, the US lost to Colombia 2-1 in London, England. In fact, the scoreline is perhaps a bit flattering: Colombia dominated possession and the US's early lead was luckly (a questionable penalty). Even Jozy Altidore's penalty kick was a bit lucky – a better keeper may have snagged it. For a coach who talked about proactive soccer, the US looked like the "sit and defend" team of decades past. Bob Bradley and Bruce Arena could have drawn up the game plan on the chalkboard. Fans have to ask: what is going on?
The key thing in this friendly, and any friendly with Klinsmann as a coach, is individual performances. He is testing players to see how they adapt to the international level. In this game, US forward Rubio Rubin had pretty good movement and lurked at the far post, but struggled to get his headers on target. In four years time, he may not be the hot-as-the-sun Aron Johansson or the not-quite-there Chris Wondolowski, but Klinsmann and us know he can move off the ball at international level. He can time his runs. He can find space. That's a plus. Conversely, Fabian Johnson had some questionable passes and looked lost at times at left midfield. He may be a decent option against CONCACAF opposition, but a midfielder he is not.
Kyle Beckerman's passing was pretty good and he still has a role to play in future tournaments (if not the World Cup), while Jermaine Jones looked shaky at central defense. DeAndre Yedlin and Alejandro Bedoya both had pretty good games – they form the nucleus players with the right balance of youth and experience for the next cycle. Seeing them play well is not surprising, but players can have their levels drop off unexpectedly. Klinsmann will be happy that hasn't happened.
While the subs got limited minutes, Julian Green continues look like a physical liability in defense whereas Lee Nguyen's creativity (a backheel pass) almost gave the US an undeserved lead. Hopefully, over the next four years, Green can improve his physicality and Nguyen can establish a presence with the USMNT. Regardless, expect the unexpected for the next year or two. For Klinsmann, it's not results that matter. It's Russia 2018.