This Friday, the 100th Copa América kicks off as the United States battles Colombia. Before the start of this historic occasion, let's take a look at some players that could be X-factors for their nations.
Argentina: Ángel Di Maria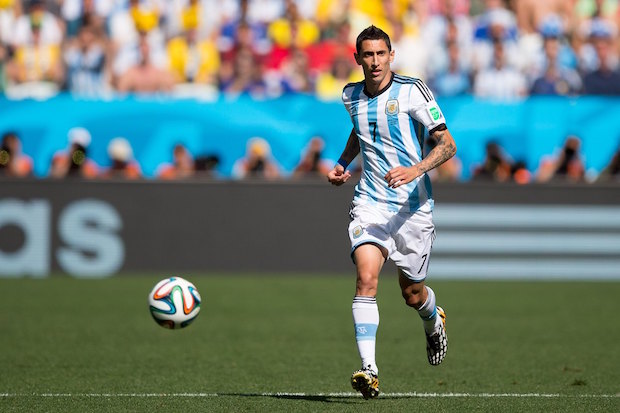 I know that the obvious choice here would be Lionel Messi, but I thought I'd pick a less obvious candidate. Granted, Ángel Di Maria's time at Manchester United was less than ideal. At Old Trafford, the midfielder struggled, scoring just three times and failing to establish a regular starting spot under Louis Van Gaal. This disappointing stint at United was quickly brought to an end as the Red Devils sold Di Maria to French giants Paris Saint-Germain.
In Ligue 1, the 28-year-old has thrived. The world beater that helped lead Real Madrid to the Champions League title in 2014 finally re-emerged. Through all competitions, Di Maria scored 15 times and assisted another 20. If he can carry this form into Copa América, La Albiceleste will be near unstoppable this summer.
Bolivia: Guillermo Viscarra
Bolivia aren't really being considered a favorite for this tournament. In their last tune-up friendly, La Verde were smashed 4-0 at the hands of the United States. This porous defense makes me think that starting keeper Guillermo Viscarra will be the man to carry Bolivia's hopes on his shoulders.
Viscarra will face a daunting task between the pipes as Bolivia square off against Argentina, Chile and Panama in the group stage. If he replicates his performance against the U.S., however, don't be surprised if Edward Zenteno turns to Romel Quinónez.
Brazil: Miranda
Dunga made some controversial choices when he picked his Copa América roster. Arguably one of the best center backs in the world, Thiago Silva, was once again left off the Brazilian coach's roster. Silva's partner at PSG, David Luiz, was also excluded from the lineup in a series of confusing moves by the manager. This leaves Miranda as the squad's most experienced center back and he will be facing immense pressure to perform.
In the group stage, the Inter defender probably won't face too much trouble as Brazil go up against Ecuador, Haiti and Peru. Once they start facing the real challengers in the knockout stage, look for Miranda to either thrive or crumble under pressure. Let's not forget the last time that Brazil were in a vital knockout match in a major tournament *cough* Germany *cough*. If Miranda fails to put in consistently good performances, look for Dunga to face even more criticism from fans and media.
Chile: Arturo Vidal
For this pick, I was between Alexis Sánchez and Arturo Vidal. Vidal's impressive year with Bayern Munich swayed me towards his side of the argument. His first year in German football ended with three trophies and Bayern fans will feel unlucky not to have added a Champions League title to that list, as well.
Vidal provides Chile with an experienced, composed presence in the midfield. His relentless defensive work, paired with his precise passing makes him a vital part of any Chilean push for the title. Last time he was with Chile for a major tournament, Vidal got into some off the field issues after crashing his car in a drunk driving accident. Hopefully, for everyone's sake, this doesn't happen again and he can help push Chile far in this tournament.
Colombia: Juan Cuadrado
Colombia have to be considered one of the favorites to win this year. Their group may be a little tricky with the U.S., Costa Rica and Paraguay, but Los Cafeteros have, by far, the most talented squad of the bunch. With European veterans featured at nearly every position, it was difficult to pick an X-factor. James Rodríguez will obviously play a major role for the team in central midfield, but I decided to pick a different midfielder to focus on: Juan Cuadrado.
After an uneventful half season at Chelsea, the Colombian winger moved back to Italy to play for eventual Serie A champions Juventus. At Juve, his pace and trickery on the ball helped him score five goals through all competitions and assist another five, as well. While he hasn't really been a goal scorer on the international level (six goals through 50 games), I think that Cuadrado will prove to be one of Colombia's most dangerous options on the attack.
Costa Rica: Joel Campbell
Don't sleep on Costa Rica this summer. La Sele feature some exciting players on their roster, and they've been known to play spoiler on the international stage. Over the last 12 months, they've beaten the U.S. and Uruguay, but somehow failed to win a single game at the 2015 Gold Cup. Can they turn that terrible tournament record around this year?
One player that will play a major factor in determining Costa Rica's results will be Arsenal midfielder Joel Campbell. The 23-year-old still hasn't established himself as a consistent starter under Arsene Wenger, but this season he made a career-high 17 Premier League appearances for the Gunners. In those matches, Campbell showed fans why he is such a highly touted young talent with his speed and strength on the ball. He's already scored 11 times for his country, I'm sure he'll add to that total this summer.
Ecuador: Antonio Valencia
I know this pick might seem a little bit biased, but I really think that Antonio Valencia will be a key player for Ecuador this summer. Ecuador's group contains the powerhouse that is Brazil, Peru and Haiti. I think it's going to come down between Peru and Ecuador for the second spot in the group and a place in the knockout rounds. Antonio Valencia's experience at the highest level of competition should help nudge Ecuador ahead of Peru.
After coming back from injury this season, the midfielder/fullback rediscovered the electrifying form that he had under Sir Alex Ferguson. Valencia emerged as United's first choice right back, and was easily one of their most dynamic and effective players on both sides of the pitch. His eye for the perfect cross and his relentless effort on the pitch make him a vital player for Ecuador in group B.
Haiti: Stephane Lambese
I don't think anyone's really expecting much from Haiti this tournament. 2016 actually marks the first time in Copa America history that the Haitians have even participated. Currently ranked 97th in the world by FIFA, I think Haiti will just be hoping for a point in the group stage.
With all of that being said, one player that I want to see get a shot is defender Stephane Lambese. The 21-year-old is currently playing in PSG's academy system, and with no real expectations on Haiti to go far in the tournament, I think it would be wise to give Lambese some experience in such a historic tournament.
Jamaica: Wes Morgan
The one Premier League champion featured on the list is Jamaica's Wes Morgan. Morgan captained Leicester City's fairytale run to the top of England this season, and maybe he can lead a similar run for the Reggae Boys at Copa América.
The 32-year-old will face two high powered offenses going against Uruguay and Mexico in the group stage. At Leicester, Morgan made a name for himself by being a tenacious defender that wasn't afraid to get in the way of shots. He'll need that same tenacity of Jamaica hope to sneak their way out of the group stage this month.
Mexico: Andrés Guardado
Mexico are currently on the longest active unbeaten strike in international football after not losing in their last 19 games. A 1-0 win last night over Chile last night added number 19 to the record, and now El Tri really have to be considered a dark horse contender for the trophy this summer. With heaps of European talent on their roster, Mexico won't be intimidated by any team they come up against.
One of those European players, Andres Guardado, really emerged as a star this season in the Netherlands. Playing for storied club PSV Eindhoven, the central midfielder was a constant presence in the starting lineup as the club claimed the league title and made a run into the knockout rounds of the Champions League. His passing and defensive abilities in the heart of the pitch should help Mexico cope with the likes of Luis Suarez and Edison Cavani in the group stage.
Panama: Jaime Penedo
Panama have proven to be fully capable of knocking off the best teams in CONCACAF on their day. Now, the question will be if they can replicate these results against their South American counterparts. With Brazil and Chile standing between them and the knockout rounds, I'd be surprised if we see Panama get past the group stage.
One of Los Caneleros' best hopes of stealing a win against these top sides has to be the play of their keeper Jaime Penedo. On May 30, Penedo and Panama lined up against Brazil for a friendly and promptly lost 2-0. In that match, Brazil had 20 total shots (six on target). This shows that Panama isn't going to be playing any lockdown defense this tournament, and that the former LA Galaxy netminder is going to have his hands full in almost every match he plays.
Paraguay: Juan Iturbe
At last summer's Copa America, Paraguay made it all the way to the semifinals before claiming a fourth place finish. That year, they managed to escape a group that contained Argentina, Uruguay and Jamaica. They went undefeated in the group and even finished ahead of Uruguay for the second spot. This year, they'll need to surpass the U.S., Costa Rica, and Colombia.
One player that I think will help them is someone that wasn't even with them last year. Juan Iturbe, 22, declared his intentions to represent Paraguay at the international level rather than Argentina earlier this year, and he could provide them with an attacking spark. Splitting this season between Roma and Bournemouth, Iturbe never really found his footing at the club level. Paraguay fans will be hoping that he can pull a Lukas Podolski and shock the world at the international level.
Peru: Paolo Guerrero
While Paraguay's fourth place finish at last year's Copa America was unexpected, Peru's third place finish was unbelievable. Currently ranked 46th in the world by FIFA, Peru don't really boast any superstars on their roster. A manageable group with Brazil, Ecuador and Haiti, could see the Peruvians once again make a run into the knockout rounds.
The player to watch for them has to be their leading scorer Paolo Guerrero. On the international stage, the Flamengo striker has scored 26 times (more than the rest of the team combined). At last year's tournament, the 32-year-old was joint-top scorer with four goals, with three of those coming against Bolivia in the quarter-final. If he can't find his scoring touch, Peru will struggle offensively throughout the tournament.
Uruguay: José Giménez
Uruguay have no shortage of great players on their roster. Their recent resurgence back up to international relevancy has been nothing short of astounding, and that's in large part to the skill present on their roster. World beaters like Luis Suarez, Edison Cavani and Diego Godin highlight the superstars on the squad, but I want to focus on a younger player.
21-year-old center back Jose Gimenez announced himself to the world this season at Atletico Madrid. Altogether, Gimenez started 36 games for his club as they secured the best defensive record in La Liga (18 goals against through 38 matches). Presumably he's going to partner up with his clubmate Godin at the heart of Uruguay's defense and it'll be interesting to see how he handles such a big stage.
United States: Bobby Wood
There were a couple of players I could've picked for this spot. Michael Bradley is always a key player in the heart of the pitch. Brad Guzan will surely play a huge role for the team in goal. With all that being said, Bobby Wood is the player I'm picking for the United States.
With the absence of Jozy Altidore through injury, the pressure of scoring goals will fall on the shoulders of the new Hamburg striker. Last season at Union Berlin, the Hawaiian native thrived, scoring 17 times and assisting another four. This meteoric rise set the stage for the 23-year-old's move to the Bundesliga, and hopefully he can continue his goal-scoring form on the international stage.
Venezuela: Salomón Rondón
Last year at the Copa América, Venezuela struggled heavily. Through three matches, Los Llaneros won just a single match before losing back-to-back games to Peru and Brazil. As you would expect, this wasn't good enough to get them out of the group stage. This year doesn't look to be any easier as they face Uruguay, Mexico and Jamaica out of the gates.
One thing I'd like to note about last year's tournament is that through those three games, Venezuela scored just twice, and they never managed to score more than once in a match. With that being said, I think their X-factor is going to be West Brom striker Salomón Rondón. The 26-year-old led his club this year with nine goals, and his physicality in the box made him a vital part of West Brom's survival in the league. Look for him to be a constant part of Venezuela's attack.