Hello beautiful. This time I'm enjoying the music stylings of Modest Mouse, to the tune of Satin in a Coffin. I love Modest Mouse, despite their melancholy vibe. If only they would release more music.
Anyway.
Group B: Spain, Netherlands, Chile, Australia
Immediate reaction: Poor Australia. They will almost certainly exit this group without a single win. Spain are the obvious favorites to win this group, with Netherlands and Chile battling it out for the second spot. I'm not sure who takes it between them. Full disclosure, I'm biased towards Chile because of Alexis Sanchez. But they're playing very well right now, as is Mr. Sanchez.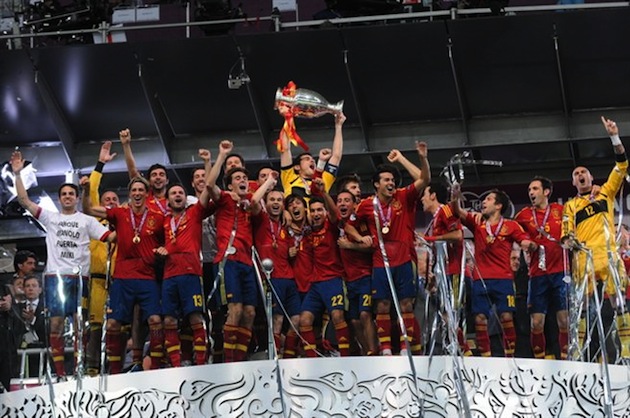 In Focus: Spain
I think a lot of people are looking past Spain after their defeat to Brazil last summer. But it's not impressive analysis to say that they're going to be a contender, and my favorite to emerge victorious.
However, significant changes are needed to this side. They need to adapt and become more fluid and forceful. Xavi, I hate to say it, is old and wearing down. Barcelona has stunted his career significantly in recent years. You simply can't play a 32 year old with injury problems in 60+ games a year. But they did, and it's showing. So who do you play in his stead? I think Busquets may be a viable option; Javi Martinez deserves to start, and Xabi Alonso may be back in with a shout from the summer. Busquets was originally billed as Xavi's replacement as he was coming up before he thrived in the DM role. But Schweinsteiger played winger for a time before becoming one of the top defensive midfielders in the world. And this transition would be more seamless.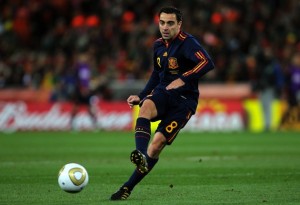 I think you see Diego Costa probably start up top, although Alvaro Negredo is playing wonderfully right now and he also has the small advantage of actually being Spanish with experience with the team. Poor Juan Mata may have been damned out of a borderline-starting role this season. Silva has been decent for Spain, while unimpressive for City this year. I think you see Iniesta, Pedro (scoring for fun with Spain of late) and Fabregas starting in the front three, Cesc playing the Xavi role. I worry that Alonso won't be holding up, so you see Martinez and Busquets in the hole.
Spain needs a Thiago-type player to come in, or a Deulofeu (this WILL NOT happen; but it's an example of the type of player needed). These are players who take people on and like to bomb forward. That's why VDB loves Jesus Navas. He's quick, a full winger and eager to take people on. Spain often suffers from a lack of width, which is why you may see Spain utilizing a 4-4-2 or a 4-3-3 come the summer, as opposed to their old 4-2-3-1. We'll see. But they must be able to attack quickly and ruthlessly. Teams are learning that Spain are vulnerable on the counterattack and not nearly as ruthless up top. They think that, even if they're being vastly outplayed, they'll get a chance or two. So if they park the bus for 85 minutes and create something on the counter, they'll have an opportunity. That's Spain's biggest weakness right now; slow buildup and fragility when hit at speed.
So Spain get through. Followed by…
The Other Guy
Netherlands: I'm giving the Dutch the edge over Chile because they have the experience, and because frankly they were embarrassed at Euro 2012 and they'll want to avenge it.
That being said, the Netherlands aren't the same side they were 4 years ago. Players have aged and downgraded, club wise. Robben is having an excellent revival in the past 12 months, but his knees weaken with every game. His injury risk is huge. Sneijder is continually linked with moves away from Turkey, especially given his bizarre departure from the team. Manager Roberto Mancini had no idea where he went. He's almost definitely leaving January, but will all of this turnover be good for him? He turns up internationally, but World Cup 2010 followed a marvelous season with Inter. RvP is having a slow year thus far, plagued by injuries and suddenly finding himself overshadowed by a resurgent Rooney.
Meanwhile, players like Huntelaar and Afellay have faded since Euro 2012. De Jong may force his way back in. Strootman is asserting himself at Roma and will probably be a lock in June. But there are open slots, to be sure; Van der Vaart popped up against Japan and Columbia.
The spring friendlies will more definitively reveal where the Dutch are and what they'll look like. They don't inspire much from me. I don't think they make too deep of a run here, and it's about 65%-35% that they even make it out of the group stage.
Match of the Group: Spain vs. Australia. Just kidding. Chile v. Netherlands. If you figure that Spain beats both the Chile and Australia and makes off with at least a point against Netherlands, and both Netherlands and Chile beat Australia, then Spain will be on top with 7 points. Netherlands with 4 and Chile with 3. The winner of this match, then, will get through. Again, I think Netherlands win here. They have more weapons. The question is whether those weapons show up or not.