Ah, what a year. America's sweethearts, Kanye West and Kim Kardashian, got married. Aaron Hernandez was charged with murder. Robin Williams, Joan Rivers and Philip Seymour Hoffman all died. Frankenstein and Dracula movies were released.
Wait, none of those are positive? Huh.
Anyyyyyways. It was an interesting year for the USMNT, which saw the Yanks grind to the round of 16 in the World Cup. Oh yes, my friends. Full of highs and lows, peaks and valleys, skyscrapers and bungalows, upright hot dogs and standing Vienna sausages. Let's review, shall we?
Lando Cal-left-at-home
That was a Star Wars reference. Unfortunately, that trailer looked like an epileptic seizure met a 4th grader's space-themed class project. Confusing and disorienting and nonsensical and synonyms.
It would be a lie to say that Landon Donovan's exclusion from Jurgen's World Cup squad nearly eclipsed the event itself in the national mind. For many, he has represented the squad since he burst onto the scene in 2002. He scored one of the biggest goals in the team's history in 2010, dominated MLS and sometimes decided to go play for Everton. There's an argument to be made that he's the greatest player in MLS and USMNT history. So, the general bewilderment when he was left at home this summer is understandable. If we had any chance of escaping the Group of Death, we needed Donovan on his A-game. Well, we managed to make it out.
I don't know why Landon was left at home, and we'll never know if his inclusion would've helped us past Belgium. He may have also had a terrible game against Ghana or Portugal and we lose. It's impossible to say, so let's not play that game. I think it is fair to say that Jurgen is looking to the future, to the Copa America, to the Olympics, to the Gold Cup, and to Russia (with love). He figures that Landon likely would've only been there for the Copa America, whereas a Julian Green, or a Deandre Yedlin, would be there for all of them.
It may also be true that he didn't like Landon's status as a bigger-than-the-game figure, an attitude with which I can sympathize. Landon skipping town to spend some time galavanting in Cambodia probably didn't help his case, either. It's apparently true that the Californian has struggled with depression and anxiety for years, and of course that sort of thing comes before the game. So it's dicey, and I don't know who is right or wrong. In any case, the American game says goodbye to one of its greats. Who knows what the soft-spoken dude will do next, but here's hoping it won't involve photo shoots.
Jurgen v. America
On a related note, Jurgen spent chunks of this year trying to prove that he was the man around this piece. He picked at the MLS, its star players and the Statue of Liberty. MLS commissioner fired back, publicly, and the spat has simmered since then. Sunil's relative silence on the matter is an interesting take; he's essentially said that he supports Jurgen and his role as both coach and technical director, but he also doesn't want to step on the toes of a growing league (sprouting up despite its confusing transfer rules). Tricky.
I'm going to side, mostly, with Jurgen. To be fair, if you've read any of the nonsense I've spat upon computer screens before, you know that I'm a pretty big Jurgen homer. I agree that stars like Michael Bradley and Clint Dempsey moving back to the States isn't a brilliant strategy for their careers. Bradley is still fairly young and definitely can offer something to a top-10 team anywhere in Fortress Europa. Clint is a little older, but his time at Fulham proved that, in the right system, he can be successful even against top competition. Bradley had a rough World Cup and hasn't played stellar for the USMNT since, although that may be attributed to his playing out of position at the top of the midfield. Clint has had sparks of brilliance, of course, but he has a tendency to slip out of games.
Here's the thing: the powerhouse nations all have players, both senior and youth, in the top leagues. I don't think it's unreasonable for Jurgen to voice frustration that his players aren't challenging themselves abroad. His job isn't to grow the league or, arguably, even increase the overall popularity of American soccer; it's to make our program more than a mid-major.
Like I said after the World Cup, at some point we have to stop being pleased with getting out of the group stages. That doesn't mean we should just flush away the great play vs. Portugal, the fight and response vs. Ghana, or our ability to weather the storm vs. Germany, but if we walk away every four years happy to accept a Sweet Sixteen exit, then we will never grow.
Now, I'll qualify my support for Jurgen by saying that he should probably tone it down a bit. While he may not be an MLS ambassador, he still one of the faces of the sport in this country. An argument can be made that a better MLS will increase kids committing to the sport, which will increase the overall quality of the academies, which will (theoretically) increase our player pool, even if players eventually move abroad. It also won't make the guy more popular among players, and, arguably more or less importantly, fans.
As for Garber, he also shouldn't be quite so openly and candidly critical. Of course, if Jurgen is open with his contempt, then Garber can respond publicly. But he shouldn't go overboard. We're on the same team here, guys.
About that World Cup…
I wrote something up in the wake of the World Cup back in July, so I'll try not to rehash that too much. I'll just touch on the main things I think we should take away from the whole experience, which again was probably an overall positive.
The kids are alright. Yedlin, Green and Diskerud are the future. The experience of some of the other guys around them will hopefully help them mature and grow. Mix didn't get a ton of experience, unfortunately, but he was still there in camp and has gotten quality minutes over the last few years. Green and Yedlin getting time is invaluable, both in terms of matching up against top competition in the top competition, but their field time shows that Jurgen believes in them and rewards hard work. Loyal to the coach. Other kiddos (to be fair, several are older than me…) have come up before or after the World Cup as well.
We gotta finish out games. A late(ish) goal v. Ghana, Portugal, goals against Belgium. More on this momentarily.
Starting poorly was a real issue in 2010. We were much better this time around, obviously scoring early against Ghana, responding well after going down to Portugal, and riding out a tough storm against Belgium.
Please, Jurgen, please. Put Bradley back in his regular position. I know we need attacking midfielders, but Bradley ain't one, and trying to push him forward is just wasting what he can do farther back.
I've already gone over my biggest thing with the World Cup, but here goes again: expect more. Want more. Don't be pissed or upset with how we did, but don't walk away feeling overjoyed. Top Sixteen won't be good enough forever.
World Cup hangover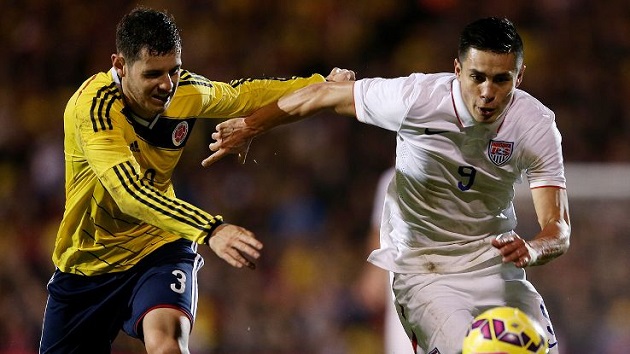 There's much to be said about the World Cup hangover, and sometimes it's true. Spain lost often four years ago, and Germany has taken a few blows (notably from Argentina) since July.
The U.S. gave up leads against Honduras, Ecuador, Colombia… I mean, I'm sure there's fatigue. Some of these guys have played virtually nonstop for a while now, and so that's understandable. I also know there's been significant squad changes since the World Cup as Jurgen brings in younger guys and gives veterans a break. But all the same, we still shouldn't be blowing games. Ireland played a young lineup. Colombia had a long and emotional World Cup. Ecuador and Honduras were both in the tournament, too. Admittedly, there are differences between those two's campaigns and the United States', but still.
I'm sure this will be smoothed out by Jurgen; younger guys may have different fitness levels. I'm not too terrified of this trend or anything. But it's something to keep an eye on as 2015 gets underway.
What's next?
Oh man, the train never stops. The Women's World Cup is this summer, and we're poised to be awesome, as always. I'm very disappointed with FIFA and the Canadian organizers and their turf stance. Unfortunately, I don't think anything will be resolved here, and also unfortunately, the women will do what anyone would do, and play the tournament anyway. It's a huge opportunity, especially for our ladies who came so close four years ago. It just sucks that there's zero respect for WNTs the world over. I plan to write more on this later, especially how this whole B.S. argument about the northern location of the Canadian fields will work with effing Russia, but that's for later.
We've got the Gold Cup, the Copa America, and the Olympics coming up, too. January camp starts in a few weeks. Saddle up.