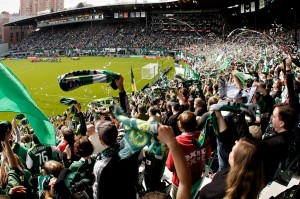 The MLS seems to be mourning the loss of David Beckham as we approach the halfway point of the season. With the tables in an upheaval and teams currently en route for the playoffs typically the type of teams that WISH they were on track for the playoffs, the MLS has created some fantastic storylines as it approaches the home stretch. Will the typical heavyweights return to prominence or will the new boys find their first taste of championship success?
As discussed in the first article, the Eastern Conference is in a big state of disarray, but this article will focus more heavily on the Western Conference. The Portland Timbers find themselves on top of the table after a 3-nil defeat of the Colorado Rapids. With a past where the Timbers have strained to pull something over on their Cascadia Cup rivals, snagging top spot into the playoffs, especially with Seattle currently missing out, would be a monumental achievement. Currently riding a 15-game unbeaten streak, this team actually has the type of play that is necessary to make a long playoff run.
The Timbers have only suffered one loss in the entirety of the season, and they definitely have impressed at both end of the pitch. Their defensive record is tied for second in the league and they have scored the most goals in the entirety of the MLS. With a fantastic striking core and the current MLS MVP runaway choice in midfielder Will Johnson, the Timbers would have to begin sputtering heavily to miss out on the playoffs.
The only other real surprise in the top 5 of the West would have to be FC Dallas. After the transfer of Brek Shea to Stoke City, many (including me) wondered if they would be able to have any attacking presence. Turns out, they have been scoring at a top-tier level (tied for second in the league) and they are sitting in third place in the Western Conference.
With the Western Conference, the biggest surprises come in the teams that are currently not qualifying for the playoffs. The Seattle Sounders will be furious if the Timbers make the playoffs. The pain will only compound itself if Portland makes a deep run. Considering they are only outside the top five because of goal-differential, Seattle does have the best chance of turning their season around. The San Jose Earthquakes also find themselves outside the top five, and with last year's MVP in Chris Wondoloski, they will be wondering why.
The MLS may have some new faces in the playoffs this year, and I would definitely enjoy seeing a few of them make the playoffs a little less "Galaxy" friendly. With the league still developing, and fan-bases still trying to grow, a dynasty might be a little counter-productive for those new fans. Still, considering the vastly different competition that may face the Galaxy once we get into the postseason, we are definitely doing something right.