With the ultimate MLS prize within grasping distance and the 2017 MLS championship game only a short distance away, it's time to delve into which club seems poised to end the season as the king of MLS soccer and add a star above their crest. This repeat of the 2016 MLS championship is an incredibly difficult call on which side will be able to lift the trophy this time around but we're more than okay with being wrong (or bragging about when we're right), so we're going to give it a go.
Will the Sounders add their second star? Will Toronto make their star-power pay and get their revenge for last season's finale loss?
The biggest storyline heading into the ultimate MLS fixture has to be the health of Jozy Altidore. Scoring the lone goal against the Crew over two legs (incidentally, Altidore was only working with one good leg), the American striker is showing that he has quite a bit to prove after recent USMNT failures. Add in the marketing fact that the American striker is looking to ensure that Puma see their newest acquisition as a worthwhile piece, and Mr. Altidore has everything to prove in the Championship though the main question is, will he be there?
The rest of Toronto will be moving forward believing that they can succeed with or without their target man. If there's ever an attacker that can pull magic out of a hat, it's certainly TFC's Sebastian Giovinco. If the Italian is in the mood, he tends to be the best player involved. Outside of the magical Azzurri, Michael Bradley continues to show that he can put in good shifts when he isn't expected to be some type of midfield fairy. It's worth noting that the US captain is also suffering USMNT fallout syndrome along with Altidore but if he can prove himself here and use this to catapult himself forward, there might be a spot for him when the USMNT starts to piece itself back together. Altidore and Bradley have truly fallen back into the audition stage of their USMNT careers and so far they seem to be relishing the role.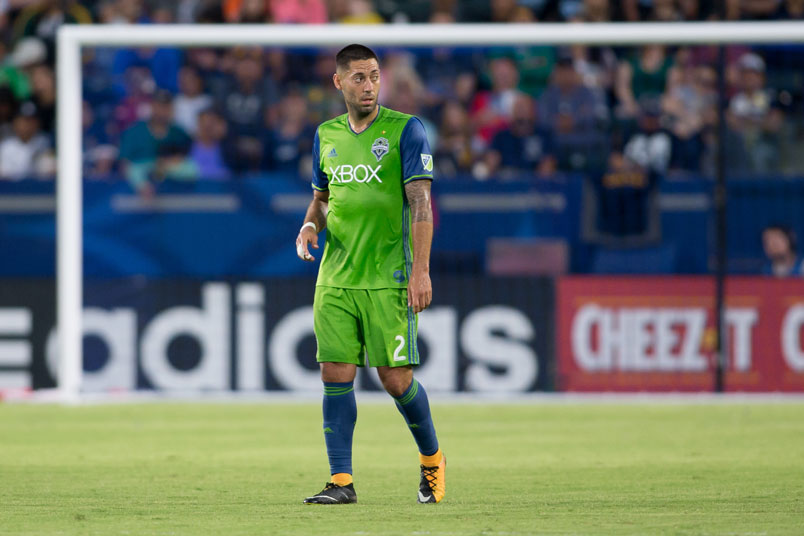 Seattle will not be an easy team to handle, no matter what Bradley, Altidore, Giovinco, and TFC have planned. Proving that they're peaking at the right time and the most capable goal-scoring team in the playoffs, there's a million cliches to say about "momentum", and Seattle has just that – momentum. Clint Dempsey and Seattle would love to have one star more than their Portland rivals, and it won't matter to them in the slightest that this is a repeat fixture. No team has phased them in the playoffs and TFC won't have any type of intimidation factor against Seattle. Jordan Morris is in the same world as Bradley/Altidore when it comes to the future of the USMNT, and he is constantly playing against a world of fans angered at his choice to stay in the MLS.
Very quietly, and perhaps the most overlooked stat of the playoffs (considering Seattle's attacking talent), the Sounders have kept a clean sheet throughout the playoffs. Considering that's four games in playoff situations that are anything but stable, it might be the factor that sees a repeat hold off the revenge. If Seattle captain Alonso (perhaps their most underrated and consistent piece for the better part of a decade) is healthy and Roman Torres continues to be a top 3 defender in the MLS (yeah, I said it) then TFC is going to have a hard time finding the back of the net (hint: it's tough to win without scoring).
We're going to call the scoreline whether Altidore is healthy or not. The weather and fan-base of TFC hosting this game might hurt 95% of opposition MLS squads but Seattle won't be phased (they play in Cascadia stadiums all season long, they don't get flustered by fans) and temperatures will hinder both teams a bit. However, no squad has proven that they can handle a moment of Giovinco magic and he's looking for silverware before a World Cup year.
Final score:
Toronto – 2
Seattle – 2
Seattle wins on penalties as Altidore skies one into the stratosphere and Dempsey converts to cement his Seattle legacy.