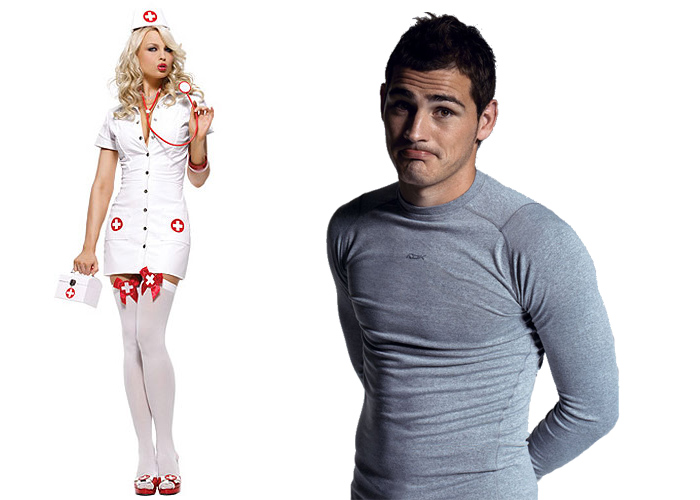 If you are a fan of the Center Circle (which, if you aren't, you should be) then you would have seen that the benching of Iker Casillas was one of the most interesting footy topics that we have ever seen this past year. The fact that Spain's #1 and that a player that had long been considered the best shot-stopper in the world was riding the pine for Mourinho and then for Ancelotti seemed a surreal topic for all of us here.
Now, the plot has thickened. Less than half of the first half had gone by when long-time "Casillas should start" advocate Sergio Ramos planted an elbow firmly into the ribs of Casillas and made sure that his national team teammate would not be competing with Diego Lopez anytime soon. Casillas will see this as a horrible confluence of events as his start in the Champions League might have signaled Ancelotti finally deciding that Casillas was going to be Madrid's #1.
Any follower of Madrid and Casillas will know that the reason that Diego Lopez was brought in by Mourinho was because Casillas had been injured last year. The crazy part? He was injured by a teammate on that injury occurrence too! Now-Napoli right back but then-Madrid right back Arbeloa inured Casillas when this whole Casillas issue started the first time. If Iker spends the rest of this season on the bench, he will definitely feel that he has the worst luck in Spain.
With this injury, it does allow crazy people like me a window to talk about what might happen IF Casillas now spends most of the season not on the pitch. Barcelona will be looking for a keeper in 2014 and Casillas will easily be a hot commodity for any team that will be able to splash the cash. If he gets a bigger paycheck next season, perhaps he should thank Ramos and Arbeloa for allowing him to have a window to exit Madrid. Without these injuries, Casillas would never have left Madrid.
As a big Casillas fan (who wouldn't like a relatively short keeper that somehow dominates between the sticks), it hurts me that he will be out of action even longer! However, it does open the door for everyone to pounce if Diego Lopez has any type of slip-up over the next few months. Here's hoping that Lopez does not allow further scrutiny to surround the keeper's position in Madrid…but, knowing what I know about footy, the story-line always seems to play out as badly as possible for the keepers…