It stands to reason that this weekend may have been one of the most unpredictable that we have seen since a certain Germany/Brazil match, but there is no need to put your team kit up for sale on eBay just yet. While any long-term fan will have had to suffer through some down days and weeks (or, maybe years), some of the younger fans will be experiencing some brand new types of suffering. Before you make the bandwagon jump over to Stamford Bridge, take a moment to consider your situation.
For the first group, you are wondering what has happened to your Red Devils. It seems only yesterday that you were adding another EPL title to your cabinet, but the last few months have been difficult. The World Cup offered little reprieve as most of your players either were ineffective or rode the bench for most of the tournament. Then, a big-name manager arrives in town with a massive history of winning, some absolutely gargantuan signings step into Old Trafford, and the season starts off with you facing ZERO of the teams from the top 10 of last season (not to mention all three of the recently promoted teams) in your first five matches…what could go wrong?
Everything…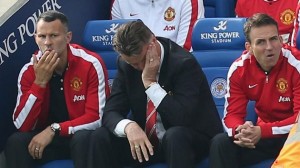 A lack of defensive cover, a genuine problem of choosing a starting 11, a serious lack of cohesiveness, a captain trying to take on too much, and simple mistakes that seemed to never occur only a few seasons ago for United. While Van Gaal has a big task on his hands, the back four of United present a very troubling situation. While De Gea proved to be one of the best shot stoppers in the land in his time wearing red, he cannot be expected to carry the defensive load alone. Considering that Leicester City does not have the trickiest customers up front, the penalties given away paint a worrisome picture for when they have to face some of the better attacks in the league. Being out of the Champions League may have been a blessing from a fixture standpoint, but if the Foxes can bang five against the Red Devils then what would Madrid or Munich do?
If Liverpool from last season is any type of measuring stick, the amount of attacking talent at Van Gaal's disposal (when they are in form) could cover up any sized defensive frailty. Falcao is still not 100%, Di Maria seems to be starting to show his dominance, Van Persie does not need to be seen as the savior, Herrera shows flashes of future class, Januzaj (if he is not sold) will be something even more special than he is now, Mata is hoping to prove himself, and Blind will be a defensive backbone. However, Rooney is flirting more and more with being incapable of leading a squad. Considering how often he has held United for ransom, his returns are lacking. As we mentioned, RVP cannot be looked at to recreate the last championship run. Age and injury are taking their collective toll and, despite the connection with Van Gaal, it may be time to get as much cash as possible before only being worth something to a smaller club.
The talent the club already has and the ability to obtain defensive cover in January means that United will be able to rebuild. It may not be this season, but Van Gaal (if given time) will be able to return to the top of the heap with the Red Devils. United are in a full blown rebuild and patience is going to be required in order for this turnaround to happen without making huge mistakes in the process. Shoving their way back to the Champions League after some showings like this might result in a situation where one or two seasons of success could result in another big fallout (and, yes, this is a BIG fallout).
Sadly, the time to judge United feels like it will come closer to February. If the game against QPR had resulted in a true turnaround, then time would still be on United's side to return to the promised land of the top four. However, this result against Leicester seems to hint at a very difficult season…but, still…don't panic…yet. The season is still young, but it is definitely time to start growing a thick hide…