Boy oh boy.
It's been a mad few weeks for F.C. Barcelona, turbulent and stressful in the extreme. Let's break it down, shall we?
Messi the Dictator, the Flight Risk, the Legend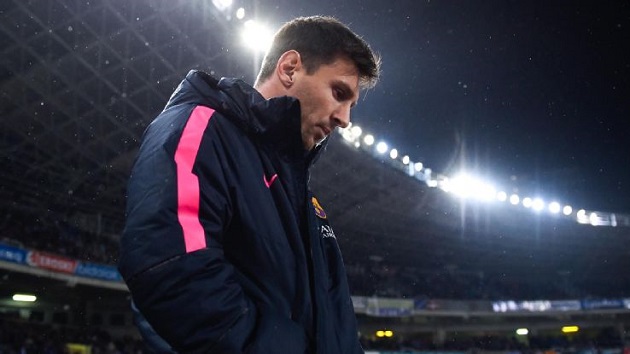 It seems every season since Pep Guardiola left, rumors pop up suggesting Messi is fed up with the club and the board and is demanding a transfer. Obviously, these rumors have been false up until this point, and there're several reasons why the greatest player to ever grace a football pitch will not leave the club for many years.
For one, this club is his home. He's been there for nearly 15 years. They discovered him, snapped him up at high speed, paid for his medical treatments and shipped his family over to Barcelona. He made his debut 4 years later, and, as they say, the rest is history. He's won everything with the club and has a strong connection to the fans. Guardiola and Tito were incredibly influential in his development, as they both worked with the Barça B as the Argentinian was coming up. He has never had a publicized spat with teammates, and prior to this Luis Enrique business (more on that in a minute), he's also never had issues with a coach.
Second, the money is good. Very good. I don't believe that matters too terribly much to Messi, but there aren't many places who will pay him more and, even if they could, would it matter?
Speaking of money, few clubs could afford to pick him up from Barcelona, an imaginary scenario that of course assumes the club would sell him. He would likely cost more than 200 million euro, a price tag that only PSG, Chelsea or Manchester City could afford, and it would likely annihilate those club's FFP statuses. It's impossible from a financial standpoint, essentially.
So where did these most recent rumors come from? Truth be told, they've been brewing for some time. Messi is constantly the subject of media criticism in Spain, as the largest papers are Madrid-based and are well connected to a certain white club there. Of course, his tax issues are widely publicized. He's also been accused of demanding more money, playing time, control of the field, selection of coaches and front office people… The accusations roll in, and the board rarely, if ever, support him publicly. They remain silent, and he is bombarded. Messi is a quiet guy and apparently boils things up until they burst forth. Add that to the constant coaching turnover (four coaches in four years) and disastrously out of touch upper management and you can imagine Messi's frustration.
On the dictator charge, which is the most common: that appears to be totally baseless. Former teammates and coaches have never suggested this. The playing style of Tito and Tata revolved around Messi, so naturally he is the focal point. But dictator? That seems unlikely.
For what it's worth, Messi has recently said he'd like to play in Argentina before he retires. Previously, he said he'd finish up his career in Catalonia. Again, this is likely more suggestive of the complicated relationship he has with the fans from his home country, but all the same.
In summation: I really, really don't believe Messi will leave anytime soon. But if he were to leave, it would be now. The board calling new elections and the stellar performance today against Atletico Madrid certainly helped, though.
The Board of Doom
It's difficult to put into words the issues with Sandro Rosell's (and now Bartomeu's) board. They took the greatest team in the history of football and let it fall apart. They were determined to pull the club out and debt and figured that the squad could continue at the record-setting and blistering pace it had from 2008 to 2011. But that's impossible. Too many miles in the legs of Xavi, Iniesta, Messi, Busquets, Pique… They needed players to keep the team viable, but they couldn't and wouldn't.
Of course, Rosell has since resigned in disgrace after botching, hiding and failing to truly explain the murky details of the Neymar transfer. He was long and oft criticized, but it was this epic mistake and meltdown that finally cost him. He was hated. He shouldn't've been elected. He left and appointed (an unelected) Bartomeu to the presidency, a ridiculously presumptuous move. He should've called immediate elections, but the guy tried to run the club and failed spectacularly. Disgraceful. Now he has finally made the right decision and says he will run. Mysteriously, he's also rallied around Messi since the announcement. Already playing the politics game, apparently. If he's reelected, I'll eat my dog.
Speaking of the rare good decisions of the board, they finally fired sporting director Antonio Zubizarreta last week. The former Barcelona goalkeeper had the heaviest hand in apathetically allowing the squad to age and decay. He failed, along with Rosell and Bartomeu, in preventing the club from getting in the ban situation they find themselves in (never mind that the club does what most clubs, including FIFA-backed QATAR FOR CHRIST'S SAKE, do and actually do it with more integrity than most). Last summer, he failed to equip the squad adequately to survive a potential ban. Thomas Vermaelen? Seriously? He was injured when they bought him. What in the name of God was he thinking? Xavi's decline, Pique's decline, and Messi's fitness issues are largely the fault of Zubi. He's perhaps more despised than Rosell and Bartomeu.
Enough giving these incompetent fools grudging compliments. Do you need further evidence that the management is completely lacking in sporting knowledge? They've kept Eusebio as coach of Barça B. Despite a few excellent finishes in La Liga Adelante (almost entirely thanks to a stellar squad), the coach hasn't done much to advance the ability of his players. He misuses them and doesn't provide necessary feedback, which is why you saw Deulofeu receiving significant coaching at Everton last year. He's a poor player developer, and now that the squad has lost many of its top players to the top squad and loans, he's watching the youth team plummet into the drop zone.
The new elections cannot come fast enough. When I think about how dominant this squad was three or four years ago and how this group of IDIOTS allowed it to fall apart, it makes my blood boil. It's infuriating. It's a dark moment in the club, without a doubt.
Coaching Blues
Like I said, the club has had four coaches in four years. Pep, Tito (may he rest in peace), Tata, and now Lucho. That's a lot of turnover for a once well-oiled machine. Pep left because of the board (most likely), as (likely) did Tata (although it can be argued that he simply overestimated the stress and difficulty of the position). They've now hired Lucho, who does not really have a well-defined system and his God-awful man-management skills have been widely publicized.
I think the reports that Messi have demanded Lucho's head are also exaggerated. I think Messi was likely pretty pissed that he was given an extended break but was then punished (essentially) by not starting in an essential game. He hates sitting games, especially when the game ends up turning sour. But the coaching situation is incredibly tricky right now; if Lucho is fired, how do you hire a coach with the new elections looming? A new board would probably want their own man at the helm, so canning Lucho and installing a new coach to ride out the last season is a recipe for disaster; it may cause the club to have three coaches in 5 or so months.
I'm not saying Lucho shouldn't be fired should the club fall apart again, but it's something to think about. It's also why you will probably see safe and interim sporting director choice. The board wants a friendly, recognizable and well-liked face to do nothing for the next several months. He won't have enough time or opportunities to make a mistake, and it'll help the current board gain popularity. Political, naturally.
It's a very turbulent time at the club. The next few months are going to define an era. Will it be a rebounding year that sees Barça challenge and even retake the La Liga crown? Or will it see the club finally slip down the drain, the board completing the disastrous work of the last 3 years? It's tough to say. Either way, it's going to be something worth watching attentively. Buckle up.