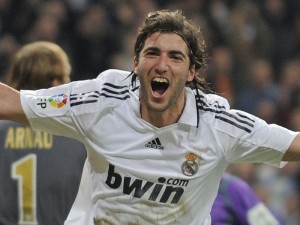 There are always a few transfer rumors floating around in the footballing atmosphere that make no sense to me. Rooney to Manchester City a few seasons ago, Neymar to Bayern Munich, and others always get me to raise an eyebrow and giggle at the possibility of what would occur if these transfers happened. This summer, the pursuit of Gonzalo Higuain by Arsenal has me wondering what Arsene Wenger could possibly be thinking.
This has nothing to do with the talent of Higuain. The Argentine striker could add to any strike-force, and he would probably be integral to the Madrid future if Mourinho had not mishandled his striker situation so badly. If he joined Arsenal or left for anywhere else, it is not hard to think that he could provide twenty goals a season and also be useful if a team has Champions League aspirations. This move has everything to do with what Arsenal already has in their stables.
Bringing Higuain means that Wenger and Arsenal are looking Olivier Giroud and Theo Walcott directly in the eye and telling them that they do not see them as viable, long-term options to attack through the middle of the pitch. Sure, Walcott just re-upped with Arsenal, but that does not mean that another slight from his club would not see him turning in a transfer request to try and play somewhere else. And, on top of that, Walcott is young enough and possesses enough talent to have a very long list of suitors if it becomes rumored that he is unsettled.
Giroud, although a somewhat recent acquisition, would be seen as another "Wenger drawing from his beloved French Ligue 1" failure if he gets pushed farther down the pecking order. Chamakh was the first casualty in Wenger getting nostalgic, and Giroud seemed to be growing in confidence as the season went along. If he gets forced to maintain a bench and support role, he will also draw a pretty long list of replacement clubs.
On top of Giroud and Walcott looking elsewhere, Higuain will want some type of confirmation that he will not be spending another few seasons in the same situation that he is trying to get away from. Perhaps the rumors of Wenger getting a massive transfer budget are causing him to get a little crazy, but this move makes no sense for a team that is hoping to end their trophy drought as soon as possible. Plus, it further diversifies an Arsenal team that already fields players from nearly everywhere and a team that depends greatly on quick thinking and communication. If this move goes through, expect it to spawn several new and big rumors within a week…come on Arsene…