Let's get one thing straight first. Manchester United have a talented roster – comparatively. With Rooney, RVP, Mata, and a decent supporting cast, United are a top 5 EPL team, talent-wise. So when I say their lineup is "desperately thin", I'm speaking in terms of the Manchester United club that is used to contending for the title every season. You have to make sure you clarify these things, because almost every other Premier League side would kill to have United's talent.
But don't you always have to phrase things in a different light when you're talking about Manchester United? This is a team that has won a record 20 First Division/Premier League titles. They are the 3rd highest-valued football club in the world. They are, by any measure, one of the most popular clubs ever. So, yeah, it makes sense that our perspective shifts a little when discussing the goings-on at Old Trafford.
Which is what made last season such an unmitigated disaster, even though they finished seventh, just one spot outside of entry to Europa League competition. It was their worst finish since 1990, a bygone era where the Premier League didn't even exist yet (the EPL, as we know it, wasn't formed until 1992). Now, this season, with a slightly retooled roster and a brash, kinda-scary-looking new coach, United fans and those that follow the league have expected an easy resurgence. The incompetent David Moyes is gone, so the dark skies have cleared, right?
Not so much. Last Saturday, Manchester United opened up the Premier League season against Swansea City. Losing in your home stadium to a mid-table side is an awful start for the Louis van Gaal Era at United, but it was more of the same for United fans; a natural extension of last season, where losing in Old Trafford became a common occurrence. Maybe Swansea will prove themselves to be a better side than many think, but this was not the start United had expected.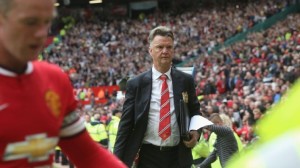 The problem is that this is not a team that is presently built to challenge for the title, with or without the great van Gaal at the helm. The man isn't a sorcerer (even if he looks like he could be a Hogwarts Defense Against the Dark Arts professor); he needs legitimate help in the midfield. In his 3-5-2 system, obviously midfield play is key. On Saturday, they trotted out Ashley Young, Ander Herrera, Darren Fletcher, Jesse Lingard, and Juan Mata. Does that sound like an EPL-winning group to you?
After United signed Herrera and left back Luke Shaw in the off-season, they have been mighty quiet on the transfer market. Of course, every other day there is a new rumor about them flirting with a different superstar. However, the season has begun and the window is closing. Juventus' Arturo Vidal or Real's Angel di Maria (who is currently getting squeezed out by shining stars James Rodriguez and Toni Kroos) would go a long way in beginning to patch up United's issues. Both of those guys (especially Vidal, he's fantastic) could act as a pivot player from defense to offense and facilitate things behind Mata, Rooney, and RVP.
Speaking of Robin van Persie, his return alone will do wonders for van Gaal's side. With Rooney and him up top, things will immediately begin to function smoother because of RVP's scoring chops. They won't have to toil with the embattled Chicharito or Nani starting in that spot. As a Chelsea fan, I truly believe Mata can provide exactly what United need in that attacking midfield position just behind the two forwards – they just have to be the right forwards.
It's certainly possible Swansea is a top 6 or 7 Premier League side and that van Gaal just needs more time with this team before they see significant results. However, on paper and on the field Saturday, this roster, as currently constructed, does not look poised to challenge for a top spot.