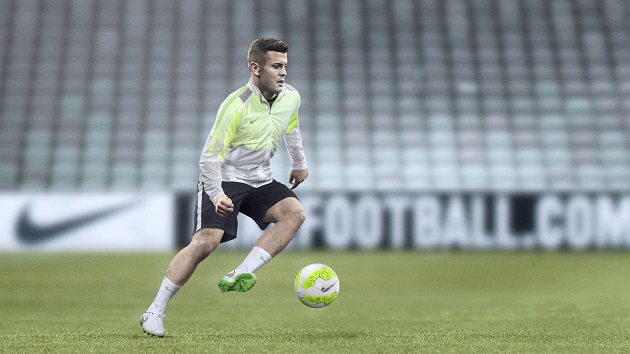 Even in its inception back in the 1960's, Nike has always been attempting to advance athletic performance by creating the best gear possible. They continue that trend today in the world of soccer, releasing the Nike Revolution Lightweight Jacket. We are going to take a closer look at Nike's newest reveal.
Asking the Players
Designers at Nike asked plenty of questions to footballers around the globe. The conclusion was that players wanted jackets that would not be restrictive in any way, or be too bulky in appearance. Players said that they would often wear jackets that were too large because they felt like they were being restricted by other jackets in a smaller size. The Nike Soccer folks took a few notes from their Nike Golf colleagues, who have recently created a jacket that wouldn't restrict a golfer's swing. Soccer is not golf however, so the team had to create their own jacket that is made for soccer players. They took their notes from the Golf team, combined it with their technology for soccer players, and created this awesome new jacket.
The Features
The most obvious thing to notice about the jacket is its translucent fabric, giving a see through appearance. There is a stand-up collar to help increase coverage area and stop wind from hitting the player. There are zippered pockets to hold belongings, and zip covers help prevent zippers from flapping as you move. Nike welded the pockets into the jacket, helping remove excess bulk and weight.
The jacket utilizes a stretch mesh across the back, shoulder, and upper arms that will allow you to move freely and comfortably. Nike's patented Dri-FIT fabric is also present in the jacket, helping keep you cool and dry with a technology that you are likely already familiar with. The collar and cuffs are also made of mesh, which are made to help with sweat management. They also help create a fit that is going to adjust with your body as you move about the pitch.
The Final Verdict
Nike really hit the Revolution Jacket out of the park when it comes to quality. The jacket is breathable with the mesh, but also stops wind with the polyester. HyperAdapt armholes and different designs help with movement while not having to deal with restrictions. The look of the jacket is very interesting with a see-through type of appearance. The thoughts that I had looking at the jacket were eerily similar to something that you would see on a futuristic space TV show. This bad boy is sure to become a training favorite for players around the globe, due to its lightweight feel and trendy look. This jacket is not a winter coat for those frigid temperatures, but will definitely get the job done against wind and chill. Be sure to grab one today in time for spring.