Every week at The Center Circle, we are highlighting a different player in a feature we call "On the Spot". We'll take a look at superstars, underrated gems, aging veterans, and young unknowns who should be known. We'll peruse their club and international careers, taking note of their teams, statistics, and highlight reels. We'll illuminate their strengths and weaknesses and comment on their personalities and reputations. It will be some fun. If there is anyone you want to see "On the Spot", feel free to comment below.
Andres Guardado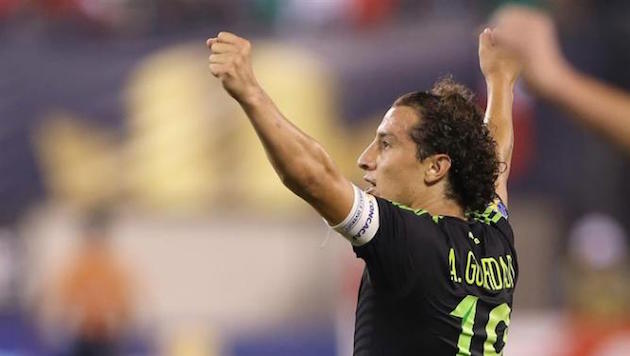 Mexico have grown into a very talented squad in the last couple of years. Players like Chicharito and Carlos Vela have found their niche in Europe, and Andrés Guardado has grown into one of PSV Eindhoven's most important players. An amazing season in Holland ended with a title, will the summer end with a Copa América crown as well?
Atlas to Spain
Andrés Guardado's involvement in professional football began at Guadalajaran club Atlas. The midfielder would join their academy ranks before the age of ten, and more than ten years later, he would make his first team debut. Through his first full year at the professional level, the 19-year-old would almost immediately become a household name in Mexico.
Despite his youth, Guardado would start 29 times for Atlas. He would also provide five goals and five assists. His promising start attracted the interest from several European clubs, and in 2007, the midfielder made the move to La Liga with Deportivo de La Coruña paying a reported fee of €7 million for his services. Was the move to European competition too soon, or would Guardado be able to cope with the improved level of play?
Before his arrival, Deportivo were coming off a 13th place finish in La Liga, and they had just given Joaquín Caparrós the boot as manager. Under Miguel Ángel Lotina, Guardado was immediately thrown into the starting lineup. His growth did not appear to be hindered at all by the jump in skill level as he started 22 matches and scored the joint-second most goals on the team (five). His impressive performances helped push Deportivo a ninth place finish.
The next season, the Mexican midfielder would make his European debut in the UEFA Cup against SK Brann. His prominent role in the heart of the pitch continued as he started 34 matches for the club between La Liga and European competition. While his goal tally was only three for 2008/09, he rang in a career-high in assists with nine. Once again, Deportivo rose on the league table, finishing seventh and just four points away from Europa League qualification.
While his first two years in Spain showed great promise, injuries would limit his effectiveness over the next several seasons. For the next three years, Guardado would fail to start more than 23 league games for Deportivo, and the 2010/11 campaign even saw them relegated to the second division. In his final year at the club, Guardado would make just 13 appearances as Deportivo earned promotion back into La Liga. His inability to stay healthy, however, saw him drop down in the pecking order under new manager José Luis Oltra.
Departing Deportivo
After a less than stellar finish to his days at Deportivo, Guardado was on the move in the summer of 2012. His next stop: Valencia. The 2012/13 campaign saw the Mexican midfielder switched into a more defensive role, but even there he managed to earn a consistent starting role at the club. He also started all seven of Valencia's Champions League fixtures before getting knocked out by Paris Saint-Germain in the Round of 16.
Going German
Things were looking good again for Guardado at his new home, but the 2013/14 season didn't follow the same trajectory. A long injury delay in November once again hindered his progress, and during the January transfer window, Valencia loaned him to Bayer Leverkusen in the Bundesliga. His time in Germany was fairly uneventful as he was rarely used in the league and was limited to just six starts over the three-month loan stint.
Nothing like the Netherlands
After a thoroughly forgetful 2013/14, Guardado was once again on the move before the next season. This time, Valencia sent him out on loan to PSV Eindhoven in the Eredivisie. It was here that Guardado once again found the skill that made him one of Mexico's brightest prospects nearly ten years before. The Dutch league suited Guardado as he quickly became a fan favorite in the midfield. He would start 34 matches between all competitions for PSV, and would even claim his first ever league title as they cruised to a 17-point lead atop the table.
His impressive displays during the loan stint convinced PSV to sign him on a permanent basis before the 2015/16 season, and he has continued to be a key player at the Philips Stadion. Other than a slight injury layoff in the winter, Guardado was once again a constant starter for PSV and even helped them knock out Manchester United in the Champions League. He would finish as the team's second highest assister with nine, and he would also finish with a second straight Dutch title to his name thanks to some final match day dramatics.
International Career
Andrés Guardado has been playing for the Mexican National Team for more than ten years. In 2006, the Atlas midfielder even made his World Cup debut in Germany against Argentina. This would prove to be the first of many international tournaments that Guardado would feature in for his homeland.
The following year, he would would feature in the Gold Cup. Mexico would reach the final, and Guardado would even score the opening goal of the match, but it wasn't enough as they fell to the United States 2-1. 2007 also saw Guardado feature in Copa América where they would finish third with the midfielder netting in the third place match.
Over the next several years, Guardado would go on to feature in the 2010 World Cup in South Africa, and the 2011 Gold Cup, where he scored in the final. That year's Gold Cup was the first piece of international silverware that Guardado had ever claimed as Mexico thrashed the U.S. 4-2 in the final. In 2014, he had the honor of making his 100th international appearance, and he would go on to start in every one of Mexico's World Cup matches in Brazil.
2015 came with another Gold Cup title as Mexico stormed to the title. For the third straight tournament, Guardado found the net in the final as El Tri beat Jamaica 3-1. His impressive performances throughout the tournament even earned him Golden Ball honors as the cup's best player. To date, Guardado has more than 125 international appearances with 20+ goals.
Style of Play
Guardado has played all over the field during his 11-year career. Stints as a winger and even a left-back utilized the Mexican's pace out wide, but now he's grown to occupy a more centralized role. Sitting deeper in the midfield, the 29-year-old has developed a keen eye for the searching long ball up to the forwards, and whenever he gets out on the wings, he can still whip in an excellent cross. Unfortunately for Guardado, and Mexican fans, the midfielder has struggled with injuries throughout his career which has limited his ability to consistently perform at his highest level.