Every week at The Center Circle, we are highlighting a different player in a feature we call "On the Spot". We'll take a look at superstars, underrated gems, aging veterans, and young unknowns who should be known. We'll peruse their club and international careers, taking note of their teams, statistics, and highlight reels. We'll illuminate their strengths and weaknesses and comment on their personalties and reputations. It will be some fun. If there is anyone you want to see "On the Spot", feel free to comment below. Up this week, the extremely talented Edinson Cavani.
EDINSON CAVANI
One of the biggest crimes on the history books for Edinson Cavani might be the fact that the two biggest teams that he plays for (PSG and the Uruguay National team) will have strikers that may be mentioned first in the history books of football. However, right behind Ibra at PSG and Suarez with Uruguay, Cavani is one of the best strikers in Europe and, since 2010, has been one of the most prolific goalscorers in the world. Although he may not have the constant drama of a Balotelli or the brand recognition of a Ronaldo, Cavani and his flowing locks are making sure that PSG's major investments are paying huge dividends. Zipping around in his F50's, what makes Cavani such a valuable asset?
Club Career
Cavani started his career as a youth product to the Uruguayan club Danubio F.C. in 2000 when he was part of the youth system. Considering he was thirteen at the time, it feels like his youth development started a little late for a footballer of his level (teammate Lavezzi started at the age of 10 and teammate Lucas Moura started at the age of 7). However, he started playing for the senior side in 2005 at the age of 18 in Uruguay and his career rise has been meteoric since his beginnings with Danubio.
Although he was impressive with Danubio (9 goals in 25 appearances), it was his performance at the 2007 South American Youth Championship that put Cavani's name firmly on the "wish-list" of several major clubs. After a 5 million dollar transfer was completed by Palermo, Cavani moved to the Italian club and made his first appearance in March (notching his first goal for the club as a substitute). Although the remainder of that season and most of the second would see Cavani fighting for first-team football, Cavani would start being a Palermo starter in the latter stages of 2008. With his talent and his strike partner Fabrizio Miccoli, Cavani helped Palermo qualify for European competition and proceeded to sign a long-term contract with Palermo in April 2010.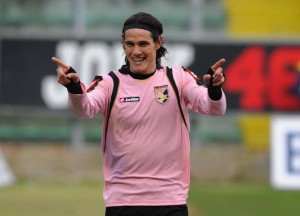 Despite signing a big contract with Palermo earlier in the summer, Napoli snagged Cavani on loan with an option to buy the Uruguayan outright (for a total fee around 20 million) later on in July. During the 2010 season, Cavani was unbelievable. Scoring a club record 25 times and being a key member in a strike force that included Ezequiel Lavezzi and Marek Hamsik quickly showed that Cavani would be a force in Serie A with Napoli. His following season continued in the same vein as 2010 and ended with the Uruguayan leading Napoli to a victory in the Coppa Italia Final (a tournament that he ended as the top scorer). His last season (12-13) with Napoli saw Cavani leading his team to 2nd place in Serie A and the top spot in the scoring charts with 29 goals.
Although constant questioning of Cavani made it sound like he would remain with Napoli (a team that had seen him become the third highest goal scorer for the club in its history), the big money of Paris Saint-Germain pried the attacker from Napoli for around 70 million dollars (the 6th largest transfer in footballing history and the record signing for the French league). Since the move, Cavani has become a member of one of the most impressive attacks in world football (Lavezzi/Ibrahimovich) and his scoring numbers are massively impressive (18 goals in 24 apps for his new club). Unlike most new transfers, the Uruguayan seems to have adjusted quickly to Ligue 1 and has been as prolific as ever. If Cavani continues to grow with PSG and they make a deep run in the Champions League, his goal ratio of three goals in every four games will be seen as a major contributor.
International Career
Considering that Cavani has always been second choice to Luis Suarez for the Uruguayan national squad, his impressive form has definitely careered over to his performances for this country. He helped Uruguay finish fourth at the 2010 World Cup and also helped Uruguay win their record setting 15th Copa America in 2011. With Uruguay, Cavani has shown a talent from spot-kicks…but it would be rare that he would be allowed to take many if Suarez is also in the starting 11.
For Uruguay in 2014, Cavani will shoulder most of the nation's hopes with strike-partner Suarez. Despite a tough group draw with Italy, Costa Rica, and England, Uruguay will have every opportunity to advance and play a level of competition that would help them press on for a deep Cup run. If international success is to be achieved, Cavani will have to be on top form for the big tournament as Uruguay's qualification process was anything but smooth.
Style
For anyone that has ever even seen a picture of Cavani, the striker is certainly one of the skinniest players in all of world football. However, he possesses impressive strength, aerial ability, and quickness. He also possesses a strikers' instinct to always be in the right place at the right time to finish off chances.
Despite impressing thus far in his career via his goal-scoring from the run of play, Cavani has started to demonstrate a talent from set-pieces. The only issue for this will be that he is never the first choice for these opportunities as he currently plays his club football with Zlatan Ibrahimovic and his international football with Luis Suarez. Although an immature bout with "clapping for the referee" occurred while with Napoli, Cavani always seems to handle himself like a professional on the pitch.
Off the Pitch
Unlike our first "On the Spot" article with Mario Balotelli, Cavani has a relatively quiet life away from the pitch. The striker is currently married to Maria Soledad Cabris and has two boys (Bautista: age three/Lucas: aged one). Both of his brothers currently play as professional footballers, showing that there is definitely a future for his sons within the world's game.
As we mentioned earlier, Cavani has always been the epitome of professional (especially in most of his press conferences) and has recently become one of the faces of the F50 range. The Uruguayan was used in the advertising strategy for the newest incarnation of the boot and with the "Samba pack" release. Considering his national teammate Suarez also wears the boot but flirts with bad decisions more than adidas would probably like, any success of Uruguay will probably be used by adidas with Cavani as their focus. While he may not be the first player to leap to your mind when thinking of the F50, he may become more of a force as his career continues and he is able to step out of the shadow of other players that he takes the pitch with.