Every week at The Center Circle, we are highlighting a different player in a feature we call "On the Spot". We'll take a look at superstars, underrated gems, aging veterans, and young unknowns who should be known. We'll peruse their club and international careers, taking note of their teams, statistics, and highlight reels. We'll illuminate their strengths and weaknesses and comment on their personalities and reputations. It will be some fun. If there is anyone you want to see "On the Spot", feel free to comment below.
Gabriel Jesus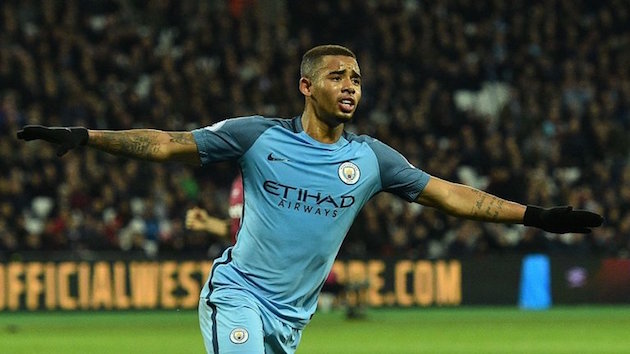 It was always going to take someone special to dethrone Sergio Aguero as the King of the Etihad. Manchester City may have just found someone that can do just that. After agreeing to the deal back in the summer, Gabriel Jesus finally joined City this month for a reported fee of £27 million. That much money could be seen as a little much for a 19-year-old striker, but it's quickly beginning to look like quite the bargain.
Brazilian Beginnings
The story of Gabriel Jesus begins in Sao Paolo, Brazil. There, he developed his skills through street ball and eventually caught the eye of Anhaguera, a regional amateur team. At just 15 years old, he scored 29 goals for the club in a local tournament.
After this unbelievable performance, Jesus' agent organized a trial at one of Brazil's biggest clubs: Palmeiras. In 2013, he officially signed a contract with the club and began playing for their youth sides. Just like he did with Anhaguera, Jesus dominated the youth ranks, and within a year of signing his original deal, he agreed to a three-year extension with the club.
His impressive performances with Palmeiras' youth teams sparked some optimism with the club's fans, and some even started a petition for the manager, Dorival Junior, to include him in the senior side as the club battled relegation.
Unfortunately for Jesus, the fans' petition was unsuccessful. His first team debut would have to wait, but not for too much longer. In March of 2015, at the ripe old age of 17, he came on as a substitute against Bragantino. At first, Jesus struggled to crack the club's starting 11, but that wouldn't be the case for too long. Shortly after returning from U-20 World Cup duty with Brazil, Jesus scored his first goal in a 1-0 win over ASA.
As the season continued, the striker's role began to increase, and more often than not he was a starter. While his goal tally didn't look too astounding (seven through all competitions), Jesus had done more than enough to catch the eye of some of Europe's biggest clubs, and it looked like it was only a matter of time before he moved across the pond.
In 2016, Jesus finally found his footing in the first team, and the goals quickly followed. Through his first six appearances of the season, he found the back of the net four times. Going into the summer transfer window, Jesus had racked up 11 goals, and according to media reports, Barcelona and Manchester City were battling for his signature.
In early August, City announced that they had agreed to sign the striker, but he wouldn't join them until January.
Premier League Prince
Because of his price tag, fans at the Etihad had high expectations for Jesus when he arrived in rainy Manchester. On January 21, he made his debut for City as a late substitute in a 2-2 draw against Tottenham. Seven days later, he started against Crystal Palace in the FA Cup. That match saw him assist Raheem Sterling's opening goal to start a 3-0 demolition of Sam Allardyce's side.
His rise to stardom continued against West Ham when he unseated Sergio Aguero in the starting lineup. The 19-year-old quickly repaid Pep Guardiola's faith. He hit the Hammers for an assist and his first goal in a 4-0 win.
Less than a week later, Jesus was once again in the headlines for an inspired display against Swansea City. The Brazilian prodigy scored twice against the Swans, including a dramatic stoppage time winner. His barnstorming performances have fans at the Etihad forgetting about Aguero, and it's starting to look like we may be witnessing the birth of a real superstar.
International Career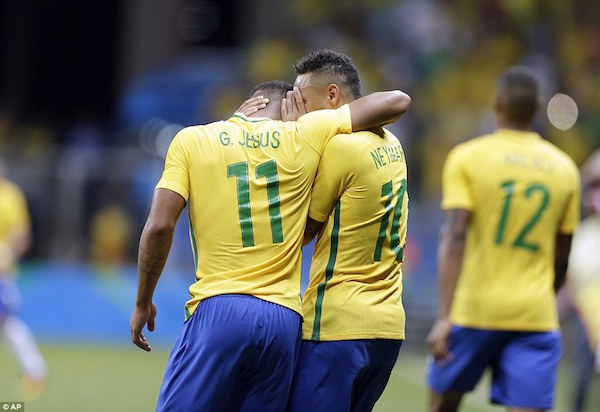 Gabriel Jesus has been prolific for Brazil at almost every level. He was part of the U-20 side that finished as runner-up at the 2015 World Cup. During that tournament, he scored once, and assisted another two goals (one of those coming in the semifinal win over Senegal).
The following summer, he, alongside Neymar, helped lead Brazil to an Olympic Gold Medal in Rio. Jesus started all six matches for Brazil, and scored a three times in the tournament.
The following September, he made his senior debut against Ecuador. In that match, he scored twice and assisted once in a 3-0 victory. So far, he's registered six caps for the national team, and has scored five times.
Style of Play
Jesus is a striker by trade, but his pace and creativity on the ball allow him to play any position across the front three. After starting his career as more of a left winger, he's transitioned into more of a central role. He has an impressive strength for someone his age, and his speed makes him a constant danger for a quick counter attack. In traditional Brazilian style, Jesus has a knack for the spectacular with the ball at his feet and he can just as easily beat with you skill than he can with speed. He gives City an exciting young player that can wow the crowd while also providing the finishing touch to win a match.