Every week at The Center Circle, we are highlighting a different player in a feature we call "On the Spot". We'll take a look at superstars, underrated gems, aging veterans, and young unknowns who should be known. We'll peruse their club and international careers, taking note of their teams, statistics, and highlight reels. We'll illuminate their strengths and weaknesses and comment on their personalities and reputations. It will be some fun. If there is anyone you want to see "On the Spot", feel free to comment below.
Jamie Vardy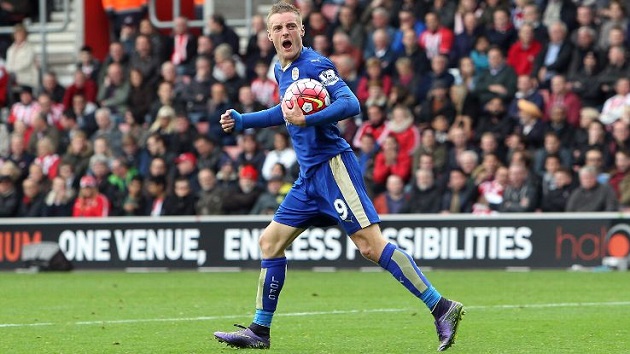 Few would have expected Leicester City to be doing as well as they are this season. Even fewer would have expected their striker, Jamie Vardy, to be one of the hottest strikers in the world come November. Where was Vardy before his days as a Premier League star?
Non-League Beginnings
Things didn't always look so promising for Jamie Vardy. As a teenager, the young striker was part of Sheffield Wednesday's youth system, but was released by the time he was 16. The early dismissal from professional football meant that Vardy would be forced to look elsewhere for a place to play.
The first team to accept the teenager into their ranks was local club Stocksbridge Park Steels. In Vardy's three years with Stocksbridge, he would excel in attack despite his young age. Even though he was just a teenager, Vardy would make over 100 appearances for the club, scoring 60+ goals along the way. His impressive performances at the small club, however, failed to earn him a move to a professional club.
The next pit-stop in Vardy's career came at fellow non-league club F.C. Halifax Town. Now 23 years old, it looked as if his chances of reaching the professional ranks were fading away. In his short stint with Halifax, Vardy would replicate the impressive goal scoring form that made him a hit at Stocksbridge. In just 41 appearances, the striker would score 29 goals (0.7 goals/game). After his dominant season at Halifax, it looked as if Vardy may have the skill to make the professional jump.
Vardy would make one more stop in non-league before eventually finding a professional home. For the 2011-12 campaign, the 24-year-old striker led the line for Fleetwood Town in the Conference Premier (one step below League Two). During his short stint at Fleetwood, Vardy somehow managed to improve upon his already incredible goal scoring record as he found the back of the net 31 times through 36 matches. It was this breakthrough season that finally led to a professional club bringing the Englishman aboard.
Lovely Leicester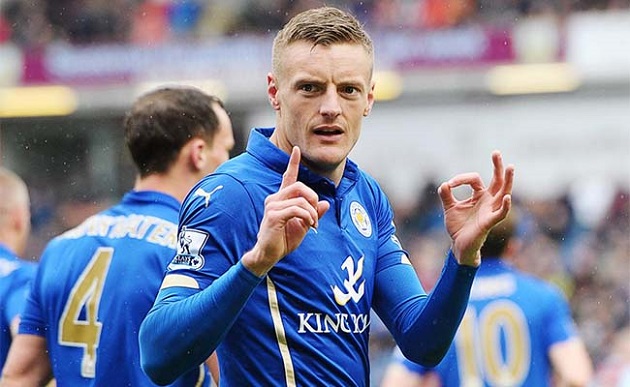 At the end of the 2011-12 season, Leicester City announced that they had agreed to bring Vardy to the club for a reported fee of £1 million (a non-league record). His first season in the Football League Championship (second tier of English competition), saw Vardy's form take a slight dip. The jump to professional competition saw him make 28 appearances, while scoring just four goals along the way. His poor play prompted criticism from fans and pundits alike, but it would only be a matter of time before Vardy proved his worth to the club.
2013-14 saw a return to the goals for Vardy as Leicester pushed their way to promotion. The 26-year-old stepped in as the club's first choice striker as he appeared in 35 games, with 34 of those coming as a starter. When the season came to a close, Vardy had scored 14 times and his performances earned him the honor of being named Leicester's Player of the Season.
In his first season in the Premier League, Vardy once again saw his goal tally drop to single digits. Despite the disappointing stat line, the striker was still one of Leicester's key men as he scored winners against the likes of West Brom, and Burnley. Leicester would spend almost the entire season occupying the bottom spot in the table, but Vardy's performances near the end of the campaign helped spark a miraculous survival act as the Foxes finished 14th in the league.
This season Vardy has gotten off to the hottest start of his career. Through the first 12 games of the season, the 28-year-old has already scored 12 goals. In a 5-2 defeat to Arsenal, Vardy scored both of the Foxes goals and he's quickly becoming a hot commodity in the world of football. Rumors of interest from Real Madrid show just how far Vardy has climbed in his journey from Stocksbridge.
International Career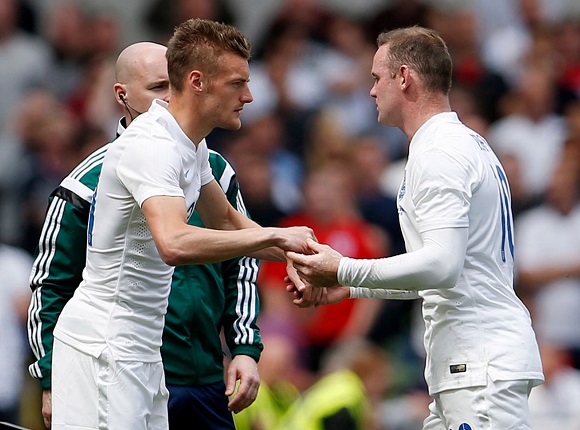 Jamie Vardy's first appearance in an England kit didn't come until July 7, 2015. His impressive run to end the 2014/15 season earned the Leicester striker a spot in Roy Hodgson's squad for an international friendly against Ireland where he came on as a 74th minute substitute. For England's latest round of World Cup Qualifiers, Vardy appeared in matches against Estonia and Lithuania. Vardy has yet to score for the Three Lions.
Playing Style
Jamie Vardy's playing style is defined by his amazing work ethic and passion on the pitch. He is a constant pest to opposing defenders, and seems to have a knack for getting under the opposition's skin. Paired with his relentless effort on the pitch, Vardy is a fairly pacey striker that can find the ball in the air and can poach goals from close range. While he's not the flashiest striker in the world, you can't argue with the results he produces.