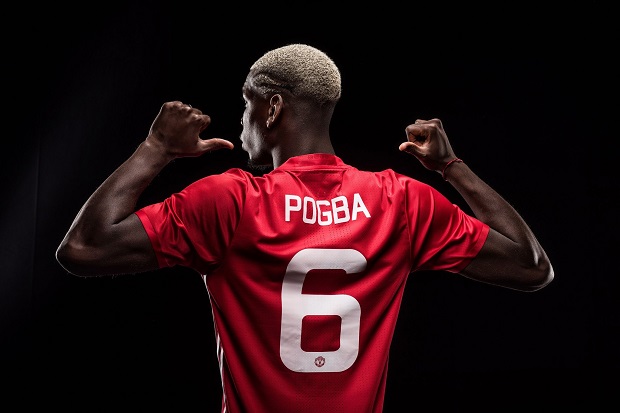 It finally happened. After consuming my, and every other United fan's, summer for the last two months, Paul Pogba is officially a Manchester United player (again). The 23-year-old Frenchman rejoins the Red Devils for a world record fee above €100 million, and his price tag has been a polarizing topic around the league (just ask Arsene Wenger). Now that the hoopla and cryptic tweets are over with, it's time to look at what King Paul brings to Jose Mourinho's Manchester United.
While it's unclear whether or not he'll be match fit in time to appear against Bournemouth on the weekend, it's looking like Pogba's going to slide into United's midfield pivot alongside either Morgan Schneiderlin, Ander Herrera or Marouane Fellaini. His size and strength make him a dominant force playing in the number six role on both sides of the ball, and his high footballing IQ allows him to be in the right position more times than not.
We're all familiar with his highlight reel strikes for Juventus, and his sublime passing ability is reminiscent of Paul Scholes' back in the day. With a big man in Zlatan Ibrahimovic leading the line for United, and pacy players in Anthony Martial, Jesse Lingard and Henrikh Mkhitaryan storming down the flanks, Pogba will have no shortage of attacking options in front of him, and with the "decline" of Wayne Rooney in recent months, we may even see Pogba pushed up into a number 10 role at some point this season.
Mourinho has hailed the 23-year-old as the complete midfielder. He told the club's official website, "…he's a very young player, an unbelievable midfield player with such physicality, but at the same time, such agility, co-ordination, skill. He has everything."
The hefty price tag is obviously going to attract some negative opinions, but as Mourinho said, "I don't think they (other clubs) ever have this problem. Because, to have this problem, you need to be at one of the top clubs in the world."
For United and Mourinho, this signing is a clear signal of intent. Long gone are the days of Louis Van Gaal and David Moyes telling reporters the goal was to finish in the top four. Manchester United want the title, and anything below that is a disappointment. It's a refreshing thing to look forward to, and for the first time since Sir Alex Ferguson's departure, I think that we can actually compete.
Club legends like Rio Ferdinand and the Neville brothers have been fully supportive of the move despite the price tag. Gary Neville said that Pogba will bring a personality that Old Trafford has been desperately needing. Ferdinand believes that the former academy player is ready to be a world beater.
In my opinion, this signing and this summer were exactly what Manchester United to forget the dark days since Ferguson left the club. Pogba, Ibra, and Mkhitaryan are hardly the first big games to join United and they won't be the last, but the fact that we were still able to sign them without the allure of Champions League competition shows that United are still a big club.
Pogba, in particular, gives the Red Devils one of the best box-to-box midfielders in the world, and fans at Old Trafford will get to see him play in the prime of his career. The club may even have "the next" Paul Pogba already in their ranks with Timothy Fosu-Mensah breaking through to the first team last season. The future of United looks bright and I'm excited to see a return of the Manchester United that mesmerized me as a kid.