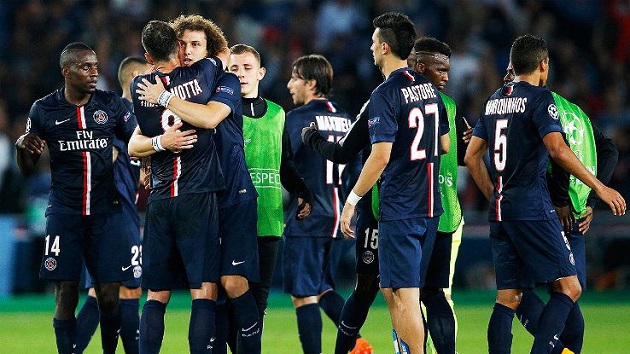 When a giant goes down, everybody wants to talk about what went wrong with Goliath. After they stumbled against PSG in the Champions League on Tuesday, plenty of people are wondering about the future at FC Barcelona. With the current defensive issues and one-year transfer ban looming, that future looks slightly bleak, short-term and long-term. But what about the victor in this week's battle; the David of this scenario? Paris Saint-Germain looked like a team ready to stand front and center on the Champions League stage.
So maybe referring to the insanely rich and exceptionally talented PSG as "David" is kinda ridiculous, but even at home versus Barcelona most teams are severe underdogs. This win was massive for PSG. You can see it in the eyes of their President, Qatari businessman Nasser Ghanim Al-Khelaïfi, who called it a "most beautiful victory". PSG have spent more than a few bucks on this team. Most thought spending over 60 million euros on an erratic player like David Luiz was pretty foolish, but there he was on Tuesday, slotting one past Barca keeper Marc Andre ter Stegen. After all of the money thrown their way, are PSG well-equipped enough to storm toward their first Champions League title?
PSG entered this match after mediocre play in Ligue 1 through eight games. This has included no losses, but five draws, so nothing to write home about. The team that has dominated the French league for the past two seasons sits in just fourth place thus far. With Jay Z, Beyonce, and David Beckham (in town for Paris Fashion Week, I guess?) in attendance for this one, it's fair to say they turned up the intensity under the bright lights against mighty Barcelona.
Whether this result was more about Barca's deficiencies or PSG's skill is a little tough to sort out. Barcelona came into this match without conceding a goal all season. Seven games, no goals against. The problem? They hadn't played a decent offense yet. Many had started to think that the patchwork central defensive pairing of Mathieu and Mascherano (neither exactly Puyol in his prime) would work after all. Then their woeful defense was revealed in Paris.
Two goals on set pieces showed a lack of defensive responsibility for Barca and excellent execution for PSG. After Luiz's goal, the second came off a corner when young stud Marco Verratti snuck onto the back post and knocked one in. Finally, the game-winner featured Matuidi flying in and striking it through ter Stegen (yes, through; this wasn't ter Stegen's best night). The three goals showed an inspired and spirited PSG attack both from set pieces and open play. On the defensive end, a back four without captain Thiago Silva worked hard to make sure they weren't broken down too often by the offensive wizardry of the Catalans. Defender Marquinhos' flying block on a Jordi Alba shot was punctuated by a primal celebration. It was easy to see how much PSG wanted this one.
Brilliance from Messi and Neymar would keep the game close, but those two goals were Barca's only shots on goal all night. In the end, it was clear which side deserved the three points, which is all the more impressive when you consider the great Ibrahimovic, Silva, and Lavezzi were all missing in action for PSG.
So, now what? Well, the boys from Paris are now atop Group F with four points and have proven they can do it without Zlatan. There is still plenty of work to do, but they've announced themselves as a legitimate threat to win the group and embarrass Barca (gasp!) into a second-place finish. After narrowly losing to Barcelona and Chelsea on the away goal rule in the last two Champions League quarterfinals, they have to be hungry. Their Ligue 1 play will need to improve, but don't sleep on the rich team in France when the late Champions League stages roll around.