With the top of the table settled, attention turns to the depths of the league. There is one team that has already been been officially relegated for next season in Aston Villa. There are two other teams that will be going down, with 3 candidates who might be making the drop. With one spot of safety left, this battle will go down to the final minute on the final matchday. Let's take a look at the table and the 3 teams hoping to stay in the top division.
Crystal Palace, Bournemouth, and West Brom are officially safe with 42 points from 37 matches. That means that there is a 3 team race for 1 safety spot. 2 teams will join Aston Villa in the Championship next season. Let's map out the final days.
Sitting in safety right now is Sunderland, with 35 points from 36 matches. They have a home match against Everton, before finishing the season at Watford. They also currently hold a +8 goal differential compared to Newcastle. Even if they lose to to Everton and Watford, they will likely still hold the goal differential advantage. The best news for Sunderland is that they hold their destiny in their own hands. With a victory against Chelsea, now they only need a single victory to secure safety. Even if they did lose both remaining matches, so long as Newcastle didn't win matchday 38, they would likely still be safe.
The first loser right now is Newcastle who have 34 points from 37 matches. That puts them at a huge disadvantage, with their fate out of their own hands. They also have a monster task of taking at least a point off of Tottenham. The struggles against Aston Villa this past weekend may have been the final nail in the coffin. Crazy things can still happen, but without at least a point on Matchday 38, they are done.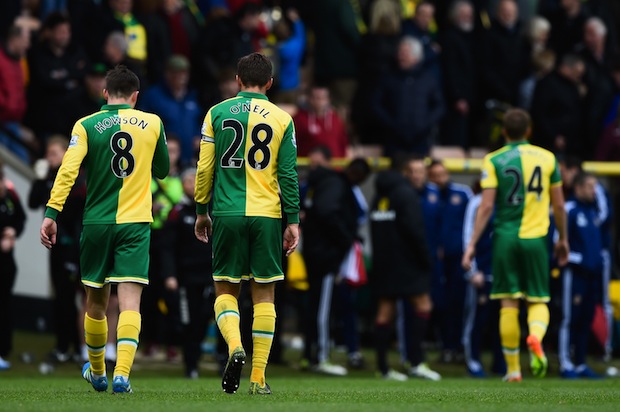 Norwich City is in a heap of trouble. They have 31 points from 36 matches. A few weeks ago, they looked like they were safe and returning to the Premier League. Two consecutive victories over Newcastle and West Brom seemed like they were enough, until they dropped their next 3 matches without gaining a point. They have a very similar schedule to Sunderland, hosting Watford before closing out at Everton. That's to say, Everton and Watford may hold the keys to who stays up and who gets left behind. In reality, it would likely take 2 victories to stay up.
Each of the teams will play on May 15th, while Sunderland and Norwich also play on the 11th. Nothing was settled this weekend, and the earliest one of these teams will officially be making the drop is after the games on the 11th. A win by Sunderland would end the race right then and there. If they draw or lose, the window is still open. Norwich City must get at least a point to stay in the race, but even that may not be enough. Newcastle can only wait and cheer for Watford and Everton, who effectively hold their fate.
The battle at the bottom is actually very exciting, with TV dollars at stake that can propel Premier League teams to a much higher level than the Championship. In the fight of their lives, this battle will come down to the final matchday, where anything can happen.