Every week at The Center Circle, we are highlighting a different player in a feature we call "On the Spot". We'll take a look at superstars, underrated gems, aging veterans, and young unknowns who should be known. We'll peruse their club and international careers, taking note of their teams, statistics, and highlight reels. We'll illuminate their strengths and weaknesses and comment on their personalties and reputations. It will be some fun. If there is anyone you want to see "On the Spot", feel free to comment below.
Adnan Januzaj
You wouldn't be too far off if you said Adnan Januzaj exited the womb dribbling a football. Considering he has been playing football at a relatively high level since he was six, it's incredible to think that (still) young Adnan already has 13 years playing this sport. That's longer than… However, the first thing you will hear about him is his status as The Future of Manchester United Football Club. The 19-year-old has already received significant playing time and has showed massive promise. Still, he remains a skinny teenager whose uncertain international status has made him a kid without a country. What has caused such buzz around him and what does the future hold for The Future of Man U?
Club Career
After starting his youth career in 2001 for his hometown FC Brussels, Januzaj went to Belgian giant Anderlecht five years later. His time there undoubtedly helped his profile rise, because in 2011 Sir Alex Ferguson and Manchester United came calling. Adnan would spend just two years in the Man U youth system, winning reserve team Player of the Year last season (2012-13). Sir Alex then promoted him to the first team near the end of that campaign. He would not get in any games until the start of next season when new (and currently embattled) manager David Moyes sent him on for Robin van Persie on August 11th, 2013 against Wigan.
A couple months later the youngster would see his first full start in a 2-1 away victory at Sunderland. Who scored those 2 goals? Well, Adnan Januzaj, of course. The first he hammered home from a low Patrice Evra cross and the second was an unbelievable volley near the top of the box.
So far he has seen the pitch in 22 (9 as a sub) Premier League matches with 3 goals and 2 assists. Unfortunately for him, his first season with Man U has been wrought with drama and disappointment. After winning the league last year, the Red Devils are unlikely to finish in a Champions or Europa League slot. Missing out on clashing with European talent will surely slow Januzaj's development, but it will allow him to hone his skills in England and hopefully contribute to a resurgent Man United squad next season.
Kid Without a Country – International Career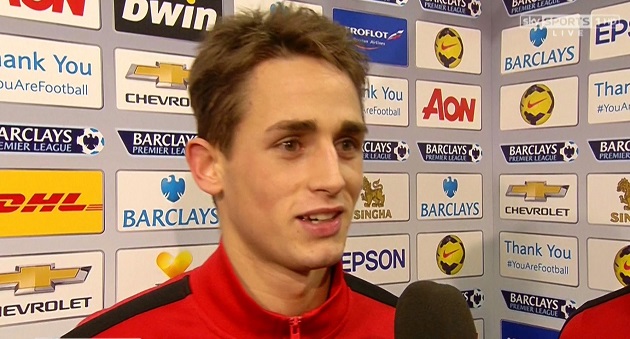 Januzaj's international future has been the subject of much debate in his young career. Yet to make a national team cap, Adnan is coveted by Belgium (his birthplace), Albania (he has ethnic Albanian heritage), and England. If he or his family is leaning one way or the other, they sure are playing it close to the chest. Belgian's national team has claimed Adnan has refused call-ups multiple times and the Albanian FA has not contacted them, according to Adnan's father.
Under FIFA's rules, one must continuously live in a new country for five years after turning 18, if they wish to switch nations. This wouldn't allow Adnan to become eligible to play for England until 2018. One would think he would want to play internationally before then, so is this why he is stalling? One would also think Belgium (currently ranked 10th by FIFA and boasts young stars such as Eden Hazard, Romelu Lukaku, and Thibaut Courtois) could be a nice fit for Januzaj. However, it looks like something about their approach has turned off Adnan and his father at the moment. Plenty of misinformation will continue to swirl until Adnan's choice is made, so hopefully he doesn't keep us waiting too much longer.
Style of Play
Playing with poise past his years on the ball and great pace as a winger, Januzaj makes scouts blush because of his attacking potential. His defense will have to improve, but that should come with time as his body develops. Right now he's a 5'11", 165-pound beanpole, who can stand to put on some muscle.
Despite his clearly gifted nature, he has (like Neymar) picked up a reputation for diving early in his career. Somehow he has earned 3 yellow cards for it already. Some would attribute this to his slight stature or to how often he gets fouled, which makes him more likely to get called for going down too easy. Moyes came out in his defense as well, but still stated he would speak with the youngster about it. Moving forward, Januzaj will need to keep that impulse in check if he wants to shed that undesirable reputation.
Off the Pitch
Only having just turned 19, it is difficult to speak to his off the field persona thus far. However, being a young European soccer star at Manchester United has its positives and negatives that I'm sure Adnan is finding out about now, so it's refreshing to see him stay out of the limelight so far. We can comment on his boot selection, however. He has been rocking the Nike Hypervenom Phantoms religiously, which is an apt choice for his style. It will be interesting to see if Nike makes him a major fixture in marketing for the Hypervenom in the future.
Fortunately for Januzaj, he is learning from some of the best at Manchester United. Sure, they are in the midst of a tough campaign and Sir Alex left the club just before he started there, but he gets to watch and play with Wayne Rooney, Robin van Persie, and 40-year-old United legend Ryan Giggs almost everyday. His boy-next-door looks may cause some to underestimate him, but it's clear his preternatural skill will continue to make his future promise look more like present success.