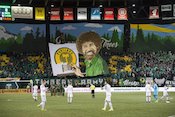 MLS is Back.
The opening weekend of Major League Soccer is in the books, and there's a lot to look forward
to in 2017. Newcomers, favorites, and underdogs, we take a look into it all. Here we go.
First, two new expansion teams began their MLS tenure. Minnesota United travelled to Portland
to take on the Timbers, while Atlanta United hosted the New York Red Bulls. Portland grabbed 5
goal in a rude welcome to MLS for Minnesota. Portland's new additions fit in very well in Caleb
Porter's system. Portland look poised for another postseason run with Diego Valeri at the heart
of the attack. To be fair to Minnesota, the scoreline didn't tell the whole story. Minnesota held on
the a 2-1 score until the 82nd minute and then it all broke loose. They have some talent, with
Kevin Molino acquired from Orlando City and Miguel Ibarra. There's high hopes for Molino, as
United gave up $650,000 in Allocation money for him. Time will tell for this team, like many
expansion teams before them.
There's a completely different narrative in Atlanta
Atlanta United has been built from Day 1 to compete at the highest level. Bringing in Paraguayan international Miguel Almirón as a
Designated Player excited the fan base. The lack of MLS experience in the side will cause for
some issues for the first couple matches until everyone gets used to the league. They brought in
Gerardo "Tata" Martino, former coach of Barcelona and Argentina to lead the team into its
inaugural season (more on the maverick coach later in the season but we'll leave this nugget, we think he is one of the best coaches in the world and instantly becomes probably the best in the MLS so it'll be interesting to see how he handles it). Their first match was home against the first place team in the East last
season, the New York Red Bulls. Atlanta looked great in front of a sell-out crowd, controlling the
game early, taking a 1-0 through 70 minutes. But, RBNY scored twice in the last 15 minutes to
take all three points. A lot of positives for Atlanta, they had good possession, a huge crowd, and
look dangerous on the break. Some positives for the Red Bulls too, Luis Robles is still Luis
Robles, they showed heart and fight to come back, and they showed ability to change
formations on the fly and make it work. Don't be surprised if they face each other in the playoffs.
On Saturday, FC Dallas continued their form from the Concacaf Champions League
They visited the LA Galaxy and won 2-1. Dallas looked comfortable again, looking like the team that won the
Supporter's Shield last year. The brightest spot was Kellyn Acosta, again scoring an important
goal. On the other side, the LA Galaxy are going to have to find goals after Robbie Keane's
retirement and Alan Gordon's departure. Still without Gyasi Zardes, they struggled to be
creative in the final third, which will be a problem especially without Keane there to finish.
Reigning Champs
In Houston, the reigning MLS Champion Sounders took on the Dynamo. Houston won 2-1, with
the improved backline proving difficult to break down. AJ DeLaGarza looked and Leonardo
looked very comfortable locking down Seattle's attack. Houston should be able to improve on
last season's result of finishing last in the West, and with this new defense, don't be surprised if
they squeak into the playoffs. Seattle's most encouraging moment was Clint Dempsey getting
on the scoresheet. The Sounders should have a good year offensively, the question will be if the
defense can hold up. Stefan Frei made rather questionable decision on the goal from Houston's
freekick.
Orlando City opened their brand new stadium Sunday, against NYCFC
NYCFC looked the better team throughout, but it was Cyle Larin's goal that gave Orlando a 1-0 win. Orlando paid a
big price for their three points though, losing Kaka to a hamstring injury that will sideline him for
4 weeks. Larin looked great, with excellent movement and positioning. Look for him to challenge
for the Golden Boot this year. Goalkeeper Joe Bendik was outstanding, denying NYCFC
multiple times. NYCFC had plenty of chances, and they have a very dangerous man in David
Villa to put them away. The problem for NYCFC is going to be if Villa can't score, who will?
Saturday gave no answer, as they were held scoreless. The defense has to be tighter than last
year, in which they gave up a whopping 57 goals. Both these team will compete this year, and I
see both having real shot at the playoffs.
The MLS season is underway and we have a lot to look forward to.
CREDIT: *Major work on this article by Matt Bode