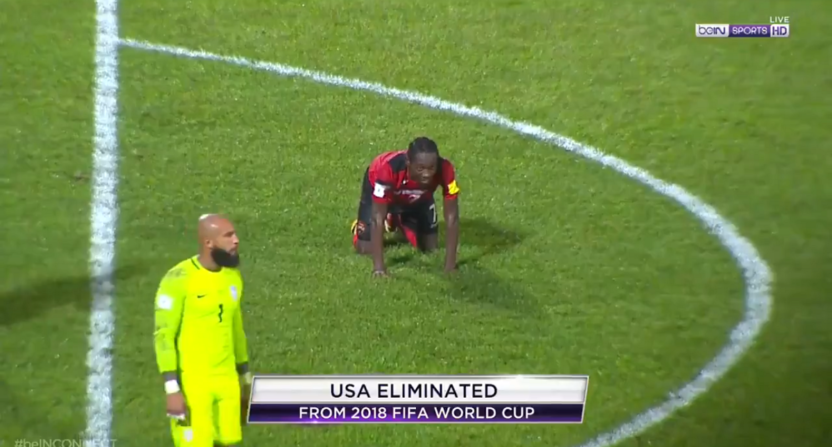 This isn't a "how to fix it" post. This isn't a post that's going to cover up the anguish that I, as a fan, felt when the USA v Trinidad result trickled in. This isn't a post that's going to avoid saying exactly what should have been said months/years ago. If Taylor Twellman's ESPN rant had a post to accompany his fervor, I could only hope that this would be that post. I could only hope that this post voices fully how I feel about the men who wear the US Soccer Jersey and what they have shown me as a fan.
Every website that has even a passing interest in the USMNT has already screamed loudly about "no excuses." We can all bond together over that being incredibly true, but nobody has allowed the bile to come crashing onto the page like this moment necessitates. Every write-up decries the USMNT from the top to bottom, but they all find solace in moments of positive play like in the future of Pulisic, and somehow have let the ones responsible for our upcoming absence in Russia off with a slap on the wrist. I wouldn't be amazed if I never get a media pass to a US soccer event again but it's time for honesty and brashness because we see where being overly calm has gotten us.
First, Alexi Lalas had to be hoping that his famous rant ripping the entirety of the USMNT would give the squad a common enemy. Lalas HAD to be hoping that he could give a squad completely devoid of passion and fire something (ANYTHING) to finally band together against. Despite his rant and the responses Lalas received from USMNT players, I can guarantee you that Lalas was not spouting any "I told you so" moments after the Trinidad and Tobago loss. His comments about the team being handed everything were, and are, spot on. This squad was expecting to qualify because of the crest on their chest and the names on the back of their jerseys.
This piece is not about doling out lifetime achievement awards, we are venting so let's vent.
– Howard should have saved that second goal. However, much like the USWNT and Hope Solo, we've become way too dependent on a Tim Howard mirage that doesn't exist anymore. Brad Guzan and Howard are done, it's time to bring in a new #1.
– That defense looked like they had been watching Liverpool game footage and trying to decide how they could implement that lack of defense within their own game. Gonzalez has heart but his success at the LA Galaxy was because he was surround by speed so that he could only focus on handling aerial balls and physical duels. Every other defender barely merits mentioning but I must so let's toss Besler. Zusi hasn't been up to it EVER. Beasley should be enjoying retirement. Finally we've never seen Geoff Cameron battle for the USMNT like he does for Stoke. It would be tough to make an argument to see them for this squad again.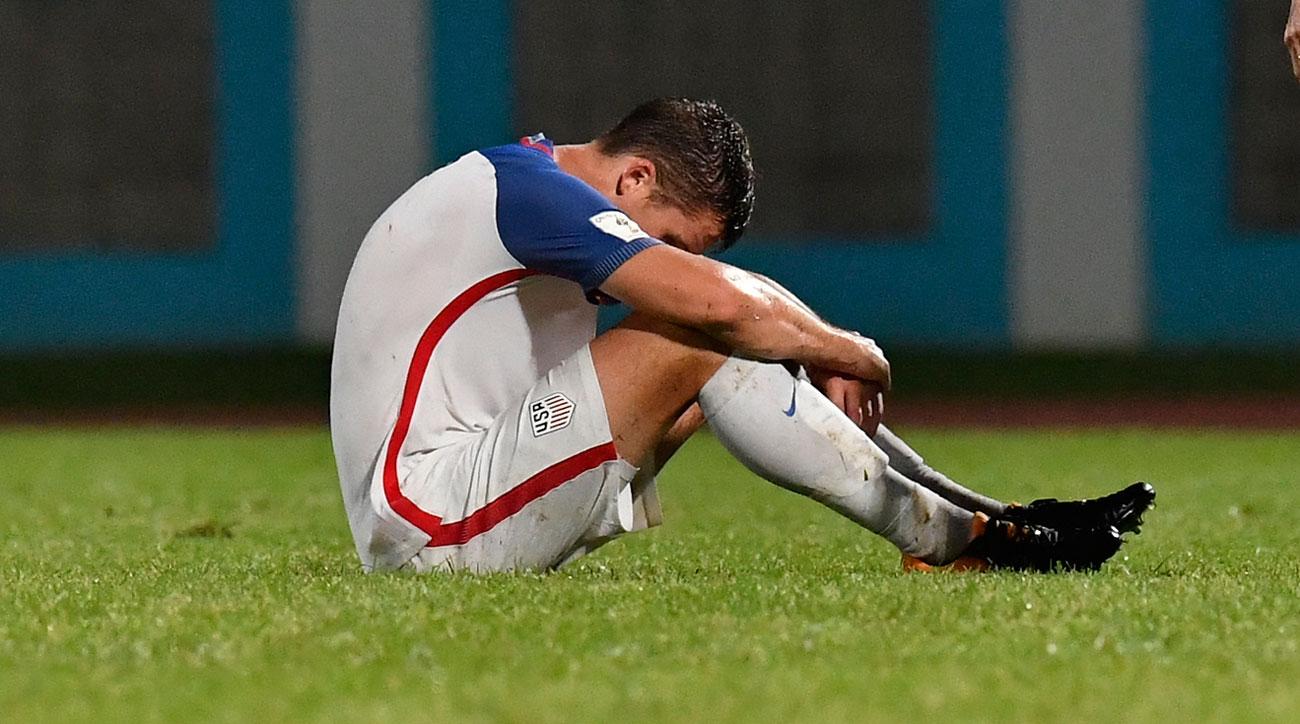 – Bradley has never been a creative midfielder. I repeat, never. Every professional has flashes of creativity, but the USMNT kept wanting the captain to unlock defenses like a Pirlo or Xavi and he is neither of those players. If the squad could have allowed him to simply be a defensive midfielder, perhaps he'd have shone as brightly as his talent suggested but that time has passed. Bench him and bring him on in the last 10 minutes to lockdown a midfield for a victory. I really like Darlington Nagbe but he will have to earn his spot back by doing more than just being effective at holding possession. Feilhaber? Done. McCarty? Done. Everyone else? Done. Pulisic has earned a stay of execution, but he needs to prove that he wasn't just shining because of how dull everything around him was.
– In attack, Altidore, Wondo, and Dempsey should be remembered fondly but not on the roster moving forward. Bobby Wood still plays in Germany and can get better but he's in the Nagbe box as well, either earn it back or watch it pass to a youth prospect.
– That's that for the actual squad but do you think that only the players are to blame? No way! Arena AND Klinsmann made both massive mistakes. Arena could not have played it any safer outside of turning down the job in the first place. Despite feeling like a stop-gap or interim coach to some, Arena made team selections and formation decisions that are baffling. He selected players he was comfortable with instead of players that needed to be thrown into difficult situations. He overvalued the MLS, he undervalued Europe, and you have to wonder if he would have played Pulisic if the BVB man hadn't practically forced his way into the starting 11. A coach with as much on the line as the USMNT had heading into the last few fixtures should have given us a sense of urgency and lit a fire under the team. Arena just stood on the sideline looking like he was worried he had left the iron on back at home…every minute…every fixture.
Klinsmann wasn't at the helm when we crashed out but he has to be just as culpable as Arena. Despite getting us excited about youth, his choices for qualifying during 2016 and other moments showed that he didn't let those youth prospects get out on the field in major scenarios. He, like Arena, had a propensity for going for what was safe instead of trying to shove the program forward by the bootstraps.
Secondly, the shot to the game is going to be painful. We aren't going to talk about hope for the long-term and what we could do if we blow everything up and start a worthwhile plan for the future. Coaches are saying their youth numbers are growing, and I have no doubt that this is true. However, the numbers will drop around the age when players start to select their main sport. You're telling me that a 14 year old trying to choose what sport they want to focus on isn't going to be turned off by not seeing any Americans at the World Cup? I think you're lying to yourself if you think that's the case.
The player that 99.9% of folks following the USMNT see as the future (Pulisic) would have been making these crazy important life decisions when Landon Donovan scored THAT World Cup goal. While I can't predict whether that moment helped propel Pulisic to the player he is today, kids over the next year will not get that moment or anything like it because we won't be in Russia next summer.
Lastly, the USMNT has crafted an atmosphere where simply qualifying was taken as a given. Arrogance has appeared from a squad that hasn't earned anything. Arrogance has appeared from players whose MLS Cup winner's medals will be the best they can get. The result against Panama should be our standard, not an outlier to be celebrated to such an extent. Would a team with the talent to match their mindset be "okay" about the fact that the USMNT has NEVER WON AT THE AZTECA!?! The USMNT needs to look straight into the mirror and realize that we have accomplished nothing, and won't accomplish anything until they finally realize that it doesn't mean you're incredible just because you're selected for the squad and it doesn't mean you're incredible because your FIFA rating is above 75. You're incredible when you accept the pressure and privilege of playing for a national team and earn the moment like that crest on your chest demands.
Now, this last bit is total conjecture but I think it sums up this group and the issues that plagued the USMNT. The field used against Trinidad and Tobago was too wet (the team's words, not mine) to completely warm-up and practice the day before the game. I'd bet you a dozen of your favorite doughnuts that they ended the practice early (reports say they did end it early) and went back to the hotel (just guessing here). A team with the clout of the USMNT could have found an acceptable space/pitch/GYM! However, I guarantee, they went home and played FIFA18. Pampered, arrogant, and, this upcoming summer, watching Russia 2018 from a couch alongside the rest of us angered and depressed fans.
We are all going to miss out on expanding the fan-base as much as it could have been. Fans that just want their sport to be taken seriously with their friends, their enemies, their politicians, and all the detractors. All that's been hampered or possibly destroyed. Moments where we come together as a nation next summer to support a common cause, that's gone. We are a gutted fan-base that shouldn't get apologies or excuses for the results, but a fan-base that should get apologies for the players performances, apologies for the time, energy, and focus we've given this squad. We gave our all and we are left with a coming "summer without" our prize.
There's more to say. There's plenty more that will be said. The USMNT failed. Could I have done better personally? Absolutely not. However, as a fan, it never felt like this team gave this process as much attention, hope, and desire as the fan-base gave to those players. I'm crushed, and you should be too. Let's fix it together but for now, let's vent.