Christian Pulisic
—
Show your support for "Captain America" with the latest Christian Pulisic jerseys from SoccerPro.com. Whether you're looking to sport Chelsea blue or support the U.S. Men's National Team, or maybe even both. These awesome Pulisic jerseys are made with high quality technology and material that's made for performance on the field or in the stands. They're lightweight, breathable, and made from durable and high tech fabric that won't hold you back on or off the pitch. Support America's biggest star with officially licensed gear!
Christian Pulisic
The American superstar is making his name known across the globe with his speed and creativity at Chelsea. Christian Pulisic's Chelsea jersey is a top seller on both sides of the pond, because the world knows just how iconic of a player he is. 
When he's not helping Chelsea lift Premier League and Champions League trophies, he's back home helping the USA on their quest for glory. After helping the USA qualify for the World Cup, Pulisic has his sites set on lifting the coveted gold trophy. Want to show your support for the red, white, and blue? Look no further! Rock a USMNT soccer jersey and show your support for the USA.
Pulisic's USA jersey and the Chelsea kit have been designed with state-of-the-art athletic fabric that's engineered with the latest technology to manage temperature and sweat. These jerseys are perfect if you spend all day out in the sun-soaked bleachers or support your team in the cold winter months. Improved breathability allows any excess body heat to escape, helping you stay cool and comfortable even in the warmest temperatures. Also including moisture-wicking fabric that lifts sweat away from your skin, you'll feel dry and focused. These high-tech jerseys are also made from a special stretchable material that moves in sync with your body and won't restrict your motion whether you go up for a header or reach for that bowl of chips. Pulisic's jerseys offer a modern, non-baggy fit that's perfect for casual wear when you're watching the game at home or in the stands.
The latest Pulisic jersey is both stylish and high-tech, making it truly remarkable. While it  might not make you a superstar on the pitch, it will have you looking like Captain America himself. These elite jerseys come in sizes for men, women, and kids, so you can easily outfit your whole squad for game day.
If you're still wanting to rock the total fit that Pulisic would be sporting on game day, definitely check out the PUMA Ultra. Pulisic has become one of PUMA's shining stars and bringing the iconic brand even further back into the game. Shop all things Pulisic and get the look that Captain America is rocking himself.
PRIVACY: Your email address and content of your message are private and will not be shared outside of SoccerPro. Information will be used to provide a response to your request. SoccerPro.com may send you additional marketing emails related to soccer gear. You have the opportunity to 'opt out' of marketing emails at that time.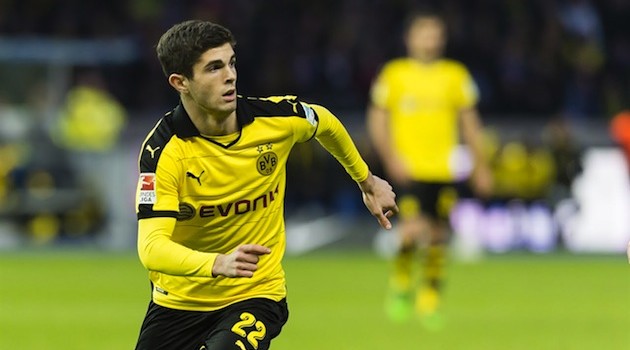 The Curious Case of Christian Pulisic
If you ask any teenage soccer player what they want to do when they grow up, chances are they're going to say professional soccer player. For one American 17-year-old, that dream is quickly becoming a… [ Read more… ]