Christian Pulisic
—
As if we needed more proof of his greatness, Pulisic went ahead and became the first American to ever win the Champions League AND led the USA to the inaugural CONCACAF Nations Cup all within a span of 10 days. Just another day at the office for Captain America! Grab Christian Pulisic's USA Jersey today from SoccerPro along with his PUMA Ultra 1.3 shoes and his Chelsea Jersey! Support America's boy-wonder with always authentic gear available here now.
Christian Pulisic
It's all about Christian Pulisic. The world is his oyster. Pulisic is a talent with phenomenal prospects. His speed, his shooting, his vision, his ability on and off the ball, the kid has it all. As he and his mates seek to carry USA to the next level, it's no doubt that his gear is in great appeal among soccer fans!
The biggest clubs in England all wanted to sign America's golden boy. Now he has his chance to shine at Chelsea. Everything he touches turns to gold, expect more over the years from the USA #10!
PRIVACY: Your email address and content of your message are private and will not be shared outside of SoccerPro. Information will be used to provide a response to your request. SoccerPro.com may send you additional marketing emails related to soccer gear. You have the opportunity to 'opt out' of marketing emails at that time.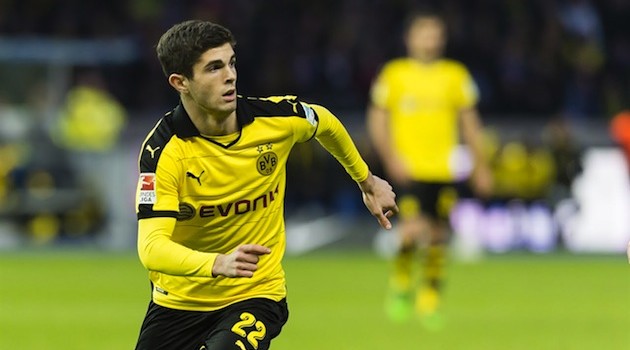 The Curious Case of Christian Pulisic
If you ask any teenage soccer player what they want to do when they grow up, chances are they're going to say professional soccer player. For one American 17-year-old, that dream is quickly becoming a… [ Read more… ]