Chelsea's season may have gotten off to a listless start, but their transfer activity is typically lively. Although it looked like lifelong Barcelona midfielder Pedro was headed to the Red Devils of Manchester for weeks, a sudden wind change landed him at Stamford Bridge. Most of the football world is still trying to sort out what exactly happened here. While they're doing that, what exactly does this mean for the three clubs involved?
Chelsea
While he's no Hazard, Neymar, or Bale, Pedro is certainly a real talent. Squarely in the middle of his prime after recently turning 28, it makes sense he would desire to be a full-time starter instead of a fill-in behind the brighter stars in Barcelona. After a productive 2013-14 campaign (15 goals, 8 assists in La Liga play), Pedro found his role significantly diminished last season with the union of the world-conquering three-headed monster known as Messi-Suarez-Neymar. He'll have more time to shine at Chelsea, but if he wants consistent first team starts, I'm not sure this move makes total sense.
Even assuming Juan Cuadrado is on his way out after a disappointing half-season under Mourinho, will Pedro really find a spot in the starting lineup? Willian, a younger and more active winger, already has carved out his place on the right wing. Pedro is a more technically gifted player and his creativity combining with Fabregas, Oscar, and Costa will be highly valuable. However, Mourinho is not Guardiola, his teams grind on defense and Pedro is not exactly known as a workhouse.
Pedro has worn the Barca crest since 2004. He came up through their B and C squads before appearing in over 200 first team matches beginning in 2008. He's learned and played the game exactly one way his entire career. How does he respond under a wholly different philosophy in an entirely different league? I think he's just as likely to languish on the bench as he is to become a stud winger for the Blues.
Manchester United
Well that turned around fast, didn't it? Every footballer in Europe and their aunt has been linked to Man United this summer, but this seemed like a slam dunk for Louis van Gaal. Some sources claim Chelsea only offered slightly more than United. So what gives?
The speculation has revolved around two items: 1) Fellow Barca alum Fabregas may have put in serious work recruiting Pedro to London and, 2) Van Gaal's issues with his two Spanish keepers (De Gea, who is likely on his way to Real, and Victor Valdes, who apparently doesn't enjoy practicing with the reserves) alienated their countryman.
Now United will continue to try and find more creative attackers during the rest of the quickly dwindling transfer period. Will whoever they bring in match Pedro's skill set? That's probably unlikely at this point, but with their aggressive demeanor on the market this summer, anything's possible, I suppose. If not, they will ride with Ashley Young at least until December.
Barcelona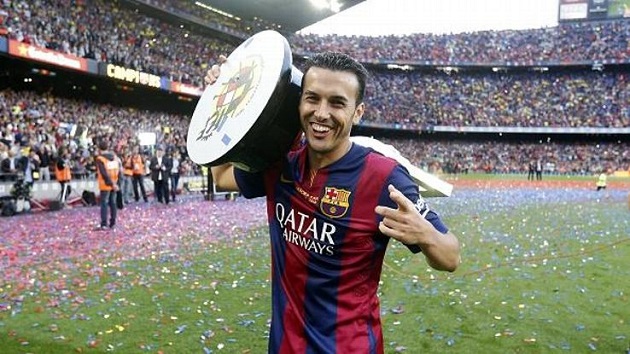 Pedro came up under Guardiola's tiki-taka reign, so this current version of FC Barcelona probably doesn't look so familiar to him. Not only has their manager and style of play changed, but two leaders, Xavi and Puyol, from Pedro's early Barca days are now gone too. Although he's a solid contributor, the recent incoming talent has squeezed Pedro out a bit, right at a moment in his career when he would expect to be vital to the lifeblood of his club. It's fun winning trebles, sure, but if you think your talent merits you more of an opportunity, then finding a place where you can take flight is the right move.
Where does this leave Barcelona? In a word: fine. Luis Enrique's club is not heading for a nose dive due to Pedro's exit. Losing depth is never a good thing, but with young La Masia cubs Munir El Haddadi and Sandro Ramirez (as well as the arrival of Arda Turan in January) waiting in the wings, Barca is never depleted for very long.