The joy of Christmas is always followed by an even more magical day in the world of sports: Boxing Day. On Monday, we'll be blessed with eight Premier League fixtures featuring the likes of Manchester United, Arsenal, Manchester City and Chelsea. Sadly, none of the big boys are playing each other, but here a couple of matches to keep your eyes on this Monday.
Chelsea vs. AFC Bournemouth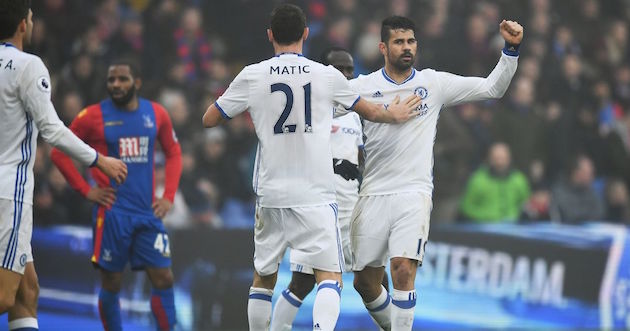 While this matchup may not be the most eye-catching one on paper, I think that the stage is set for a Bournemouth upset. The Blues are in the midst of an 11-game winning streak, and sit six points ahead on top of the table. As unbeatable as Antonio Conte's men have been this season, a visit from Bournemouth may be a trap game. After Monday's match, Chelsea will have to face Stoke City and Tottenham, and they may already have their eyes on the trip to White Hart Lane. The suspensions of Diego Costa and N'Golo Kante leave them a little bit shorthanded, as well, and if they don't come out of the gates focused, we could see the end of the winning streak.
Switching to the Cherries, Eddie Howe's side know how to stage an upset. This season, they've already knocked off Liverpool in a 4-3 thriller, held Spurs to a 0-0 draw, and beaten Leicester City 1-0. Sadly, for Bournemouth fans, this isn't a consistent trend. Along with every upset there seems to come an expected loss: 3-1 to Man United, 3-1 to Arsenal, 4-0 to Man City. Not helping their cause will be Chelsea-loanee Nathan Ake who has been an integral part of Howe's starting 11 this season. Final Score Prediction: Chelsea 1-1 Bournemouth
Leicester City vs. Everton
I think that this fixture might be the most enticing match to watch on Monday. Leicester and Everton both have extremely talented sides, but neither one has really lived up to their potential this season. Everton started well enough, but as of late, the Toffees have only won one of their last seven matches. Last Monday, they suffered a heartbreaking Merseyside Derby loss at Goodison Park, and they now find themselves 10 points outside of the top five. They'll likely be without starting goalkeeper Maarten Stekelenburg for their trip to Leicester, as well. Can Ronald Koeman find a way to rebound his side, and steal all three points from the King Power Stadium?
I think that most people expected Leicester to really come alive after they smashed Man City 4-2, but that hasn't quite happened. Since that statement victory, the Foxes have lost to Bournemouth and drawn to Stoke City. Making matters worse for Claudio Ranieri are the suspensions to Christian Fuchs, Robert Huth and Jamie Vardy. On the bright side, Leicester have been nearly unbeatable at home this season, losing just once in eight matches, but they might need some luck on their side to take any points from this match. Final Score Prediction: Leicester 0-1 Everton
Swansea City vs. West Ham United
It hasn't really been a dream start for Bob Bradley at Swansea City. Through his first 10 matches as the first American manager in the history of the Premier League, Bradley has won just twice (Sunderland and Crystal Palace), while losing six times. The Swans now sit second to last in the table, and are considered one of the favorites to get sent down come May. One thing working in Bradley's favor, however, is his record at the Liberty Stadium. Other than a 3-1 loss to Man United, the former USA coach has won twice and drawn against Watford. A win on Boxing Day would go a long way in helping his reputation with the fans, but that's easier said than done.
West Ham, on the other hand, have fallen quite a bit since their barnstorming season last season. Slaven Bilic's side currently sit 13th in the table after winning just five of their first 17 matches, and they've struggled to rediscover the attacking power that made them so exciting to watch last year. Only once in their last six matches have the Hammers found the back of the net more than once. In their last match against Hull City, it took a penalty kick for them to escape with a 1-0 win, and you could argue that the goal post was their man of the match. The club lacks a truly dangerous striker, and I think that they'll struggle to even break down Swansea. Final Score: Swansea 1-0 West Ham