Only halfway into the 2015-16 Champions League group stage, the sky is falling in England. None of the four Premier League clubs lead their group after three matches. It's one thing to struggle getting past Bayern, Real, and Barcelona — since 2011, only Chelsea has even reached the semifinals — but it's particularly worrying when you're struggling against PSV Eindhoven, Dinamo Zagreb, and Dynamo Kyiv. It will be fascinating to see how the English clubs respond when faced with adversity this early in the Champions League campaign.
Last year at this time, I went group-by-group with expert analysis and predictions on who would advance… of course, I only correctly predicted 8 of the 16 teams that moved on, even with the midpoint head start. So this year, I brought in fellow TCC writer, Dominic Habjan, to make predictions as well. Maybe one of us can at least beat 50% this time.
Group A
Drew Wendt: After yesterday's uneventful draw, Real Madrid and PSG will battle for Group A's throne in two weeks at the Bernabeu in Madrid. Malmo and Shakhtar Donetsk have proven they won't provide much of a test, like most thought pre-season. This is especially disappointing for Shakhtar, who advanced out of Group H last year. Although it's tough to strike much fear in opponents when you're playing your home matches in a much smaller stadium 800 miles away, due to the conflict in Eastern Ukraine. Clearly, this is one of the easier groups to predict. The giants advance.
Who Goes Through: Real and PSG
Dominic Habjan: There was never really much doubt about which 2 clubs would go through. Real Madrid and Paris Saint-Germain are the heavyweights of this group. Malmo and Shakhtar don't really stand a chance, and will be competing for the Europa League spot. Pretty cut and dry, nothing to see here.
Who Goes Through: Real and PSG
Group B
Wendt: Now we come to potentially the most intriguing group of the tournament. Each of the four clubs have at least one win and one loss through three matches. Manchester United needed some second half Martial magic just to tie with CSKA Moscow, while Wolfsburg took control of the group with a 2-0 win over PSV. With only three points separating top from bottom, goal differential could easily come into play here. Wolfsburg has a two-point and +2 goal lead on the rest of the group, so I think they advance in first. Back home in two weeks vs. Moscow again, I think United plays themselves into the knockout round.
Who Goes Through: Wolfsburg and United
Habjan: This might be one of the toughest groups from top to bottom. A key player went from one team in the group to another, Memphis Depay, but the results of the group are still in question. Each team has a legitimate shot at advancing. There are no gimme results here, and every game will count.
Who Goes Through: United and Wolfsburg
Group C
Wendt: Group C seemed to be locked up for Benfica and Atletico Madrid after the first two matchdays, until Galatasaray took out Benfica at home this week. Atletico holds the best goal differential and employs the best manager in the group in Diego Simeone, so give me Atleti to take it, with Benfica in second.
Who Goes Through: Atletico and Benfica
Habjan: Group C has an interesting cast of characters. There aren't any super clubs in this group, but three medium-sized clubs who will battle it out. Kazakhstan club Astana is in the group, but will likely be the minnow. Other than that Benfica, Atletico Madrid, and Galatasaray will likely be the ones battling it out. Benfica and Atletico currently have a two-point advantage, but we still have plenty of football to be played.
Who Goes Through: Atletico and Galatasaray
Group D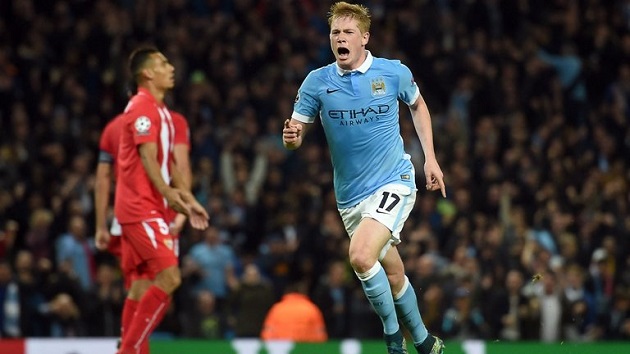 Wendt: Boy, City must be thanking their lucky stars that this diminutive Belgian has turned into Messi-lite to start the season. Kevin De Bruyne saved an injury-riddled City squad from a home draw vs. Sevilla with a late winner yesterday. With Borussia Monchengladbach struggling in both Bundesliga and Champions League play, they seem to be a non-factor here. Juventus defeated both City and Sevilla, but still somehow seem vulnerable in the top spot. I believe the drama will continue to unfurl in Group D, with Sevilla getting revenge on City with Sergio Aguero and David Silva still out. In the end, though, I'll take Juventus and City to make it through on the final matchday.
Who Goes Through: Juventus and City
Habjan: Group D must stand for Deceptive, because it is deceptively tough. It might seem like Juventus and Manchester City are the clear cut top teams, but Sevilla and Borussia Monchengladbach make this a well rounded group. Juve and Man City do have a lead on the other two, but in football, you never know.
Who Goes Through: Juventus and City
Group E
Wendt: I've avoided picking any big upsets thus far, but we're about to get wild with Group E. Well, not too wild. Barcelona are clearly going to finish tops here, but I think Roma, currently sitting bottom with just two points, battle their way back to advance. Yes, they have had a leaky defense and that loss to BATE Borisov (which is in Belarus, by the way) still smarts, however they pulled off an impressive (and entertaining) 4-4 draw at Bayer Leverkusen. Even if they lose to Barca, I think they somehow proceed with just two wins.
Who Goes Through: Barca and Roma
Habjan: This group is a race for 2nd. Barcelona will win this group, the games are simply a formality at this point. From there, a single point separate Bayer Leverkusen, BATE Borisov, and Roma. Leverkusen have been injected with energy from Chicharito, BATE Borisov upset Roma, and Roma have the second-most talent behind Barcelona.
Who Goes Through: Barca and Leverkusen
Group F
Wendt: Despite a goal differential of zero, Arsenal sit bottom of this group. An inspiring 2-0 victory over Bayern Munich this week provides some hope, but it's still an uphill climb for the Gunners. Even with their opening win vs. Arsenal, Dinamo Zagreb don't appear to be an actual contender. That leaves Olympiakos, who are knotted with Bayern at six points apiece. Bayern will turn on the afterburners and seize the group, so the deciding match comes down to Arsenal at Olympiakos. I think the Greeks pull it off. Sorry Arsenal, there's always the Premier League.
Who Goes Through: Bayern and Olympiakos
Habjan: Upset special. Group F has already seen multiple upsets, including the current standings. Bayern is tied with Olympiacos at the top of the group, while Dinamo Zagreb and Arsenal are 3 points behind. Bayern proved to be human after getting beaten by Arsenal, leaving this group wide open.
Who Goes Through: Bayern and Olympiakos
Group G
Wendt: The mystifying struggles at Chelsea FC have bled through to European play. This is just not a very good team right now. On the other hand, they have plenty of talent to avoid an embarrassing group stage exit. Porto appear to be in the Group G driver's seat, so I say they win it. Maccabi Tel Aviv are Just Happy To Be Here, which leaves an all-important match at Stamford Bridge when Chelsea host Dynamo Kyiv in two weeks. My head tells me it's beyond stupid to pick the Blues right now, but darn it, I'm doing it anyway.
Who Goes Through: Porto and Chelsea
Habjan: Chelsea has really underperformed, throwing this group into chaos. Porto lead the group, while Dynamo Kyiv are in 2nd. Chelsea sit in 3rd, while Maccabi Tel Aviv are on the bottom, pointless. With Chelsea struggling, this might be a huge upset group.
Who Goes Through: Porto and Chelsea
Group H
Wendt: In the least interesting, and probably weakest, group, Zenit St. Petersburg and Valencia should advance without issue from Group H. Lyon and Gent haven't proven to be any kind of obstacle.
Who Goes Through: Zenit and Valencia
Habjan: Well, we are already halfway there. Zenit Saint Petersburg have an eight point cushion with three matches to go. They are almost guaranteed to go through. Valencia are sitting pretty with six points, while Lyon and Gent are battling at the bottom with a point apiece. It is fair to say that this group is pretty weak and low on drama. If Zenit and Valencia each win on November 4th, the top two will be set with two matches to play.
Who Goes Through: Zenit and Valencia