With the Premier League lacking any blockbuster matchups this weekend, we turn to Germany for this week's spotlight fixture. With Bayern Munich climbing further and further ahead of the pack for the top spot, this weekend's match between second place Borussia Dortmund and third place VfL Wolfsburg has massive implications. Dortmund currently sit seven points clear of Wolfsburg, but eight points below Bayern for the top spot. Victory for either team would give them invaluable momentum going into the winter break, but will either club be able to catch Bayern?
After last season's disastrous form that saw Dortmund battling to stay above the relegation zone at one point, it's refreshing to see them back fighting for silverware. New manager Thomas Tuchel had massive shoes to fill after replacing beloved boss Jürgen Klopp this season, and so far the 42-year-old has performed admirably. Under his reign, Dortmund has electrified the Bundesliga scoring the second most goals in the league and losing just twice through 14 matches. BvB has been near perfect in their last stretch of league games, winning five of their last six matches. In those matches, Tuchel's men scored on average three goals per match. Can they continue this hot form away at the Volkwagen Arena?
The star man for Dortmund this season has, without a doubt, been striker Pierre-Emerick Aubemeyang. With the departure of players like Robert Lewandowski and Mario Götze in seasons past paired with the injury problems of Marco Reus, it feels like the brunt of Dortmund's offensive pressure has fallen on Aubemeyang. The 26-year-old has handled the spotlight brilliantly this season, and has become arguably one of the hottest goal scorers in the world. Through 14 games this season, the Gabon international has scored a league-leading 17 goals (three better than his former teammate Lewandowski). This year has been Aubemeyang's best season to date, and so far only two teams have been able to stop him from scoring in the league. Last year, Aubemeyang lined up against Wolfsburg three times, and scored all three times. Look for him to wreak havoc all day on Saturday.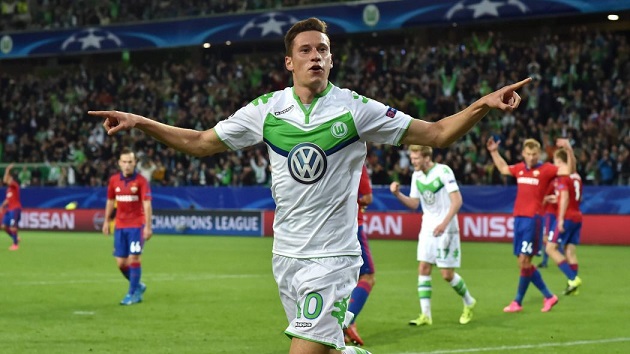 Saturday's fixture provides Wolfsburg with the chance to become record breakers. Fans at the Volkswagen Arena haven't seen their team lose a match in their last 29 league games. If they avoid defeat against Dortmund, which is easier said than done, Dieter Hecking's squad will set a Bundesliga record for the longest undefeated home run in league history. This season, the Wolves have continued to make their home ground a fortress, winning six out of seven and drawing just once. In three of those matches, Wolfsburg's defense has kept a clean sheet, and only one team has been able to find the back of the net more than once. Saturday will provide them with perhaps their toughest test going up against Aubemeyang and co., but the chance to make history could push them to shut BVB down.
Over the summer, Wolfsburg lost their best player of recent memory: Kevin De Bruyne. The talismanic midfielder joined Manchester City for a reported fee of £55 million, and left a gaping hole in the heart of Wolfsburg's attack. It's nearly impossible to replace a player of De Bruyne's caliber so quickly, but Wolfsburg has done a pretty good job of at least easing the transition. After the Belgian left the club, Wolfsburg brought in a pair of talented German attackers in Julian Draxler and Max Kruse. These two summer signings currently share the team lead in assists with three a piece, while Kruse sits second on the team in goals with five. While Kruse and Draxler aren't as talented as De Bruyne, together they provide Wolfsburg with two very creative and attacking forces in the final third. The Wolves might end up spending most of Saturday's fixture defending, but they will have a couple clear cut chances to find the back of the net and it'll be up to Kruse and Draxler to help create those chances.
With as much offensive firepower that Dortmund has, it would be easy to pick them for the win on Saturday. However, going back to last season, Dortmund went up against Wolfsburg three separate times and failed to win any of those matchups. Wolfsburg's José Mourinho-esque home record proves that they are extremely difficult to break down, and this defensive fortitude should see them at least draw against Tuchel's team. Final Score: Wolfsburg 2-2 Dortmund