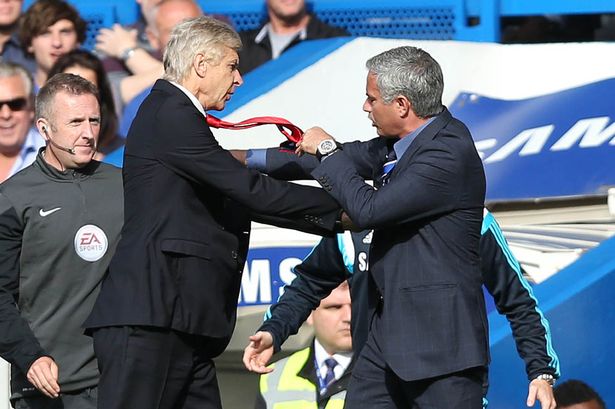 I can guarantee you that I will be up bright and early on Saturday to see the Premier League's biggest match of the weekend. It's what we've all been waiting for: Manchester United vs. Arsenal; José Mourinho vs. Arsene Wenger; Good vs. Evil. Ok, maybe not the last one. Either way, this fixture pits two of the league's most decorated clubs against each other, and I couldn't be more excited. Currently, the Gunners sit fourth in the table and six points ahead of the Red Devils, and a win has the potential to send them to the top of the table. Can Mourinho spoil Wenger's party and spark some much-needed life back into Old Trafford?
One player that will not able to take his usual spot in the starting lineup tomorrow is Hectór Bellerín. The Spanish defender has been ruled out for up to a month due to some ligament damage suffered against Tottenham. The 21-year-old provides the Gunners with arguably the fastest fullback in the league, and his absence will force Wenger to change the way his defensive unit deals with United's high-powered attack. The Frenchman told reporters that he could play Gabriel, Francis Coquelin or even Shkodran Mustafi in the right back spot. None of those players are natural fullbacks, and Coquelin, you could argue, isn't even a natural defender. Neither of these three can come anywhere close to matching Bellerín's pace, but they do have the ability to at least slow down United's attack when push comes to shove.
On the other end of the injury spectrum, Alexis Sánchez looks likely to return in some capacity to Arsenal's lineup. The Chilean winger suffered an injury early during the international break, but apparently healed up enough to score twice in a match against Uruguay. Sanchez currently leads the Gunners in goals (six) and assists (three – shared with Alex Iwobi) this season and his ability to play as a striker or on the wings makes him difficult to plan for. Whether or not he goes the full 90 minutes, or even starts, is still yet to be determined, but he doesn't need much time to make an impact on the match. Last season, he put away a first half brace to down the Red Devils 3-0 at the Emirates, can he replicate that magic at Old Trafford?
Another big absence from this match will be Zlatan Ibrahimovic. The Big Swede will miss the fixture through suspension after an accumulation of yellow cards, and that puts Mourinho into a difficult spot tactically. To make matters worse for United's attack, Wayne Rooney isn't exactly in the best of lights at the moment after photos of him having a little too much fun during the international break. That means that Marcus Rashford will likely lineup as United's leading man on Saturday. The 19-year-old is no stranger to this task having scored twice against the Gunners in his Premier League debut last season, but I can't really see that happening again this time around. Hopefully with Rashford being pushed into a more central role, we'll finally get to see Henrikh Mkhitaryan play some meaningful minutes.
Arguably the biggest storyline going into this fixture is about the men on the sidelines. It's no secret that Mourinho and Wenger aren't the biggest fans of each other and they've made it pretty clear what they think of one another. Two years ago, the Special One went as far as to tell reporters that he saw Wenger as a "specialist in failure." The Arsenal manager showed off his strength with this shove against Mourinho during his tumultuous 2014/15 season with Chelsea. Mourinho has never lost to Wenger, but his side looks more vulnerable than ever now, so that impressive record might change this weekend.
I was never going to be completely unbiased in this article. As a die-hard United fan with plenty of Arsenal friends, I couldn't pick the Gunners to win no matter what the matchup looked like. With that being said, I think that Mourinho knows how to game plan for a match, and the international break has given him more than enough time to do just that. Final score: United 1-0 Arsenal.