Manchester City vs. Barcelona (2/24, 2:45pm EST)
The biggest matchup of the week has to be Barcelona's trip to the Etihad Stadium. City is coming off of a great weekend having beaten Newcastle United 5-0 in the league. Barça, on the other hand, are coming off of a disastrous 1-0 defeat against Malaga that saw them lose precious points in the La Liga title race.
Manuel Pellegrini's squad has shown no sign of slowing down in recent weeks. In their past two games, they have outscored their opponents 9-1. The return of Yaya Touré from the African Cup of Nations seems to have revitalized City's midfield, and David Silva is again showing the world that he can change the game at anytime. The Spanish midfielder has registered two goals and two assists in his last two appearances. If Touré and Silva are able to contain the passing play of their Spanish counterparts and also provide Sergio Agüero with a handful of scoring opportunities, City have a real chance of running Barcelona out of the stadium.
Although, it's hard not to consider the Catalonian side favorites whenever they step on the field. Before their loss to Malaga, Barça had won their previous four matches, and had outscored the opposition 16-5. Lionel Messi, Luis Suarez and Neymar will cause constant problems for a City backline that has looked shaky during several games this campaign. Look for Messi and Co. to be firing on all cylinders to get the sour taste of the weekend's defeat out of their mouths.
Juventus vs. Borussia Dortmund (2/24, 2:45pm EST)
Few teams have been as disappointing this season as Borussia Dortmund. The German side currently sits in 12th place in the Bundesliga and has occupied one of the three relegation spots for the majority of the campaign. However, the men in yellow are currently enjoying their longest win streak of the season (three games), and have looked primed to return to the form that made them a perennial title favorite. In particular, Pierre-Emerick Aubameyang has been the catalyst for Dortmund. The forward has scored four times during this winning streak, and provided the finishing touch that seems to have eluded the side in the first half of the season. If Aubameyang and star man Marco Reus are able to carry this form into Tuesday's matchup, Dortmund stands a chance to shock Juventus in Italy.
The hosts have experienced a very different season than their German counterparts. Juve currently sit atop Serie A and are enjoying a nine-point cushion above their nearest competitors. The Italian side has not lost a match in regulation since October 29th, and this is currently the only defeat they have suffered in the league. Defensively, they have allowed the fewest goals in the league (13 in 24 games). At home, Juventus has scored an astounding 32 goals in only 12 games, while only allowing seven. The Serie A leaders have to be considered the favorites in this matchup, and Dortmund fans will just be hoping to take a draw back to Germany for the second leg.
Bayer Leverkusen vs. Atlético Madrid (2/25, 2:45pm EST)
Bayer Leverkusen would have been hoping for a better run of games leading up to this Round of 16 matchup. The team currently sits in sixth place of the Bundesliga and has only won just once in their previous six games. Their most recent heartbreak came at the hands, or actually the feet, of FC Augsburg's goalkeeper Marvin Hitz, who scored a last minute equalizer to prevent Bayer 04 from registering only their second victory of 2015. However, in European competition, the German outfit has only suffered defeat twice out of their eight group matches, winning five and drawing once. This group included French power AS Monaco, a Benfica side that currently sits atop the Portugeuse Liga and Zenit St. Petersburg who is the top Russian team at the moment. This Champions League form could prove vital if Bayer 04 hope to upset Diego Simeone's men.
Last season, the Madrid team that many casual soccer fans had never heard of made a trip to the Champions League final where they suffered heartbreak in extra time. The desire to return to the final was evident in group play as Atlético kept clean sheets in all but one match, and suffered only one loss. On the offensive side, they have only failed to score in one game, while also registering victories by scores of 4-0, and 5-0 against Olympiakos and Malmo respectively. The Spanish side will look to Mario Mandzukic to get them on the score sheet in Germany. The former-Bayern Munich striker currently leads the team with five Champions league goals this season. Expect Diego Simeone to field a very strong side that will cause a lot of problems for their German hosts.
Arsenal vs. AS Monaco (2/25, 2:45pm EST)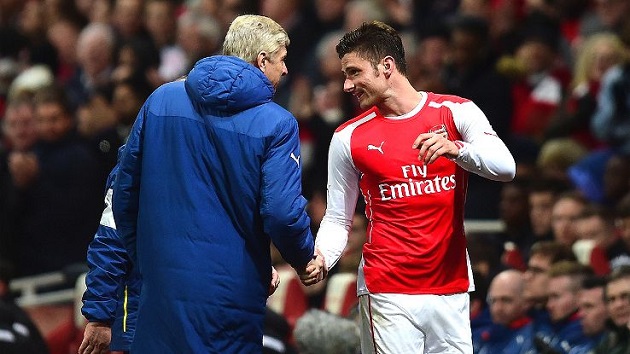 When Arsenal and Monaco met during their preseason tours this year, a Radamel Falcao goal gave the French side a 1-0 victory in the Emirates Cup. Seven months later, the two teams will meet in a much more meaningful tie. Arsenal is currently third in the Premier League, while Monaco sit fourth in Ligue 1. The English side is enjoying a fine run of form in recent weeks with the creative genius of Alexis Sanchez on full display. The big summer signing has proven to be one of the best players of the season for the Gunners leading the team in goals (17) and assists (10). Sanchez has provided the London side with almost unmatched pace and creativity in their midfield, as well as giving players like Santi Cazorla more space and time on the ball due to the attention he requires from opposing defense. Arsenal's record at the Emirates is almost perfect, losing only twice in all competitions. The Gunners will provide a very tough test for their French visitors.
Monaco is not a high scoring team. Through the first 25 games in Ligue 1, the fans have only been able to celebrate 26 goals. Dimitar Berbatov leads the charge with a measly six goals in the league (none in the Champions League). On the other hand, Monaco has only given up 19 goals in their league run. Do not expect the French side to field a very attacking lineup when they travel to London. Services to Berbatov will be few and far between as Monaco will almost surely be playing for a draw Wednesday night.