In nearly every tournament in the entirety of the football world, there are Cinderella stories and fixtures that are almost as intriguing as watching paint dry. There might be a giant-killing that provides some interest, but that only means that a major name will not be present in the next round and that the underdog might have robbed us of a massive match. Now, I do enjoy the occasional underdog story, but when the Champions League presents us with a quarter-final that has Manchester United as the weakest team (based on form) available, The Center Circle staff starts to get excited. Let's take a look at what is in store!
First, we will see what the Spanish giants have drawn in this year's QF draw. Where Barcelona have been considered an easy choice for a semi-final squad nearly every season for the past 5 years, they enter this year's quarter-final with quite a bit of doubt on their shoulders. Mix in the fact that they have drawn a side in Atletico Madrid that Barcelona has not been able to defeat to this point in the campaign, and Barcelona may have their most disappointing season in years! Although current form would have made most teams hope for drawing Man U, Atletico definitely have the belief that they can beat Barca and will feel that they have the Catalan club's number this season. A victory here would also be another instance of Atletico proving that they are not just riding a fantastic wave of football, but Atletico is in Europe's elite to stay. An even deeper Champions League run coupled with them actually holding on to some of their bigger stars this summer would be a major step towards the future of the "other" Madrid club.
For Barcelona, this will be the opportunity to prove to Europe (and the world) that they are still a member of Europe's elite. A trip to the semi-final or maybe even the final would show that there may not be any actual decline from Barca, but that the Madrid clubs and Spain (in general) are on the INCLINE. With Messi still at 26, there is still plenty of time for him to add accolades to his personal list, but every passing year without trophies will put his status as the G.O.A.T. into doubt. With the World Cup rapidly approaching, Barcelona and Messi will need a great run against the best in Europe to boost all of the players as they prepare for Brazil 2014.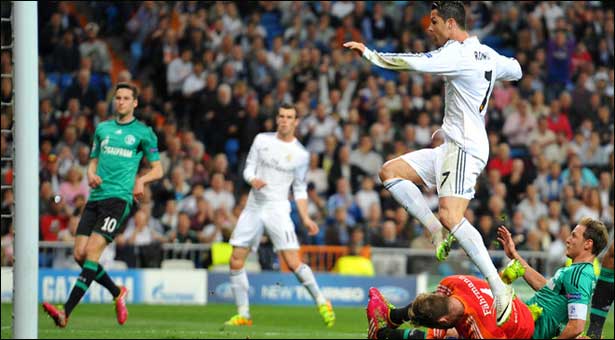 Elsewhere in Spain, Real Madrid will face Borussia Dortmund and have an opportunity to avenge last year's shock exit at the hands of BVB. While the main story will be focused on BVB being significantly weaker this time around, our focus is that Real has shown within their form and play in the last few months that Real and Bayern are probably the current favorites to make the Champions League Final and lift the trophy. Cristiano Ronaldo is in red-hot form and Gareth Bale looks to have completed his transition, while the rest of the squad looks to finally be playing like a dominant 11 instead of playing like 11 dominant players. If BVB are able to pull an upset again (and, make no mistake, it will be considered an "upset"), then Germany will only continue to assert itself as a European power despite the league table showing some serious lack in depth outside of Munich.
Ronaldo is also playing this campaign with an eye towards all of the CL goal-scoring records, meaning that Dortmund could become a footnote in the annals of history should CR7 continue his amazing run. Considering that Madrid also avoided two squads from their own league, this draw will certainly be seen as a major opportunity to continue the road to Real Madrid's 10th Champions League title. If Madrid continue to sit on top of the LA Liga table and ride the Champions League into the sunset, then Madrid will certainly solidify a MAJOR changing of the guard in Spain.
With all of the "Cinderellas" already out of the competition, this Champions League run towards the Finale may prove to be one of the greatest we have ever seen. As we said earlier, if Manchester United are your competition's weakest team, then something special really could happen. Will Barca continue to fade? Will Atleti plant their flag firmly with the rest of Europe's best? Will Madrid march on? Or, will BVB continue to be a thorn in Real's side? No matter what happens, it is going to be FANTASTIC!!!!
Check out Part 2 on Manchester United, Chelsea, and Bayern Munich.