Antonio Conte's Premier League juggernaut was finally knocked down at White Hart Lane this week. Chelsea's 13-game win streak began with a 2-0 victory at Hull, continued with an evisceration of Jose Mourinho's United, and hit its pinnacle with a comeback win over Manchester City. Now it has ended at the hands of Dele Alli and Tottenham.
To be sure, it was a deserved Spurs win, but all in all, a mighty close game. Chelsea had more possession, more shots, and both teams had just two shots on goal. It's hardly time to panic for Blues fans. If Eden Hazard is more precise with his chance and Alli fails to bury one of the identical headers he scored, you're looking at a 1-1 draw. However, Tottenham capitalized on their chances and Chelsea didn't, so let's look at how that happened.
Eriksen and Alli were terrific; Azpilicueta and Cahill… not so much
Christian Eriksen played to his full potential on Wednesday. He had one brilliant shot from outside the box that missed the post by inches and then provided two gorgeous passes that Alli finished with aplomb. Throughout the 90 minutes, Eriksen seemed the only true playmaker on a field he shared with other elite attacking midfielders like Hazard and Pedro.
Using his height advantage over Cesar Azpilicueta, Alli slammed home both headers around the midpoint of the match. That gives the 20-year-old 10 goals in just 17 EPL starts this season. In a match where both teams found scoring chances hard to come by, Alli had no issue burying his two opportunities. In fact, in their first match versus Chelsea, Alli played helper to Eriksen for Spurs' only goal in a 2-1 loss. These two are continually rising to the challenge this season.
Chelsea's defense, on the other hand, did not answer the call this time. Eriksen was allowed too much space and the 6'2″ Alli caused trouble for the 5'10" Azpilicueta. Combine that with Gary Cahill showing his age a bit and Tottenham were able to get the better of the scoring chances on the day.
During the 13-match streak, Chelsea only conceded four goals. The last two matches have seen them allow four goals. Is Conte's 3-4-3 formation beginning to show cracks, or is this just a bump on the road to the title?
Pochettino bests Conte at his own game
Speaking of the 3-4-3, Mauricio Pochettino made the crucial decision to mirror Conte's strategy, and it worked. The formation change that spurred this Chelsea winning streak was used to bring it to an end. Victor Wanyama and Mousa Dembele patrolled the middle of the pitch, outplaying their counterparts Nemanja Matic and N'Golo Kante. Similarly, Kyle Walker and Danny Rose were more dangerous on the wings than Victor Moses and Marcos Alonso were for Chelsea.
The clashing 3-4-3 systems made for little space for either team to exploit. Harry Kane and Diego Costa were mostly unable to make lethal runs or get free enough for a good shot. Chelsea's frustration was clearly evident during Costa and Pedro's heated exchange after they botched one of the few times Chelsea were able to find some space. Spurs fans were loving the sight of Costa publicly chewing out his teammate.
In the end, Pochettino was able to best Conte at his own game. Should Chelsea be concerned more teams will succeed at this? I don't think so. Most Premier League teams just don't have the personnel Tottenham does to cause Chelsea trouble by mirroring their 3-4-3.
Spurs back three stifles Costa and co.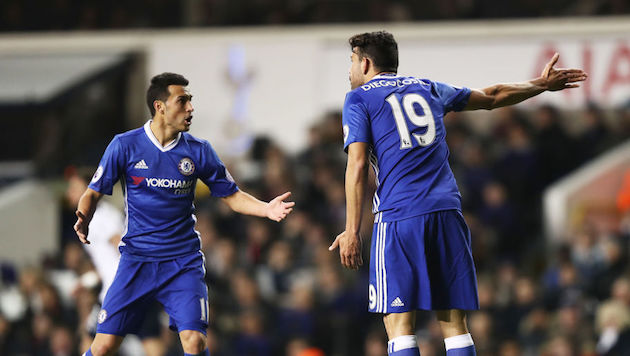 Tottenham's back three — Vertonghen, Alderweireld, and Dier — stayed solid all game long, especially in the second half when Chelsea started to control things after they went down 2-0. Despite the pressure and 11 shots, Spurs keeper Hugo Lloris wasn't called on all that much. Hazard was as ineffective as he's been all season. Moses and Alonso, so vital to the winning streak, weren't able to provide much, both getting subbed off in the second half.
Conte tried to flood the field with creators and attackers late in the match. Willian and Fabregas came on for Alonso and Kante, but neither were able to work any magic. Most surprising, the in-form Costa was stifled at every turn. He unleashed four shots, but none were all that dangerous. All the credit in the world goes to Tottenham for defending as a team against a Chelsea attack that had been so efficient and consistent for 13 straight matches.