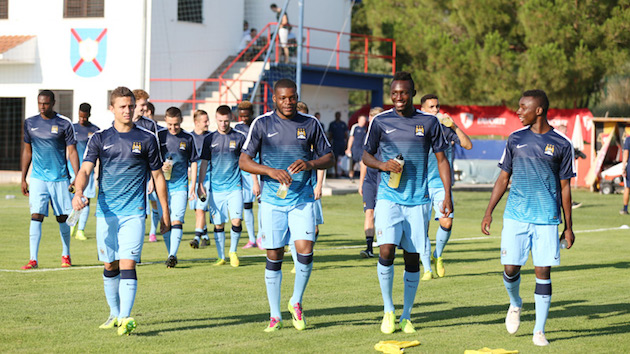 Earlier this week, Liverpool announced that they would be introducing a wage cap for their youth players. While that wage cap is all the way at £40,000 per year, the club said their reasoning behind it was to prevent "too much, too young" for their developing talents.
This move is just the latest in a series of statements and actions by clubs and players highlighting the changing youth culture developing not just in the Premier League, but around the world. Before Liverpool announced the wage cap, Manchester City instituted a "dress code" for their players on the pitch. For the foreseeable future, players in City's youth system will be banned from wearing multi-colored boots.
The Sky Blues' academy director Jason Wilcox told reporters that this move will help teach players what it means to represent the club, and themselves, on and off the field.
"There is nothing worse for me than to see a high-profile footballer who has no manners or respect for other people," said Wilcox, "It doesn't matter whether a boy is speaking to one of the cleaning ladies or the CEO, we demand that they show respect."
Echoing this anti-flash/luxury sentiment was Everton defender Seamus Coleman.
"If I see a footballer with a Louis Vuitton wash bag I wonder what it does to others," said the Irishman, "That's what I think is wrong with football…Your job isn't to be going out and buying the best of everything just because someone else is."
Coleman believes that this growing culture of excess in the dressing room is having negative effects on the younger players. "They think they need to look good on their Instagram pictures. They think they have to follow the leader but they are just kids – boys."
Does he have a point? Are Liverpool and City making the right moves by trying to shield their players from this image and money dependent culture?
In my opinion, yes.
As much as I don't like to agree with those two clubs, I think that it's about time someone sent a message to not just their youth players, but young players around the world: You need to focus on playing, you don't need to focus on whether or not you have the flashiest boots on the pitch.
There are plenty of examples of young players getting too big of egos too quickly, and their career taking a downturn because of it. I think that one of the best examples of this come from Manchester United's academy.
Sir Alex Ferguson has gone as far to say that the failure of this player was his biggest disappointment as a manager. Rio Ferdinand said that players like Paul Pogba, Jesse Lingard and Adnan Januzaj used to look up to this player because of the ability he possessed. That player's name is Ravel Morrison.
The 23-year-old left United in 2012 after failing to make a single league appearance for the Red Devils. Since his departure from Old Trafford, Morrison has spent time with West Ham United, Birmingham City, Queens Park Rangers, Cardiff City, and now he's playing at Lazio. He is yet to make more than 30 league appearances for a club.
Reports have surrounded the midfielder almost his entire career highlighting attitude and even legal issues. In 2011, he was forced to pay a fine for charges of witness intimidation. He's been accused of assault, and he was also fined for using a homophobic slur on his Twitter.
Whenever you hear someone from United's youth system talk about the promise and talent that Morrison had at Carrington, it makes you wonder what could have been had United had a similar emphasis on making sure their youth didn't get too carried away too quickly.
I think that Liverpool and City's mandates are just the start of a culture change that needs to happen in European competition. It's unclear what other clubs will follow suit, but these two titans of the game have made a big step in leading by example.