It's finally time. The pinnacle of club competition is upon us as the Champions League final kicks off on Saturday. For the second time in three years, we will see a Madrid Derby on Europe's biggest stage. Atlético Madrid, who is playing as the world's underdog after sneaking past Barcelona and Bayern Munich, will take on yet another giant in Real Madrid. Neither of the two were able to jump ahead of Barça for the Spanish league title, but now they have a shot at arguably the biggest trophy in the sport. Can Atlético continue to play spoiler or will Los Blancos claim their 11th European title?
Diego Simeone has proven his status as a master tactician during this improbable Champions League run. The former Atléti player has managed to perfectly counter Barcelona's tiki-taka style of play, and to shutdown the high-powered attack of Bayern Munich. No one would argue that Atlético were the more talented of the sides in either of those upsets, but Simeone understood how to capitalize on the small weaknesses that his opponents had. This year, the 46-year-old has led his team against Real twice, and neither time was he defeated. Through those two games, Los Blanos scored just one goal, and managed just one point. With the additional time to study and prepare for this clash, I expect Simeone's side to once again come out very organized with a clear and effective game plan.
READ: Simeone on Verge of Career-Defining Moment vs. Real Madrid (Again)
One of the key parts of that game plan will undoubtedly be French striker Antoine Griezmann. Other than Luis Suárez, it's hard to think of a better striker than the former Real Sociedad forward this season. The 25-year-old led Atlético with 32 goals through all competitions this season, including seven in the Champions League. Crucial goals against Bayern and Barça helped to spark this run to the finals, and they've shown that the Frenchman can perform under pressure. Back when these sides met in February, Griezmann actually scored the game-winner; can he replicate this performance and seal Atlético's first ever European Cup?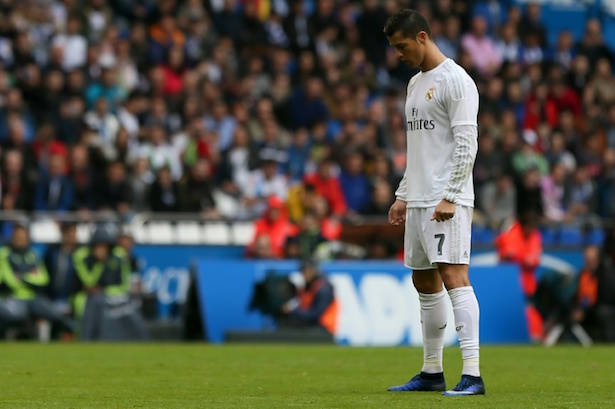 Turning to the other side of Madrid, this match could mark the first piece of managerial silverware for a man that had no shortage of it as a player. Zinedine Zidane won almost every trophy there was to win during his playing career, including a Champions League title in 2002. The legendary French midfielder was leading the Real Madrid academy at this time last year, and now he has the chance to cap off a somewhat unspectacular season with a European crown. Under Rafa Benitez, Los Blancos struggled for results, and it didn't look like all of the stars were being utilized to the best of their abilities. Since Zidane took over, Madrid have lost just twice (one of those against Atlético), and even made a late push for the title. Can Zidane overcome Atlético and begin a potentially fruitful managerial legacy?
Is there a way to talk about Madrid without talking about Cristiano Ronaldo? Earlier this week, CR7 told reporters that he planned on retiring at the Santiago Bernabéu, and that the club "would be smart if they extend my contract." With the form he's shown this season, it's hard to argue with the man. Through all competitions, the 31-year-old winger scored 52 goals in 52 appearances. This was the sixth straight season that Ronaldo has reached the 50-goal mark, and it doesn't look like he's slowing down anytime soon. In the Champions League, the former Manchester United star (how I miss the days of Rooney, Ronaldo and Tevez) has scored 16 times, including a hat-trick in the quarter-final against Wolfsburg. Look for him to have a big game, and potentially claim his third Champions League crown.
As much as I would love to see Ronaldo take home another European title, I think that Diego Simeone will tactically overwhelm Zidane. Simeone has shown time and time again that he has the footballing IQ of a god, and with two weeks to plan, I'm sure he will have a masterful game plan. Despite Ronaldo's best efforts, my prediction is that Atlético win by a score of 3-2.