Every week at The Center Circle, we are highlighting a different player in a feature we call "On the Spot". We'll take a look at superstars, underrated gems, aging veterans, and young unknowns who should be known. We'll peruse their club and international careers, taking note of their teams, statistics, and highlight reels. We'll illuminate their strengths and weaknesses and comment on their personalities and reputations. It will be some fun. If there is anyone you want to see "On the Spot", feel free to comment below.
Paulo Dybala
There's a new star rising in Turin. After the departure of Carlos Tevez in the summer, Juventus signed a new Argentine striker: Paulo Dybala. The 22-year-old has quickly grown into arguably the hottest forward in Serie A, and there's no sign of him slowing down.
Away in Argentina
Paulo Dybala's playing career started far away from the Serie A. His hometown club, Instituto, allowed the young striker to develop his talents in their academy system. After several seasons playing through the youth ranks, Dybala made his senior debut in August 2011 at the age of just 17.
In the striker's one full season with Instituto's first team, he appeared in 40 matches. Through those appearances, Dybala found the back of the net 17 times. This unbelievable nose for goal at such a young age attracted interest from overseas and it was just a matter of time before he moved on to bigger and better things.
Palermo in Pink
In the summer transfer window of 2012, it was officially announced that Serie A club Palermo had agreed a transfer for Dybala. His start in Italy didn't exactly mirror the one in Argentina as he was slowly eased into Palermo's first team. Despite being a consistent starter for Instituto, the 19-year-old didn't make his first start in Italy until October.
The majority of Dybala's 28 appearances during that first season came as a substitute. The decrease in playing time, paired with the learning curve that came with moving to a new league limited his effectiveness as he scored just three goals that entire season. Two of those goals even came in the same match against Sampdoria. A disappointing season came to a disappointing end as Dybala's Palermo were relegated to Serie B.
Dybala's time in the second division was short-lived. After spending his first season as a perennial sub, he became one of Palermo's top choices at the striker position. Through 28 appearances that campaign, Dybala started 26 times but was unable to replicate his scoring form from Argentina as he registered just five goals. Palermo dominated Serie B that year as they clinched top spot in the table by a whopping 14 points.
A return to the Italian top flight was apparently all Dybala needed to rekindle his scoring touch. The 2014/15 saw the striker top Palermo's scoring charts with 13 goals through 35 matches. His breakout season was also good enough to earn him Serie A Team of the Season honors through ESPN, Football Italia and EASPORTS. At the conclusion of that season, Palermo sat 11th in the table and far away from any type of European competition. Once again, it was only a matter of time before Dybala was forced to find a new home and a new challenge.
Joining Juventus
During the 2015 summer transfer window, reigning league champions Juventus made a move to sign Palermo's promising striker. Juve had to pay a reported fee of €32 million for the 22-year-old's services.
Dybala almost immediately slotted into the void that his compatriot Carlos Tevez once occupied at the head of Juve's front line. The star-studded cast that the striker is now working with has allowed Dybala to continue his meteoric rise in world football. Just over halfway through his first season at the Italian giants, Dybala has almost surpassed his 13-goal tally from last season, and has added some highlight reel performances along the way including this wonder strike against Inter Milan.
International Career
Despite his prolific season with Palermo last year, Dybala has only made three senior appearances for the Argentine National Team. The lack of action can be attributed in large part to the ridiculous depth that Argentina has at the striker position. Dybala is competing with the likes of Lionel Messi, Gonzalo Higuain, Tevez, and Sergio Aguero and he's just not at that level yet. In the years to come, however, the Juve striker should grow into the starting position and could establish himself as the nation's best attacking threat outside of Messi.
Style of Play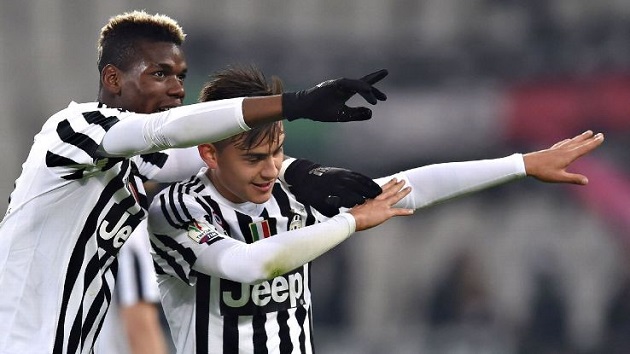 Paulo Dybala's style of play is one that excites the crowd and reminds people of how beautiful this game can truly be. He has a knack for the incredible with the ball at his feet and he shows no fear in taking defenders on anywhere on the pitch. His pace, flair and lethal finishing ability have drawn comparisons to another Argentine striker: Sergio Aguero. Another facet of Dybala's game that may be overlooked is his ability to deliver pinpoint crosses from the wings and his ability to slide in passes through heavy traffic areas in the penalty area. I think that we're only seeing the start of a great career for the Argentine, and in the years to come he could become one of the world's best.