Done Deals
Manchester City Young Guns
Over the last week, Pep Guardiola and Manchester City have been busy investing in the future of the club. 20-year-old German wonder kid Leroy Sane and 19-year-old Brazilian Gabriel Jesus joined the club for a combined fee believed to be more than £60 million. While Jesus will stay in Brazil on loan until January, Sane could almost immediately step into Guardiola's first team plans, replacing Jesus Navas on the right wing. In this summer of big spending from the Manchester clubs, these new introductions should give City some high quality attacking options for years to come.
Roberto Martinez
I know this doesn't exactly fall into "transfer" news, but it's interesting to see nonetheless. After leading Everton to an 11th place and getting booted from Goodison Park, Roberto Martinez will now take over one of the most talented national teams in Europe: Belgium. He replaced Marc Wilmots who led the Red Devils to the quarterfinals of the Euros before getting knocked out by Wales. Martinez will now have the chance to reunite with Romelu Lukaku and Kevin Mirallas on the international stage, but it's not clear whether or not the players are excited about the hire. Mirallas sporadically featured under Martinez last season and this lack of playing time saw him miss out on the Euros.
Where will they go?
Paul Pogba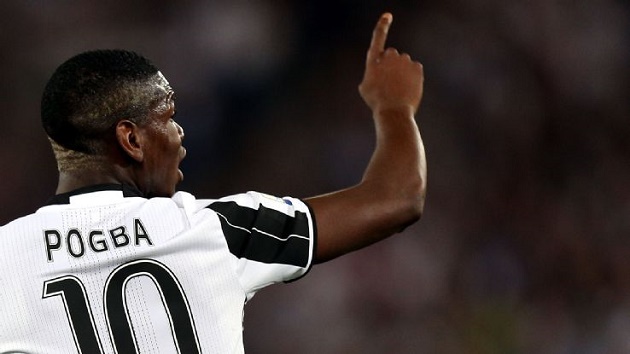 I want off of Paul Pogba's wild ride. It feels like I've been on an emotional roller coaster for the last month, and every day there's some new story about how he'll come home to Manchester United in the next 48 hours. Jose Mourinho made a statement before Wayne Rooney's testimonial on Wednesday confirming that the club would sign a fourth player, but told reporters he did not want to talk about Pogba because he is still a Juventus player. Today, more reports are emerging that United have agreed a world record fee for the player, but until I see him holding up the red shirt I won't believe it. Side note: if he does sign I am going to play "Coming Home" by P Diddy on repeat the entire day.
Julian Draxler
While Paul Pogba has decided to go with the cryptic message route regarding his potential summer transfer, Julian Draxler has been a little bit more direct. The Wolfsburg midfielder was not happy that the club's directors made a statement saying he'd remain with the club for next season, and went on to tell reporters that he wanted to leave for greener pastures. Wolfsburg find themselves out of European competition this season, and have lost several key players including Naldo and potentially Andre Schurrle. It appears that Arsenal is his preferred destination, but it'll be interesting to see how Wolfsburg handle his public statements.
Bastian Schweinsteiger
Things haven't exactly gone to plan for Bastian Schweinsteiger since moving to Manchester United last summer. Injuries limited his playing time, and now it appears that he isn't in Jose Mourinho's plans for the 16/17 Premier League campaign. Reports have suggested that the German legend has been banished to the reserves for training, and that a move away from Old Trafford is eminent. Some have linked him to a move back to Bayern Munich, but a statement from his agent said that the 32-year-old wants to stay and fight for his place in the team. The potential arrival of Pogba would push Schweinsteiger even further back on the depth chart, and his wages don't match those of a squad rotation player. As much as I'd love to see him stay in red, I think it might be the end of his time at United.
Potential Movers
David Alaba
The latest big name player to be linked with a move to Real Madrid is Bayern Munich's David Alaba. After missing out on Andre Gomes and (potentially) Paul Pogba, it seems as if Los Blancos have turned their attention to the Austrian left-back/center-back/defensive midfielder. Early reports suggest that a €65 million bid has been sent over to Bayern, but I doubt that it'll come close to the amount it would take to lure the 24-year-old away from the Allianz Arena. Alaba has been very public about his love for Bayern, and after just signing a new contract last season, a move of any kind seems like a long shot.
Romelu Lukaku
Apparently this is the summer of homecomings because Chelsea are reportedly trying to bring Romelu Lukaku back to Stamford Bridge just two years after selling him to Everton. The Big Belgian has grown into an elite striker in the Premier League with his strength and speed making him a key contributor for Roberto Martinez's Everton the last three seasons. £65 million is the number being tossed around in the papers currently, and the 23-year-old has made it clear that he wants to play for a bigger team this season. He's spent part of his summer holiday hanging out with Paul Pogba, and if reports are true, he may be following his friend in returning to their old clubs.
Mario Balotelli
Jurgen Klopp has made it clear that Mario Balotelli would be better served moving on from Anfield this summer. Last year's loan stint at AC Milan failed to reignite the polarizing striker's career, and long ago seems the day when his infamous "Why Always Me?" celebration burned Old Trafford. Now, it looks as if Dutch powerhouse Ajax are interested in bringing in the Italian striker. The Dutch league isn't exactly the strongest defensively, and if Jozy Altidore can score double-digit goals, I think Balotelli could, as well.