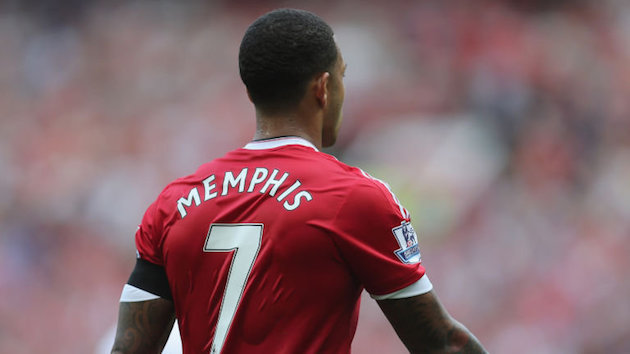 There used to be a time when Manchester United's number seven shirt was arguably the most iconic in the club. Legendary players such as Bryan Robson, "King" Eric Cantona and David Beckham have sported the number on the back of their kits. After Beckham, perhaps the club's greatest number seven, Cristiano Ronaldo donned the famous number on his way to winning the 2008 Ballon d'Or (the first of four). Since CR7's departure, however, United have struggled to find a player who can handle the pressure of the number. Four players have worn seven on their back since 2009, and only one of them made more than 40 league appearances.
Michael Owen (2009-12)
You could make the argument that Michael Owen had the most success out of this group. The striker joined United in a somewhat shocking deadline day transfer back in 2009, and he really served as a super-sub under Sir Alex Ferguson. During his three seasons at the club, the former Liverpool legend racked up more than 50 appearances between all competitions, and scored 17 goals. The most memorable of these goals was a stoppage time winner over bitter rival Manchester City in a thrilling 4-3 victory during his debut season.
Owen's time at United also included a league winner's medal, a League Cup trophy, and an FA Community Shield win. Despite his relative success, the striker didn't have quite the star power that people came to expect from United's number seven. At one point in his career, sure he would've fit the bill, but fans could only really expect so much out of him in the twilight of his career. I will always be grateful for Owen's contributions to the club, but I don't think anyone will argue with me when I say he won't go down as one of the greats to wear the number.
Antonio Valencia (2012-13)
Antonio Valencia's time with number seven was brief and forgettable. The Ecuadorian took the shirt following Owen's departure from the club, and after just one season, he moved back to 25. During his one-year stint as United's number seven, Tony V scored just once, and provided six assists. Compared to the previous season, these statistics are abysmal. In the 2011/12 campaign, Valencia scored six times across all competitions, and assisted another 15 goals. While it's impossible to determine whether or not the change of number had anything to do with this sharp decline, it's interesting to see how he's emerged as a cornerstone of United's lineup after switching back to 25.
Valencia is the lone player on this list that is still at Manchester United. He has transitioned away from the attacking winger role that he occupied at the start of his United career, and is now the club's first choice right-back. Jose Mourinho went as far to say that the 31-year-old is the best right-back in the world at the moment. While that may be a bit of hyperbole from Mourinho, I agree that Valencia has proven himself to be a top notch defender. Sadly, he wasn't able to show all of this talent while wearing the number seven shirt.
Angel Di Maria (2014-15)
Perhaps the most infamous person on this list is Angel Di Maria. The Argentinian cost the club an exorbitant amount of money, and when he was given the number seven shirt, fans were justifiably excited about all of the talent he was going to bring to the club. Unfortunately, Di Maria and Louis van Gaal's squad struggled mightily during the 2014/15 campaign. There were large stretches of the season where the Argentine was benched in favor of Ashley Young, and he ended up with just three goals and ten assists to his name. Granted, the assist tally was actually pretty impressive, but fans were less than pleased with his lackluster attitude on the pitch.
In addition to his on field struggles, an alleged break-in at his house in Manchester apparently shook Di Maria's will to play for the club or even live in the city. Just one season after joining the club, Di Maria would end up moving to Paris Saint Germain in 2015, and his short time as United's number seven came to a bitter end. His departure sparked a lot of animosity in the United faithful, and there are some that still refer to him as a snake. Some even go as far to say that he's the club's most disliked former player ahead of Carlos Tevez.
Memphis Depay (2015-2017)
Out of all of the people on this list, Memphis was the one that I wanted to see succeed the most. When he joined United from PSV Eindhoven in 2015, some were calling him the Dutch Cristiano Ronaldo, and after watching countless videos of him on YouTube, it was easy to see why. He showed an amazing amount of creativity, pace and strength on the ball, and it was clear that he did not lack the confidence necessary to use these skills on the big stage.
But, just like the two number sevens before him, Memphis struggled. He could hardly break into the starting lineup for United, and he ended up with just two goals through 28 league appearances. The introduction of Jose Mourinho in the summer sparked some optimism that Memphis would be given more of a chance, but the signing of Henrikh Mkhitaryan and the emergence of Jesse Lingard, Anthony Martial and Marcus Rashford pushed him further down the pecking order. After just eight appearances (only one of those coming as a starter) under Mourinho, Memphis left to join Lyon in the January transfer window. Mourinho did say, however, that the club included a buy-back clause in the transfer, so who knows, maybe we'll see Memphis back at Old Trafford someday.