Every week at The Center Circle, we are highlighting a different player in a feature we call "On the Spot". We'll take a look at superstars, underrated gems, aging veterans, and young unknowns who should be known. We'll peruse their club and international careers, taking note of their teams, statistics, and highlight reels. We'll illuminate their strengths and weaknesses and comment on their personalities and reputations. It will be some fun. If there is anyone you want to see "On the Spot", feel free to comment below.
Kingsley Coman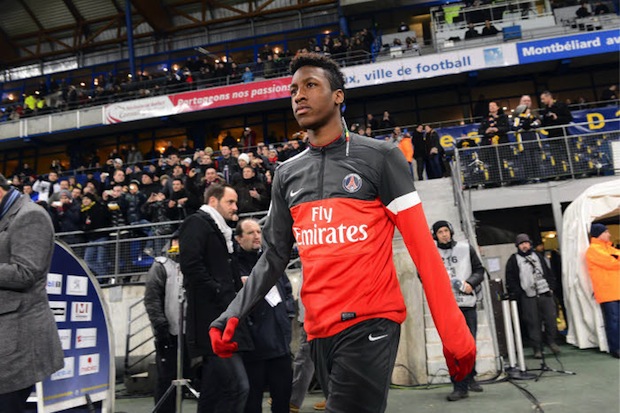 When Bayern Munich and Juventus faced off on Tuesday, there was a key player left off the pitch for the Germans. 19-year-old Kingsley Coman was unable to assume his role on the wings because he is still technically just loaned to the Bavarians from Juve. A buyout clause in the loan means that the talented teenager's future likely lies with Bayern, and what a future it's looking to be.
Parisian Born
At almost the very start of his playing career, Kingsley Coman was already in the midst of giants. Before he was even ten, the young winger joined Paris Saint-Germain's youth system, and almost immediately rose through the ranks. After nine years in the club's academy and reserves system, Coman made his senior debut as a late substitute in February 2013. Still just 16, Coman was not yet eligible to sign a professional contract with the club.
Unfortunately for the teenager, PSG had just recently brought some big name attackers to the club. The likes of Ezequiel Lavezzi, Edinson Cavani, and Lucas Moura all sat ahead of Coman on the depth chart and game time would be very difficult to come by. With that in mind, Coman refused to sign a professional contract with the club and went on to look for greener pastures abroad after making just three appearances for his boyhood club.
Travelling to Turin
The next stop on Kingsley Coman's European adventure was Juventus. The Italian giants were coming off a title-winning season, and once again the French winger found himself behind bigger names in the attacking position. Despite his relative inexperience, Coman was actually named in the starting lineup for an early fixture against Chievo. The young winger looked extremely bright in his 67-minute performance and even earned man of the match honors.
This outstanding display wasn't enough, apparently, to earn him a regular spot in Massimilliano Allegri's starting lineup. Coman would make just four substitute appearance between the Chievo match and his next start more than three months later in December. At the conclusion of the season, the 18-year-old had registered just 16 appearances (five as a starter) for his new club, but he did get a short cameo against Barcelona in the 3-1 Champions League final defeat.
With the emergence of Álvaro Morata in the striker position, paired with the arrivals of Mario Mandzuckic and Paulo Dybala, it once again became clear that Coman would have to look elsewhere for consistent playing time. So after just a handful of appearances and not a single league goal, the teenager was once again looking for a new place to call home.
Arriving at the Allianz
If you listed any player that managed to play at PSG, Juventus and Bayern Munich during their careers, chances are they had a pretty good run. Kingsley Coman has managed to do that before even turning 20. After an uneventful debut season at Juventus, Coman pushed for a move. This time, the winner of the Coman raffle was reigning Bundesliga champions Bayern Munich.
The Germans agreed to take the French winger on a two-year loan deal with an option to buy at the end for a reported fee of around €20 million. Injuries to Bayern's star wingers, Arjen Robben and Frank Ribery, meant that Coman was almost immediatley thrown into the starting lineup. On his first start for the club, the 19-year-old even managed to score against Darmstadt.
So far this season, Coman's future fee of €20 million is starting to look more and more like a bargain. The French winger has quickly adapted to Pep Guardiola's style of play, and has grabbed three goals and two assists from his wide position. Coman even grabbed his first ever Champions League goal with a close-range header against Olympiakos.
International Career
After spending the last five years playing for France's various youth teams, Kingsley Coman was finally named to the senior side in November. His impressive start with Bayern earned him a spot in the squad to face Germany and England. His debut against Germany was dwarfed by the tragic terrorist attacks on Paris, but he would also feature in the following fixture at Wembley against England. If he continues his fine form in Germany, it would be very surprising to see him left off of the nation's Euro 2016 roster.
Style of Play
Due to his nationality and wide position, Coman has typically been compared to his Bayern teammate Frank Ribery when it comes to playing styles. Just like Ribery, Coman has electrifying pace with the ball at his feet. He has the ability to cut inside of defenders and find his teammates in the penalty area. While his moves on the ball don't necessarily have the flash of Robben or Douglas Costa, they are just as effective when it comes to beating defenders. Still growing and developing, it will be exciting to see how Coman's game will develop with added strength and size.