Every week at The Center Circle, we are highlighting a different player in a feature we call "On the Spot". We'll take a look at superstars, underrated gems, aging veterans, and young unknowns who should be known. We'll peruse their club and international careers, taking note of their teams, statistics, and highlight reels. We'll illuminate their strengths and weaknesses and comment on their personalities and reputations. It will be some fun. If there is anyone you want to see "On the Spot", feel free to comment below.
Eden Hazard
When you consider Eden Hazard's career thus far, you tend to think about child prodigies. I'm talking about whiz kids like Mozart, Bobby Fischer, and Tiger Woods. All of those guys went on to become the very best in their field. Hazard also showed immense talent and promise at a young age. He's well on his way to true stardom at Chelsea right now, but could he make another leap to very best in the game? Let's take a look at how he got to where he is today.
Precocious Beginnings
Southwest of Brussels, in a small town called Braine-le-Comte, a four-year-old Belgian kid named Eden Hazard found himself in trouble. He had slipped unseen onto the field of Royal Stade Brainois, a 5th division Belgian team near his house. But now the club's GM, Pascal Delmoitiez, was marching toward little Eden, intending to give him an earful of rebuke. Let's let Delmoitiez explain the rest: "But as I got nearer, I couldn't believe what I was seeing. He was tiny, no more than five years old, yet every penalty was flying into the top corner. Then I noticed he had nothing on his feet. No boots, no trainers, not even socks. And it was a real ball, not a light plastic one." Instead of getting Eden in trouble with Mr. and Mrs. Hazard, Delmoitiez offered him a spot on their youth team. It was 1995 and Eden's innate talent had been discovered.
After several years honing his skills with Royal Stade Brainois and now-second-tier Belgian side Tubize, Hazard would make the big move across the border to France in 2005. At Ligue 1 club Lille OSC, he would begin to morph into the dangerous attacking player you know see at Chelsea. Lille has a solid youth academy, but Eden wouldn't be there for long. In 2007, he made his first-team debut. A year later, he would become one of Lille's featured players. In the next few years, the success would roll in both individually (he won back-to-back Ligue 1 Young Player of Year awards) and club-wide (Lille won the league and the French Cup in 2010-11). That season, manager Rudi Garcia (now at Roma) and Hazard (7 goals, 8 assists) were handed French Manager and Player of the Year for their efforts.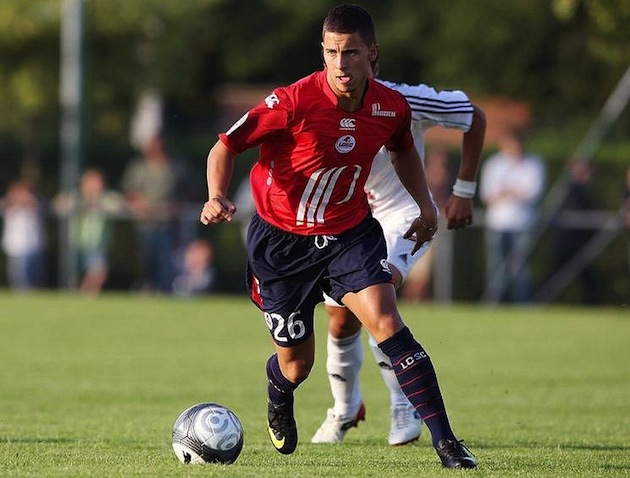 At this point, 20-year-old Eden was attracting major attention. The next season he would light up Ligue 1 for 20 goals and 16 assists, asserting himself again as the league's top player. With every rich club on the planet lining up for Hazard's services, Chelsea (who had just picked up the Champions League trophy) won out in the summer of 2012, with a transfer fee of 32 million pounds.
He made an impact almost immediately. His athleticism and quick burst in the midfield gave Chelsea a lethal asset and led to Hazard tallying 9 goals and 11 assists in his first season in the world's toughest football league. Also a key factor in Chelsea's Europa League title win, Hazard had truly arrived as one of the world's top young talents. Becoming the focal point of the offense during the 2013-14 campaign, he would knock in 14 goals in his first season under Jose Mourinho. More acclaim crowded Hazard's trophy cabinet, as he won Chelsea's POY and the Premier League's Young POY. With offensive talents Cesc Fabregas and Diego Costa joining the Blues before the 2014-15 season, will Hazard's production yield to the older stars or will he continue to take off?
The Vuitton Generation
As a young phenom, you are given opportunities to play for your country's youth teams. Eden did just that, starting with Belgium's U15 side in 2006. Over the last few years it has become apparent that Belgium has a Golden Generation on their hands. With under-23 club team stars like Everton's Romelu Lukaku, Wolfsburg's Kevin de Bruyne, Man United's Adnan Januzaj, and Chelsea's Thibaut Courtois and Hazard, Belgian football could be on the verge of blowing up big time.
However, in the past there has been downsides to Belgium's golden boys. Due to lazy and careless behavior and disappointing play, the Belgian media has dubbed them, "The Vuitton Generation". It's possible these so-called divas are maturing at the right time. Their quarterfinal appearance at last summer's World Cup was an enormous first step. We'll see if they can continue to avoid the pitfalls of other national team Golden Generations.
As for Hazard, he has made 50 senior team appearances since late 2008 – already halfway to the Belgian record at age 23. His World Cup could've been better, as he seemed stifled by defenses that focused on shutting him down. More than likely, Hazard and the rest of "The Vuitton Generation" will continue to mesh and potentially wreak havoc at the 2016 Euros in neighboring France.
Style
Animal comparison: Of the five Big Cats (tiger, lion, jaguar, leopard, snow leopard), the leopard is just the fourth-largest, but makes up for its lack of size in stealth, quickness, and an ability to take down prey much larger than you would think. Similarly, Hazard, at just 5'7", uses his explosive speed and low center of gravity to overtake bigger defenders. His fearlessness can be interpreted as reckless if you weren't aware of his sensational technical ability. Deployed as an attacking midfielder, Hazard usually comes in from the left flank – almost as a winger – to terrorize defenses. To partially undermine my point, check out this goal where he comes in from the right side, while showcasing almost every astonishingly gifted facet of his game to a hapless West Ham defense.
Telling statistic: Last year in the Premier League, Hazard was fouled 2.5 times per game, good for second behind Norwich's excellently named Robert Snodgrass. Here's the thing about Hazard: He's incredibly hard to tackle without explicitly committing a foul. He's just too shifty and smart to properly tackle; his little quick cuts and jukes usually leave the defender off balance and/or confused.
Criticism: Defense has not always been Hazard's focus, and as an attacking midfielder, it doesn't always have to be. However, some of his past coaches have noticed a disinterested Eden when his team doesn't have the ball. It should be noted that, under Mourinho, Hazard has turned up his defensive intensity. It doesn't seem to be an issue with his ability, just his attitude. On that note, in January 2013, Hazard kicked a ballboy, trying to knock the ball loose, in a match vs. Swansea. The boy was clearly timewasting by lying on top of the ball, but Hazard's petulant emotions irrationally took over. Fortunately, he's avoided becoming an immature controversial figure since then.
Boot choice: Hazard is currently wearing the Nike Mercurial Vapor, which appears to be the perfect boot for him. The Vapor is built for lightweight speed, so the fleet-footed Hazard's playing style runs parallel to Nike's marketing of the cleats. Could we see him as the head of the Mercurial line once CR7 starts to decline with age?
Off the Pitch
The Hazards clearly identify as a soccer family. Both of Eden's parents were footballers and Eden's younger brother Thorgan is also a Chelsea Blue, although he's on loan with Bundesliga club Borussia Monchengladbach. Eden has a wife, Natasha, and two sons, born in 2010 and 2013.
He's also on the cover of the current EA Sports' video game FIFA15, sharing the space with Lionel Messi. It's not inconceivable that Eden could, one day in the near future, be mentioned in the same breath as Messi during a discussion on the game's best players.