Nike® Mercurial Vapor™
—
The Nike Mercurial Vapor soccer cleats from SoccerPro.com are engineered to be lightweight, responsive, and comfortable, and give you a natural ball touch while you dribble, pass, or shoot. Featuring the latest Vaporposite + material and a battle-tested Flyknit along the collar and throat of the shoe to provide a lockdown fit that will keep your heel from sliding inside your boot. A 3/4 Zoom Air Unit now spans the sole of the boot giving you unmatched speed and responsiveness on the field. It's no wonder top professionals like Mbappe are big fans of the Mercurial Vapor silo. For leading-edge designs, including the Nike Mercurial Vapor 14 Elite, browse this pro-quality selection.
Nike Zoom Mercurial Vapor 15: Precision in All Conditions
This light and low Mercurial contains specific tech created specifically for the game of soccer, and works with athletes and their supreme talent to create a truly unstoppable cleat. A few Bayern Munich players like Lewandowski and Musiala have been testing the NEXT-GENERATION Nike Mercurial Zoom Vapor 15, and thus far fans and the soccer obsessed are ready to see this cleat in action. 
This boot essentially has all the elements you need to play at the top of your game including a flyknit that wraps your ankle in a soft yet stretchy fabric. Additionally, the speed cage within this boot provides the cleat itself with structure, and secures your foot into place without adding weight so you'll feel ready to strike for the duration of the match. 
This Mercurial features a 3/4 length Zoom Air unit, that enables the fibers within the boot to compress more quickly springing you back and generating explosive powerful moves. The upper portion of this boot was created with Vaporposite, which combines a grippy, grid mesh with premium lining so athletes can have superior ball control. The flex grooves within the unit enable you to move naturally, and play at peak performance. The pliability offers a more natural on-ball feeling that's ideal for shooting, passing, and dribbling.
A Classic, Collarless Design
So, what's the big difference between the Mercurial Superfly and the Mercurial Vapor designs? In short, Superflys have a SockFit collar, while Vapors have a traditional, collarless design. Some players find the collar to add to the comfort of wearing soccer boots for a long practice or game, and other players prefer lightweight and ultra-agile low-cut ankle styles, like you'll find with the Vapor. Mercurial Vapors are a little lighter than Superflys and generally popular with players who don't like the added collar.
Find the Right Fit for You
Whether you're looking for a pair of understated Vapors or an attention-getting design Vapor Dragonfly, you'll find it here at SoccerPro.com. Fast shipping and simple returns make it easy to find a fit that's right for you. Try on a new pair in your living room, and if you're not 100% happy with the fit, send them back for another pair. High-quality boots that fit right will come in handy when you're clashing with your rivals next season.
Are you looking for more designs by this legendary manufacturer? Shop the Nike soccer shoes selection at SoccerPro.com, and enjoy free shipping on your next pair of cleats.
Related Searches:
Nike Mercurial Superfly 8 | Nike Tiempo Legend | Nike CR7 Collection | Nike Phantom GT
PRIVACY: Your email address and content of your message are private and will not be shared outside of SoccerPro. Information will be used to provide a response to your request. SoccerPro.com may send you additional marketing emails related to soccer gear. You have the opportunity to 'opt out' of marketing emails at that time.

FEEL: SOFTER TO THE TOUCH
The plush feel of the Mercurial 360 can also be attributed to further advancements in Nike's All Conditions Control (ACC) technology. Previously, ACC was applied on top of the finished Flyknit product, creating a thin layer. Now, ACC is embedded into the yarns prior to knitting, eliminating the additional skin without compromising the performance benefit. The result is a matte finish on a texturized upper that is softer to the touch but can still battle the elements.


TRACTION: LESS HOOF-LIKE, MORE CLAW-LIKE
Traction is provided by precisely placed studs in the forefoot and heel. Nike's designers got their inspiration from agile cheetahs and focused on traction at speed, leading to the minimalist approach they have affectionately referred to as the cheetah paw.
THE LOOK: A CLEANER PROFILE
It's been 20 years of Mercurial and the guys at Nike have given the latest Mercurial a clean aesthetic with a small forefoot Swoosh and a bold ?M? on the heel.
On the Mercurial Superfly 360, the Dynamic Fit Collar takes on a lower cuff, similar to the modified version Ronaldo has preferred in recent seasons. Both the Superfly and Vapor versions of Mercurial 360 feature a soft, one-piece internal lining, part of the effort to reduce the number of boot components.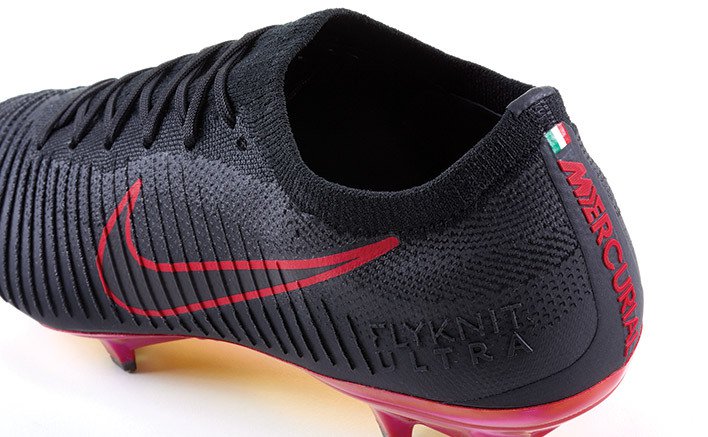 2017 Nike Mercurial Flyknit Ultra Vapor: A New World
For 20 years, Nike designed Mercurial boots featuring experimental and game-changing innovations for the fastest players in the game ? football is the first sport to feature high-performance Nike Flyknit 360.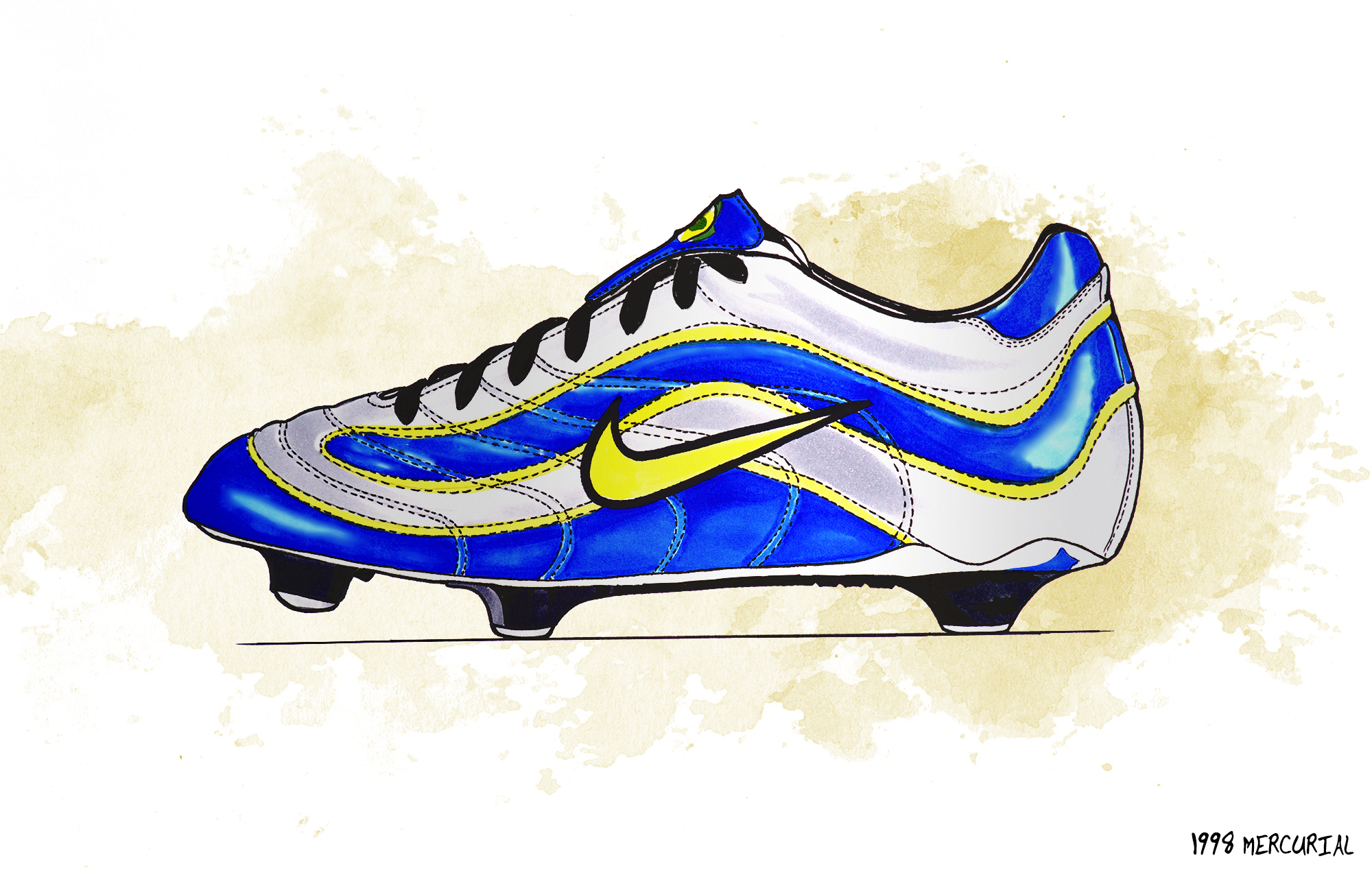 1998 Nike Mercurial: Soccer's 1st Speed Boot
Initially known as Tiempo Ultra Light and the Ronaldo Ultra Speed, the first Nike Mercurial was engineered with Ronaldo de Lima's startling velocity in mind.
The KNG-100 upper behaved like leather but didn't absorb water the way natural fabrics did and was thinner and lighter than traditional leather ? shattering the stigma of synthetics and changing how football footwear was made. On it, a sticky coating sourced from the chassis of racing motorcycles offered ultimate ball control.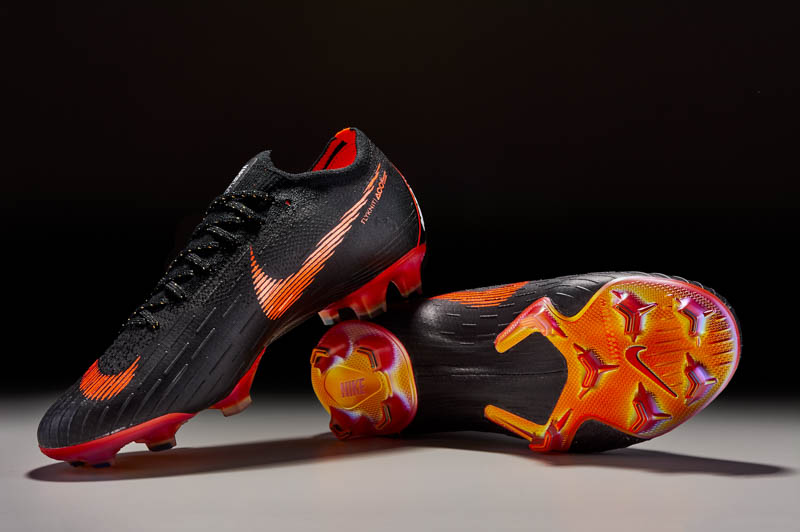 Nike Mercurial Vapor 12 Elite Review
Pushing the boundaries of technological innovation, Nike have crafted an all-new generation of Nike Mercurial shoes including making major changes to the Vapor. The upper is now solely constructed from Flyknit… [ Read more… ]