Nike® Mercurial Vapor™
—
Manufactured with decades of knowhow and cutting-edge materials, Nike Mercurial Vapor cleats from SoccerPro.com are designed for great traction, allowing you to turn on a dime, accelerate quickly, increase accuracy on your passes, and put more power into your shots.
Nike® Mercurial Vapor™ Cleats for the Win
Shop this large selection of premium Nike® Mercurial cleats and soccer shoes from SoccerPro.com, designed to be comfortable, provide support, and give you fantastic traction on a number of field types. Don't risk a slip that could cost your team a critical goal. With a selection from this line, you'll be wearing the same cleats as some of today's biggest stars like Neymar, who often plays in Nike Mercurial Vapor 360 Elite FG boots.
At SoccerPro.com, you'll find Nike Mercurial Vapor 360 XIII designs that are popular with pros and recreational players alike. Another incredible option, Vapor 13 Elite designs are available in a range of colors. From classic white or black, to bright, eye-catching tones, you'll have no problem choosing footwear that matches your team colors, or adds a little vivid flair to your uniform.
Here are some other perks to these top-of-the line cleats:
● Lightweight Feel: With an upper made from performance Flyknit™ fabric, these next-gen soccer boots are airy, breathable, and lightweight. They'll help you feel fresh and energized as the match heads into stoppage time.
● Excellent Touch: These cleats are designed with a specialized toe area to give you a responsive, natural feel when ball handling. Patented All Conditions Control (ACC) technology keep ball feel consistent, even as weather conditions change.
● Flexible Sole: Vapor cleats offer the right amount of flexibility when you run. This helps you transfer power into every stride, and can improve both quickness and stamina.
Are you looking for more designs by this legendary manufacturer? Shop the Nike soccer shoes selection at SoccerPro.com, and enjoy free shipping on your next pair of cleats.
Related Searches:
Nike Mercurial Superfly 7 | Nike Tiempo Legend | Nike CR7 Collection | Nike PhantomVSN | Nike PhantomVNM
PRIVACY: Your email address and content of your message are private and will not be shared outside of SoccerPro. Information will be used to provide a response to your request. SoccerPro.com may send you additional marketing emails related to soccer gear. You have the opportunity to 'opt out' of marketing emails at that time.

FEEL: SOFTER TO THE TOUCH
The plush feel of the Mercurial 360 can also be attributed to further advancements in Nike's All Conditions Control (ACC) technology. Previously, ACC was applied on top of the finished Flyknit product, creating a thin layer. Now, ACC is embedded into the yarns prior to knitting, eliminating the additional skin without compromising the performance benefit. The result is a matte finish on a texturized upper that is softer to the touch but can still battle the elements.


TRACTION: LESS HOOF-LIKE, MORE CLAW-LIKE
Traction is provided by precisely placed studs in the forefoot and heel. Nike's designers got their inspiration from agile cheetahs and focused on traction at speed, leading to the minimalist approach they have affectionately referred to as the cheetah paw.
THE LOOK: A CLEANER PROFILE
It's been 20 years of Mercurial and the guys at Nike have given the latest Mercurial a clean aesthetic with a small forefoot Swoosh and a bold ?M? on the heel.
On the Mercurial Superfly 360, the Dynamic Fit Collar takes on a lower cuff, similar to the modified version Ronaldo has preferred in recent seasons. Both the Superfly and Vapor versions of Mercurial 360 feature a soft, one-piece internal lining, part of the effort to reduce the number of boot components.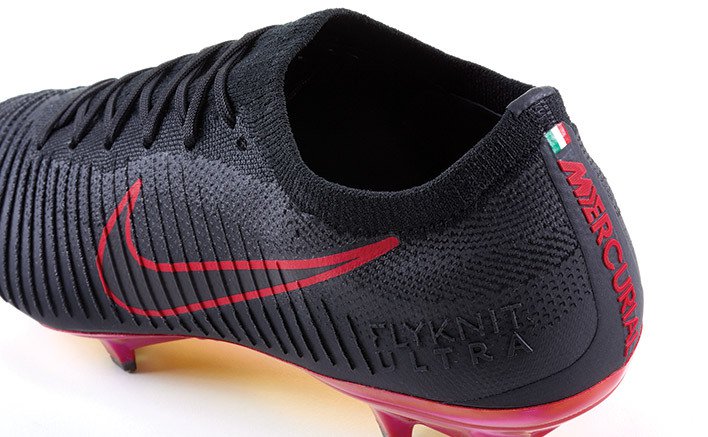 2017 Nike Mercurial Flyknit Ultra Vapor: A New World
For 20 years, Nike designed Mercurial boots featuring experimental and game-changing innovations for the fastest players in the game ? football is the first sport to feature high-performance Nike Flyknit 360.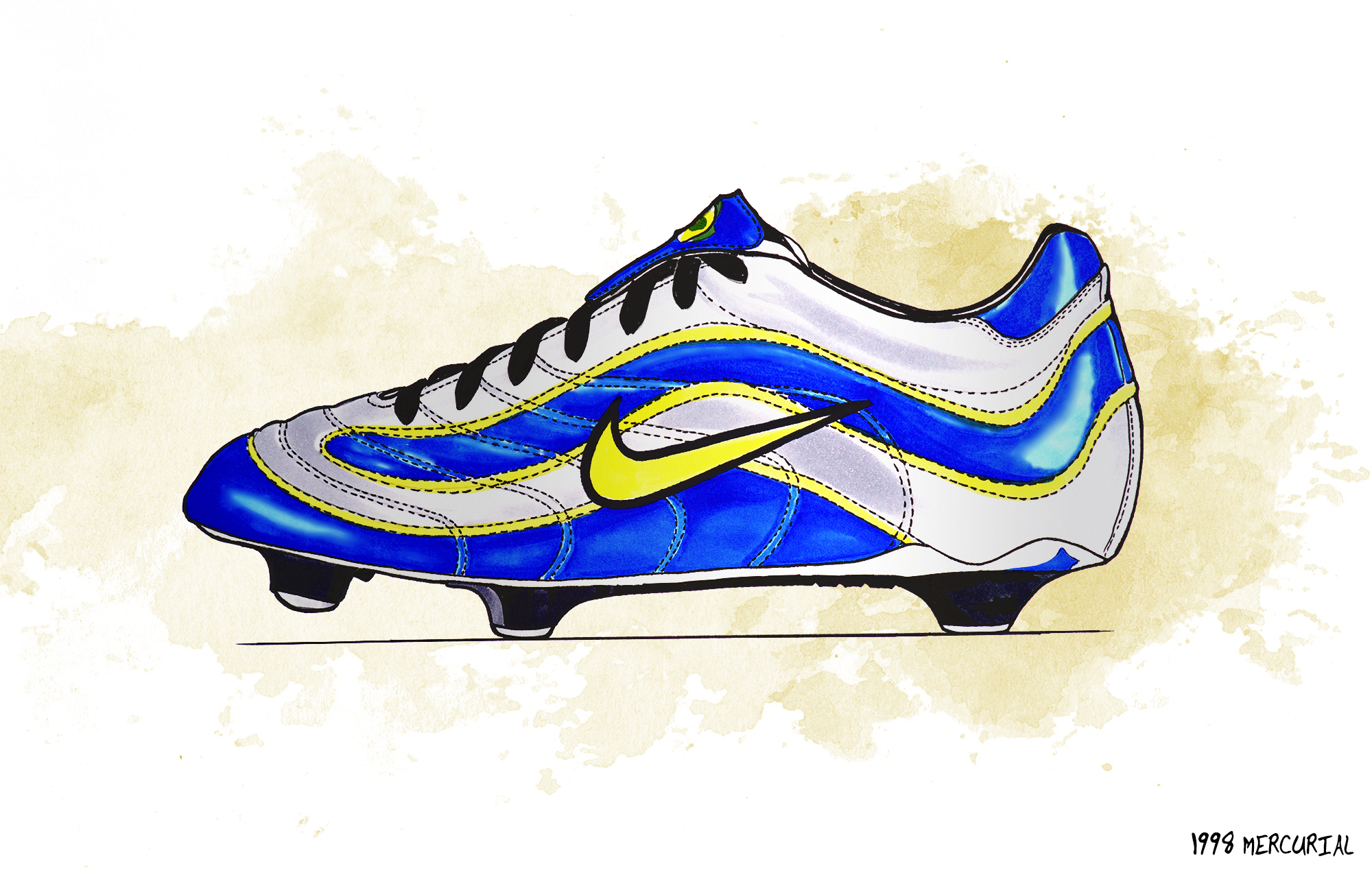 1998 Nike Mercurial: Soccer's 1st Speed Boot
Initially known as Tiempo Ultra Light and the Ronaldo Ultra Speed, the first Nike Mercurial was engineered with Ronaldo de Lima's startling velocity in mind.
The KNG-100 upper behaved like leather but didn't absorb water the way natural fabrics did and was thinner and lighter than traditional leather ? shattering the stigma of synthetics and changing how football footwear was made. On it, a sticky coating sourced from the chassis of racing motorcycles offered ultimate ball control.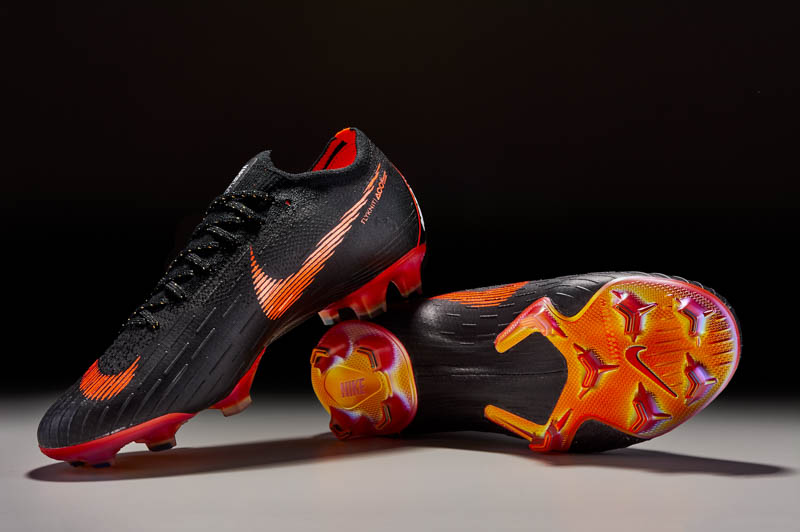 Nike Mercurial Vapor 12 Elite Review
Pushing the boundaries of technological innovation, Nike have crafted an all-new generation of Nike Mercurial shoes including making major changes to the Vapor. The upper is now solely constructed from Flyknit… [ Read more… ]