The definition of 'lightweight' boots has come a long way in the past, say, 10 years or so hey? Way back when the Mercurial range established itself, a boot coming in under 200 grams was truly genius. Well, it is all a bit different these days, but the companies are always looking for that next boot to push the boundaries even further, and to get that edge over their rivals. What is the next boot that adidas will unleash that will capture the imagination of consumers? Well, it seems Gareth Bale has given us a sneaky look at what is to come…
During Real Madrid's recent training session, Bale caught the eye of boot fans when be came out with a bold new boot. Adidas know a little something about releasing bold boots, but even this is a little 'out there' by their standards. Featuring a zig zag pattern that we have not seen before on the F50 range, one look at the boot does give off the idea we are not looking at your average F50 adiZero. While it does feature a similar shape, the upper is almost certainly different from the latest F50 adiZeros, with the upper of Bale's boot seemingly made from a microfiber material.
So how much do we know about Bale's boots? Well, adidas have really kept this boot under wraps, so the details surrounding the boot are still sketchy. Bale is the first player we have seen wearing this boot, so much so that adidas have not really handed a blackout version of the boot for the Welshman to try out beforehand. Adidas revealing their hand early is certainly surprising, but it could be a deliberate move by adidas to unveil the eye-catching boot by letting Bale wear them during Real's training session.
It is reminiscent of Puma unveiling the evoSPEED 1.2 last year in the 'Razzle Dazzle' Camo colourway by letting Aguero wear the boot before the boot was officially released. It catches people off guard, but the memorable design of the boot meant intrigue almost immediately followed prior to the boot being released. That is what adidas are aiming for here, drive up the tension and the curiosity, and make people ready for the next big release. Smart, hey?
However, we do have a sneaky idea about Bale's boots, and it all relates to the adidas concept event held in London in May last year. Adidas surprised us all by showing off their latest piece of engineering brilliance, a 99g (yes, 99 grams) F50 adiZero. The jaw-dropping weight was achieved through a brand new upper which was a single layer of woven polyester mesh and polyurethane, which adidas said was as light as a football upper could be whilst still having an acceptable level of stiffness. Adidas did hint that the boot would be released in limited numbers at the event, but did not put a time frame on a potential release.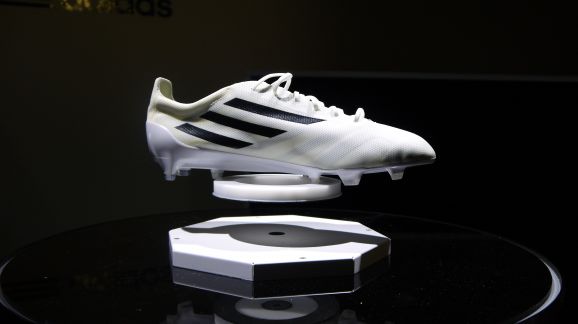 Then there is our other little clue. Adidas CEO Herbert Hainer let slip in an interview with FIFA.com back in November that not only will the new Brazuca "be spectacular.", adidas will also "launch the lightest ever football boot" prior to the World Cup. Put two and two together, and while it may not be a concrete idea, we have our suspicions that we are looking at an altered version of the 99g F50 adiZero. What is it going to weigh in at? Who knows, but it is certainly worth getting excited for…
Are you looking forward to the limited edition F50 adiZero? Share your thoughts in the comments section below.