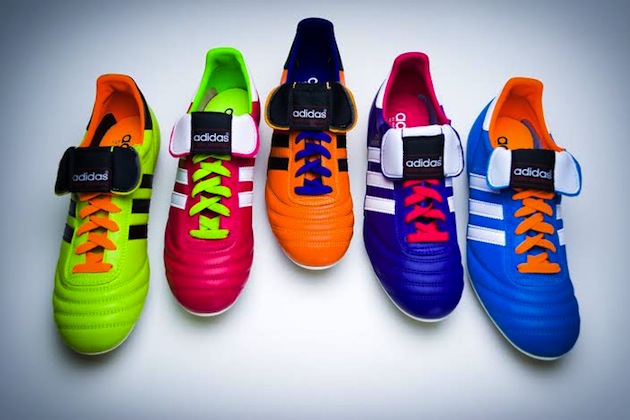 Here at the Instep, we are more than aware of living on a budget. With most of our writers either in college or closely removed from high education, minimum wage, student loans, and the affordability of ramen noodles are very ever-present issues in our lives. That is why when we write reviews or when we take a look at any footy-related product, we try and take price and affordability into account. Which is why I now must warn any new boot-nerd or equipment lover bracing themselves for their first World Cup gear experience: brace yourself.
With any World Cup, all the big brands will be releasing amazing products. New tech will appear, new upper materials will reveal themselves, and all of the brands will have themed "packs" that all of their players will be wearing during the Cup. In 2010, we saw the Nike Elite series completely change the face of boots with their color scheme and the new technology and boots. Adidas officially started the speed race and they had just launched a new Predator into the market. However, Nike's Elite series circled around and above $300 per pair and adidas had all of their boots sitting above $200 during the tournament…and we believe that this upcoming Cup will probably see more of the same.
Now, as a bit of a caveat to what I am saying, any purchase of a boot during this time will result in it becoming HIGHLY collectible. The boots from nearly every major tournament (Euro, World Cup, etc.) will always be highly sought after and the value of most of these boots will increase every year that we get further and further removed from its occurrence. How do I know this? Well, I have the entire Elite line from '10 with the exception of the Tiempo…and the value and price tag involved with these boots has done nothing but go up. If you are lucky enough to snag the boots that are available this summer (and whether you use them or not), they will quickly become a collectible.
Although we do not have a direct retail price guide for this summer, it seems unlikely that Nike will still have all of their boots sitting around the $200 level once the tournament starts. Big name European players have been seen wearing blacked-out Nike boots with some type of sock-looking attachment, and if previous tournaments are any inclination, these boots will probably find themselves sitting closer to the $300 mark. While I see no need to make this article too negative towards the prices that these boots are going to be placed at this summer, I definitely want this to be informative. That means that I am telling you that, if you are hoping to snag a World Cup release, you need to start saving now.
We are probably going to start seeing pictures and price points for most of these boots in the next few months, but I am 100% sure that the prices will require some serious penny pinching and saving if you are hoping to get yourself a piece of history and a top-tier boot. Do not be surprised by the prices when they launch and go ahead and prepare yourself so that you will be in position to snag some amazing products. The boots will be absolutely amazing and all of the major brands will be prepared for the mad-rush towards their products, and that is how it is going to be for every tournament for now and for eternity…so start making your own preparations as these boots will never be forgotten!