As the world has fully put their focus on the Nike Magista and, despite a fantastic departing colorway, forgotten the CTR360 III, it is time for us to make one last case for one of our favorite boots to ever hit the market. While the original Maestri essentially created the "control" boot, the second Maestri continued to become one of the favorite boots on the market, and the last CTR somehow continued the improvement of the silo while showing some major changes and updates. Before it is gone, you need to find and snag a CTR 3 before they are gone forever!
The first thing we will miss: Kanga-Lite 2.0.
Considering that Kanga-Lite was one of the first massive steps towards a synthetic that mimicked leather from Nike, it was already impressive. Comfort quickly became synonymous with the CTR range and Nike quickly jumped out in front of the other big brands in terms of synthetic production and quality. Then, with the CTR III, Nike rolled out the Maestri with Kanga-Lite 2.0 and gave the boot the first ACC treatment that we had seen. With the most break-in stretch that we have ever seen from a synthetic, the CTR III mixed a great break-in with the typical CTR comfort. The touch was great and most of the staff here at The Instep quickly started wishing for Nike to put 2.0 on more of their releases…and the fact that Nike only used it on the CTR III and one or two old T90 IV releases was a bit disappointing…
The second thing that we will miss: The CTR III soleplate.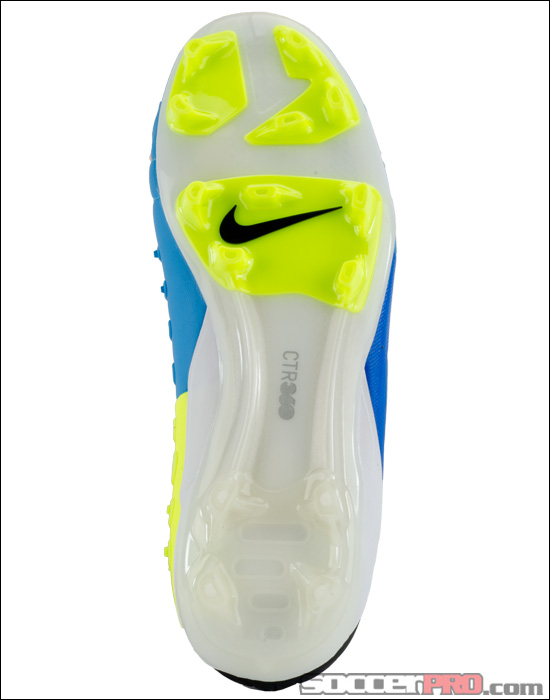 While we could wax lyrical about the old elite soleplate with the CTR and could talk about how we did not like the small circle of studs on the non-elite CTR's, the CTR III blended common sense with technology to provide a fantastic set-up. Studs that were almost conical and were shaped so that the studs could grab and and release quickly showed that Nike could blend technology and simple common-sense stuff to create a dependable set-up. While the Magista soleplate looks dependable, the CTR III will always remain a favorite.
The third thing that we will miss: The "duh" stitching and strip on the upper.
Anybody that has ever looked at a boot during use or even when just thinking about running with any type of shoe knows that most of the flex occurs in the area right before the toe-box. Considering that, the boot world has existed for years with boots that do not have any extra flex in this area and it has resulted in difficult break-ins for boots that insist on making this section of the boot just as stiff as the rest. The CTR III placed almost a 1-inch strip of Kanga-Lite 2.0 with stitching on both sides that allowed the upper and foot to flex perfectly and helped with the comfort and break-in. Hopefully the Magista's upper is pliable enough to not need this "duh" strip, but it seemed amazing that such a simple addition to the CTR III could be so useful…hence, the "duh" nature of this section…
While this post could stretch on for pages and pages as we address the comfort, the tongue, the lining, and every other aspect about the CTR III that we have grown to love, just understand that it is a great boot. Here at The Instep, it will be sorely missed. However, anyone that has yet to experience the grandeur of the Maestri III needs to snag one before they go the way of the Dodo bird. My hi-vis pair are already an ever-present fixture in my gear bag, but the lack of a replacement on the market soon means that it will be receiving some extra TLC for the remainder of its days. Goodbye CTR…you will be missed…