Nike has done it again but this time with a "Touch of Gold". Paying homage to one of the greatest skill players of all-time, Nike have resurrected the Ronaldinho Nike Air Legend Tiempo in his signature white and gold colorway.
10 years ago, Nike released a YouTube video that ended up being the first one to hit 1 million views. For those of you too young to realize this, that was unheard of then and thus, the new age brands started turning more and more to video. All those cool Nike ads you saw for the World Cup last summer are only made possible by the groundbreaking Ronaldinho video.
The boots feature an all-white base on the upper and appears to be crafted a lot like a standard Tiempo Legend V. Although the official tech specs have not been released yet, you can expect the leather on this upper to be a similar type of Algeria leather like the one found on the Totti-exclusive Legend. A classic fold-over tongue featuring his famous 10R logo is an awesome feature to really bring back even more nostalgia for the boots.
The stitches on the "Touch of Gold" Tiempo are gold to sprinkle in even more class to this incredible looking cleat. The Nike Swoosh is a very shiny gold and it is a similar look as with the Totti Legend V, but this time with gold. The soleplate features the standard style Legend V studs that many claim as one of the best stud patterns on the market. The soleplate may be the most spectacular part of this limited edition boot. At the heel, it is a solid gold plate but as we go up, we start to fade into white in the toe box and written under the soleplate is "Ronaldinho 10".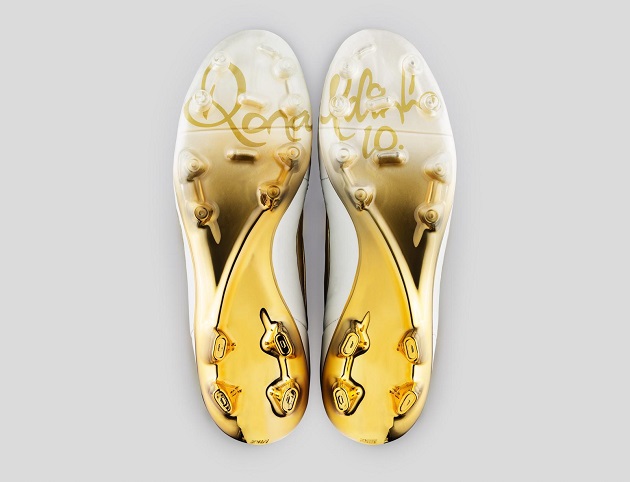 This is an early candidate for my favorite colorway of the year for when our year-end Booties awards come out at the end of the year. If you want a pair you're going to have to be fast as Nike have only made 3,000 available for the public to purchase worldwide. Your best bet is probably going to be the Nike Football App. These limited edition cleats drop in only 8 days on September 2nd at 8 AM central time. If you want a pair, I highly suggest tucking in early say about 8-9, wake up around 7 AM, take a quick shower, have a nice breakfast, and the wait by your computer for those bad boys to come available. Or if you're like me, staying up all night seems to be the best option.
What do you guy think of the new Ronaldinho-exclusive colorway? Let me know your thoughts on them down below!